The second Hollywood Esports MX4D Theatre will open soon in San Diego, California – and audiences are promised a new level of immersion. That's because, in addition to MediaMation's esports motion seats and special effects, the theatre will feature superior sound quality powered by Dolby Atmos.
The new installation in San Diego will be featured at the city's Theatre Box cinema complex from TCL Chinese Theatres. Realised in partnership with MediaMation and Wilshire Consulting, it follows the opening of the first Hollywood Esports MX4D Theatre at the iconic TCL Chinese Theatre in Hollywood back in November 2017 – as pictured here.
At each location, guests sit in motion seats as they compete against other players. Meanwhile effects such as wind, rain, fog and lightning enhance the experience for both players and spectators.
"When a tank blows up in a World of Tanks competition, the effects are so dynamic that the spectators go wild," says Hollywood Esports CEO, Robert Laity. "With Dolby Atmos incorporated into our design, gamers and spectators will soon be able to enjoy immersive sound quality for select game titles."
Dolby has been working closely with game publishers to incorporate Dolby Atmos into many top games. These include Tom Clancy's The Division 2, Shadow of the Tomb Raider, Forza Horizon 4 and Overwatch.
Dolby Atmos immerses players into the game with powerful, moving audio that sweeps all around. A leap forward from surround sound, it offers amazing precision and realism and gives auditoriums a competitive edge. For gamers, the audio heightens their sense of awareness and immerses them greater into the gaming experience.
Flexible movie theatre solution
Theatre Box can convert an auditorium between cinema mode to esports mode in under an hour.
"Periods of lower demand for movies are perfect for hosting gaming and esports events to maximise attendance and revenue potential," says Laity.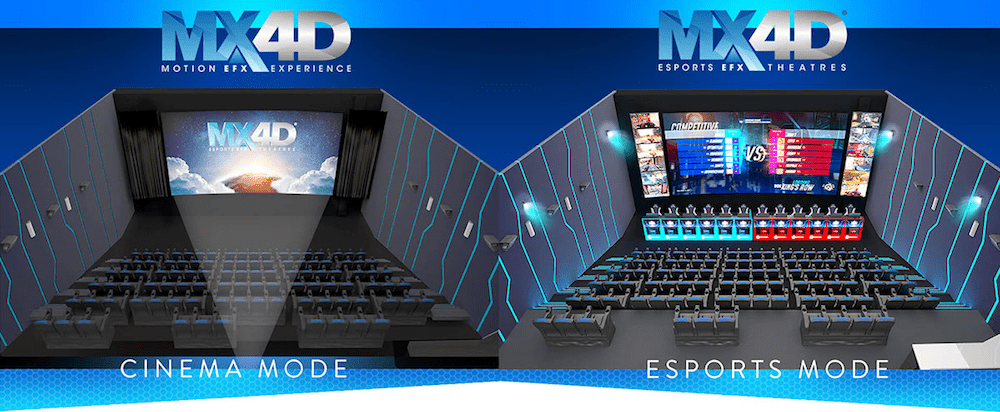 Since the opening of the first Hollywood Esports MX4D Theatre from MediaMation, the TCL Chinese Theatre in Hollywood has hosted events including Arena of Valor World Cup 2018, Paladins Hollywood Esports Open, Clash Royale tournament series and Super Smash Bros Ultimate weekly fight nights.
"We have seen our theatre attract a crowd of more than 100 gaming enthusiasts coming to participate in events on weekday nights," says TCL Chinese Theatres' Elie Samaha. "It's nice to see fans, many of whom are driving more than 30 miles, attend our events to both spectate and play."
In addition to the new outlet in San Diego, the flagship location in Hollywood will soon be equipped with Dolby Atmos. As will all future locations as Hollywood Esports endeavours to build a network of MX4D Esports Theatres.