Leading audio-visual solutions expert, Electrosonic, has teamed up with global AV company, VER, to bring a dynamic art installation to a refurbished Empire State Realty Trust Inc. building, Manhattan.
Designed by lighting artist, Marc Brickman, and award-winning video artist, Lindsay Scoggins, the stunning display forms the centrepiece of the building's new Gensler-designed lobby.
The moving images are displayed on an 80ft x 8ft High Definition LED screen which has been installed on the ceiling.
This huge screen generates, customisable images, creating an immersive experience that evolves over a 24-hour cycle. The images are composed of abstract art, live news feeds, images of the galaxy and extreme weather. Smart behind-the-scenes tech ensures that no image is ever repeated during the cycle.
Images 'magically' update to reflect trending topics
But, what really takes this to the next level in terms of engagement is that the images also 'magically' update to reflect trending topics, changing weather and more. This is all down to algorithms which respond to the images with information. So, for example, if the screen is displaying a sunrise, the algorithms will match that image with real-time weather in New York City.
VER teamed up with Electrosonic to programme the AV and control systems. The complex project was ideally suited to Electrosonic's comprehensive approach and intramural teamwork.
AV system engineering was carried out by Electrosonic's Orlando office, fabrication by the Burbank office, and testing and installation support by the New York City office.
"The lobby of this almost 100 year-old building had had some facelifts, but we learned that this was its first full renovation," explains Joe Viola, Business Development Manager at VER. "Empire State Realty Trust Inc. (ESRT) wanted to blend art and technology in an elegant way, which can be hard to do, especially in a classic, century-old building."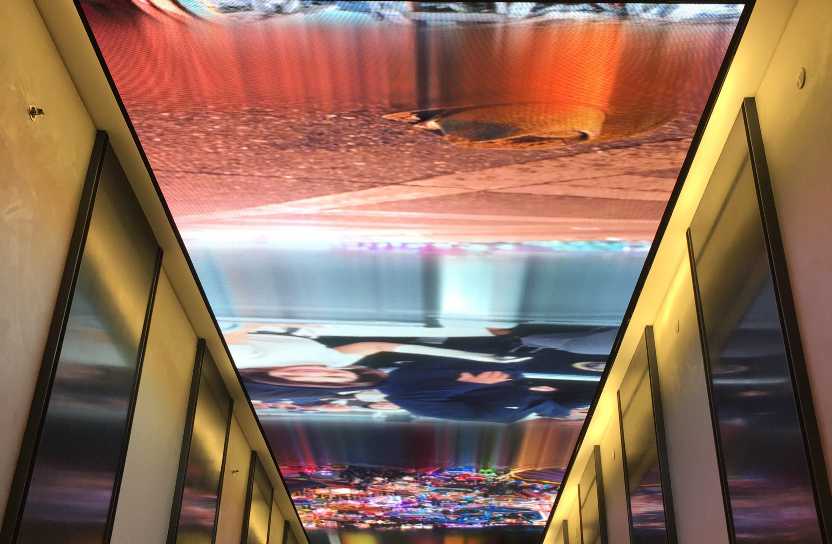 ESRT owns, manages, operates, acquires and repositions office and retail properties in Manhattan and the greater New York metropolitan area. It's landmark property is the iconic Empire State Building.
Viola praised Electrosonic's 'focused and outstanding project management':
"The project involved a lot of coordination, but with Electrosonic's partnership integration talent in key technical areas, combined with their supportive approach to business, made things much easier," he said.