Zero Latency has partnered with Tomorrow Entertainment for a second time to create a free-roam VR arena at the Galaxy Macau Casino.
The two companies first teamed up in 2017 to create a venue in Singapore. This latest venture marks Zero Latency's 19th arena worldwide.
The Macau arena delivers the company's award-winning large-scale, virtual reality gaming experience over 200 square metres of floor space. With no physical walls, up to eight players can freely roam, walk, explore, and fight together through complex and varied virtual terrains.
Players see each other as full-motion avatars and stay in constant communication to strategise, call for help, warn their teammates, or banter together.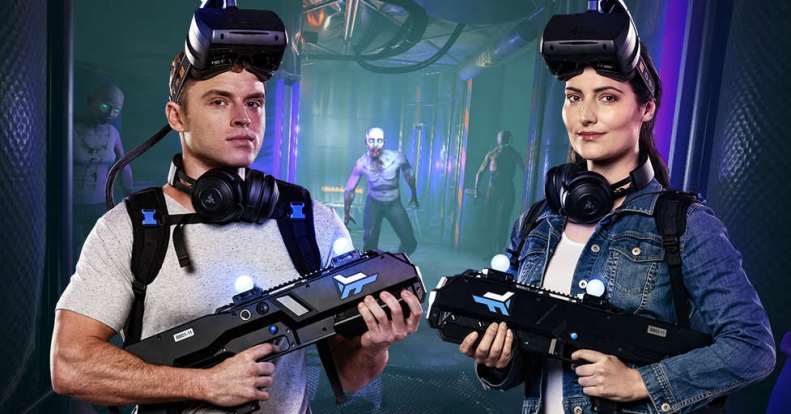 "We're excited that Tomorrow Entertainment have chosen to extend their virtual reality presence with a second Zero Latency venue," stated Zero Latency CEO, Tim Ruse.
"Visitors to Macau are looking for the latest and greatest. Zero latency is a perfect fit for the market given the region's hunger for new technology and entertainment."
The perfect fit for Macau's fast-paced and social market
Players are able to stay in contact with one another thanks to Razer integrated headphone and microphone units. They are also outfitted with OSVR HDK2 virtual reality headsets while wearing a military-grade backpack containing a high-performance Alienware PC gaming computer.
And, to keep crazed zombies, drones or robots at bay, they are equipped with a perfectly weighted, custom-made, simulated weapon. At the end of the game, players can assess their performance via personal and team scores.
"Our Zero Latency free-roam VR attraction is an exciting development for visitors to Macau who are known for their love of quality entertainment," added Simon Ogilvie, Executive Director, Tomorrow Entertainment.
"It follows the successful opening of our first Zero Latency venue in Singapore last year. It's the perfect fit for the fast-paced and social Macau market."
Main image courtesy Galaxy Macau Resort