Created by end-to-end experience provider, GSM Project, Human is the Montréal Science Centre's newest permanent exhibition.
Aimed at young families and teens, Human explores the complex changes that occur within the human body. These changes are explored both in the context of a single life-time and over the course of evolution.
GSM designed and produced the exhibition in close partnership with the science centre's research team.
The result is a highly immersive, interactive attraction that puts the visitor right at the heart of the experience. By inviting each person to reflect on their own body, they instantly engage with the scientific messaging. This allows them to learn about the wonder of human biology through the lens of their own experiences.
Human offers a full-body immersive experience
The exhibition features a whole range of interactive installations to provide a full-body immersive experience. The intention is to change how visitors see themselves through activities such as climbing, pedalling, running and exploring.
Examples include seeing themselves with a very different face. Another gives them the chance to experience what life would be like as a pregnant woman.
Elsewhere, visitors are encouraged to consider how they compare physically with other vertebrates. Thanks to Kinect-based technology, they can view their own skeletal structure inserted into the body of a dolphin, bat, bird, or even dinosaur.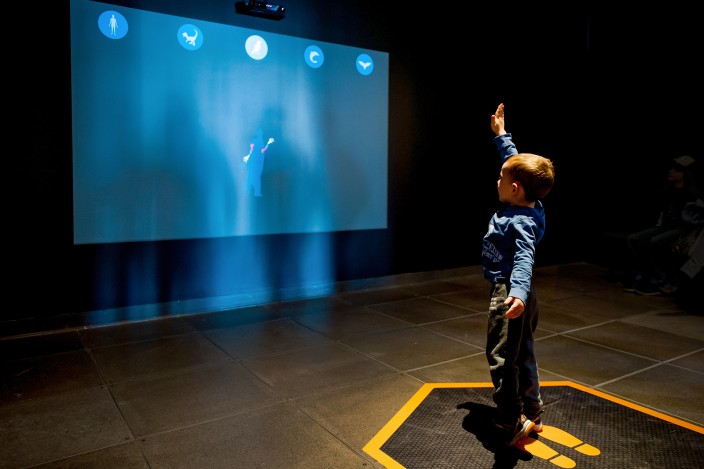 GSM Project has successfully created over 1000 interactive and immersive projects across  North America, Europe, the Middle East, and Asia.
The company's diverse portfolio includes the Alaska exhibit at Anchorage Museum and Indiana Jones and the Adventure of Archaeology.
For the latter, iconic objects from all four blockbuster films were the focus of an immersive experience that gave an insight into the evolution of archaeological scientific techniques and research.
Meet GSM Project at key industry events
Throughout autumn, GSM Project is showcasing its latest endeavours at key industry events.
These include ICOM's International Committee for Exhibition Exchange, followed by the annual ASTC (Association of Science – Technology Centres) event in San Jose, California.
GSM will also be sharing expertise at the International Museum Construction Congress in Copenhagen before wrapping things up at the IAAPA Attractions Expo in Orlando.