Kraftwerk Living Technologies, a leading-edge AV systems integrator, has announced the opening of two new state-of-the-art attractions at the new Tongguan Kiln International Cultural and Tourism Center in China. The projects are the largest contract in the company's 26-year history.
The two new attractions, "Beautiful Hunan", a 72-seater Flying Theatre, and "Magic Glaze", an 800-seater 5D theatre were completed by Kraftwerk Living Technologies and are now open to visitors at the new centre in China. The Tongguan Kiln International Cultural and Tourism Centre is known for its collection of porcelain from the Tang Dynasty, and it explores the 1,200-year heritage of Changsha city in Hunan Province. It covers a total area of 1.1 million square meters and features eight museums, five performing centres, three luxury hotels and 18 cultural attractions. The Tongguan Kiln Ancient Town is expected to host more than five million tourists each year.
An immersive adventure
"Magic Glaze" is a 5D theatre experience. The highly immersive experience tells the story of characters Xiaoxiao and Tongtong, who chase after the "Magic Glaze". This will allow them to break the evil spell which hangs over Tongguan town. The film is enhanced with precise motion and special effects and is fun for both old and young visitors alike.
The media-based-attractions experts were responsible for the technical design, detailed planning, supply, integration, programming and commissioning of the attraction – including all technological components such as the 3D screen, projection and audio system, SFX motion seats, show control as well as the water and compressed air system, show lighting and special effects. The 5D theatre experience can host over 20,000 visitors a day, with three 15 minute shows per hour.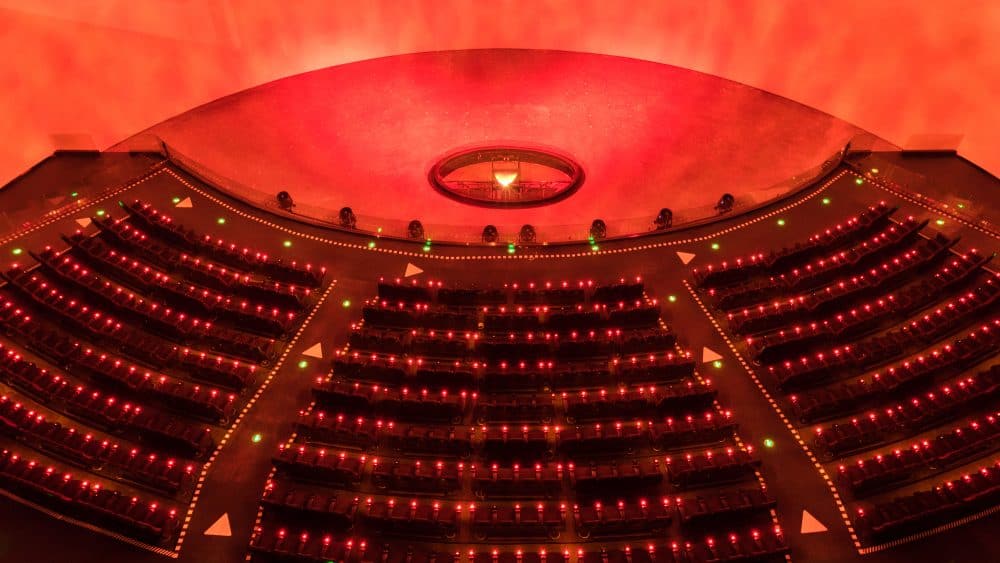 "What is special about this 5D Theater is the seamless integration of the cultural centre's main theme, porcelain craftsmanship, into the attraction. When entering the theatre, you walk into the interior of a flaming oven – realized with scenic lighting, various projections and special effects. With this 'flaming' atmosphere, the stage is set for a great story and entertaining experience", says Manfred Meier, CEO at Kraftwerk LT.
Beautiful Hunan
The "Beautiful Hunan" flying theatre was provided as a turnkey solution by CAVU Designwerks, for which Kraftwerk LT supplied the screen and high-end AV system. The experience shows visitors the most beautiful locations in the Hunan province, as they enjoy a spectacular six-minute fly-over experience. High-resolution visuals are paired with smooth, realistic motion and several special effects, supporting the feeling of flight. The media was produced by PRANA Studios. It combines live action flying imagery with active visual effects sequences.
Kraftwerk Living Technologies has also recently delivered a dual-use dome theatre to Das Science Centre in Heilbronn, Germany's largest science centre. The installation combined surround projection with a stage set and 150-seat rotating auditorium.