Mad Systems Inc., the award-winning audiovisual and interactive system designer and integrator, takes a look at the enduring appeal of electro-mechanical interactives, as well as exploring how the right AV tools and integration can support a successful exhibit.
"Many years ago, I remember going to the Maritime Museum in the city of Rotterdam," recalls Maris Ensing, the company's founder. "They had this boat lock model, where you could play with the physical controls to manoeuvre a boat through a lock in a canal. Clearly, I loved that exhibit as I remember it so well.
"It was relatively simple, but something you could play with, and get physical things to happen. For me, it was the best exhibit in the entire museum. It definitely explained to me how locks work, and it shows how timeless an electro-mechanical exhibit can be. Today, that same exhibit would still be a great one for visitors to enjoy. Obsolesce does not have much meaning for a properly targeted and well-designed electro-mechanical interactive."
Engaging a modern audience
Today's audience is increasingly used to using digital technology in their everyday life. So, museums and attractions need to provide more than just a touchscreen to keep them engaged.
Electro-mechanical or gesture/motion-controlled interactive exhibits are certainly one way to accomplish that. Touchscreen controlled mechanical devices are also very popular. For instance, in the image below, visitors can engage with a 20' tornado. They are able to control the depth of the low-pressure area above, as well as the velocity of the air rotation.
As a bonus, there is also a colour mixing exhibit built-in. The same touchscreen that controls the tornado also allows kids to change the primary colours that are being projected with overhead lights into the fog.
Exhibits must fit the storyline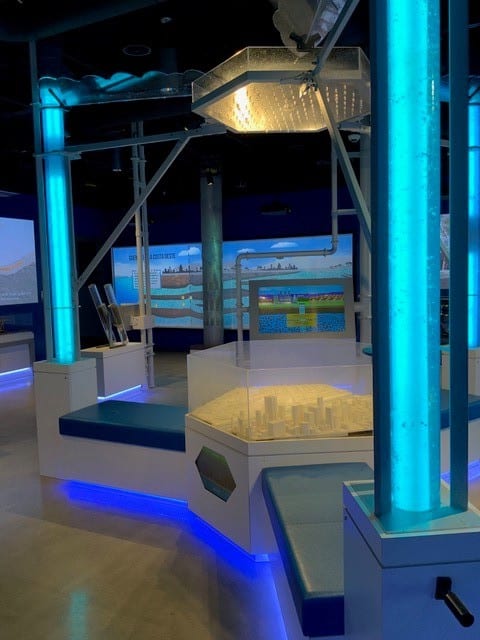 However, this type of interactive also needs to follow the storyline and fit into the attraction – there has to be a purpose for every exhibit. Museums and visitor centres need to consider what the story is, as well as the audience they are catering to. How often is it possible to come up with a hands-on experience that manages to explain a principle really quickly, without having to worry too much about visitor flow?
There are many stories that can be told through hands-on exhibits that entertain and educate. For instance, Mad Systems recently created a water cycle exhibit for a project.
"Kids just love it," says Ensing. "They push on one of three handles to cause a release of a large burp of air, which pushes water in the vertical tubes into the overhead 'clouds' before it ends up in the tray above the exhibit. From there, it rains down on the city of Los Angeles and Pico Rivera, where the exhibit is located."
Integrated AV solutions
To create exhibits like this, a well equipped mechanical workshop is essential. Mad Systems has a complete mechanical workshop and invested in a water jet cutter, as well as a few more unusual tools for an AV integration company. This enables it to create unique results that are mechanically solid and reliable.
"Being able to integrate the media, software, computer hardware, sensors and mechanical devices long before it has to go to the site means that the result is fully tested and burnt in well before it is shipped to site," says Ensing. "At that point, the only thing remaining is the cladding of the exhibit to match the other exhibits.
"Of course this also means that the interactive computer hardware can be fully integrated with the rest of the AV system, creating an ideal solution. That has turned out to be the right process to create exhibits that just work, hassle-free, from opening day well into the future to create memorable experiences for all of our visitors."
Last month, the company explored how its QuickSilver technology can function as a wireless solution to reduce infrastructure and associated costs.