Painting with Light, a lighting and multimedia expert, designed an eye-catching light artwork in Leuven, Belgium, as part of Studio Brussel's The Warmest Week fundraising event. This is an annual event that supports those who are lonely around the Christmas period and is symbolised with a flame. Participants get involved by sending cards, donating toys, baking sweet treats and more.
As a result of COVID-19, this year's The Warmest Week events were more subtle. The radio station did a series of special broadcasts from 20 'warm places' around Leuven, playing listeners' most-loved songs.
Lifting the spirits
Painting with Light's Beats of Leuven installation was a visual focal point for the event. The artwork's dancing blue and gold soundwaves appeared to react each time a listener called in or requested a song to honour the people who had inspired or meant a lot to them over the course of 2020.
The company built the light installation at Ledeuze square, in front of the city's Catholic University Library. Its aim was to create an artwork that lifted the spirits, moved to the music and communicated hope and positive energy ahead of the new year. The installation also needed to add aesthetic magic to the area and run in harmony with the music station.
Painting with Light was able to meet a tight deadline of just under three weeks to create and deliver the project. For a robust and cost-effective display, the company used a Chauvet pixel-mapping one-meter-long LED strip, featuring 50 LEDs under a 125º viewing angle.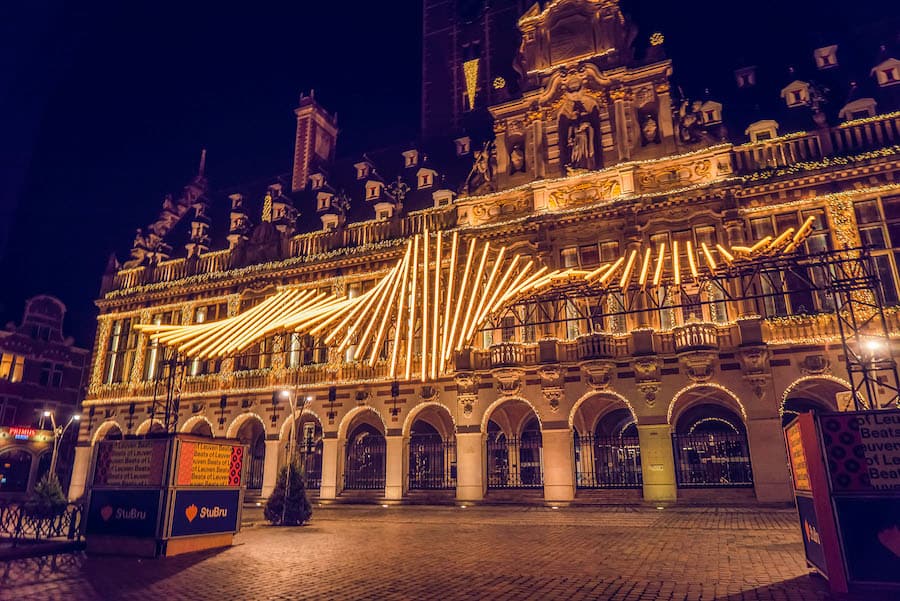 The ÉPIX Strip IPs were rigged in an angled arrangement on a metal scaffolding framework that was specially designed by Painting with Light. This stretched across the street in front of the library, appearing from a distance to be connected with the building. The team also created custom video content for the installation.
The result was an elegant and fluid repeating double-wave pattern, which cycled through blue and gold colour ranges and displayed a flame effect every two to three minutes in keeping with the event's flame symbol.
Painting with Light CEO, Luc Peumans, says "This was a fantastic project for us! We received many great comments from around the world relating to this light art installation with such a warm purpose during these harsh times! So big kudos to our team and suppliers who helped make an amazing creation happen at such short notice – from tender to delivery in less than four weeks!"
The project shows how light has become a symbol of unity and hope, during a difficult time. Over the recent Christmas period, Painting with Light also designed a festive WinterGlow trail in Bruges, Belgium.