Philippe Bergeron, Hollywood actor, computer animation pioneer and CEO of leading projection-mapping company, Paintscaping, is to give a keynote speech at the first blooloopLIVE half-day conference at ISE 2018.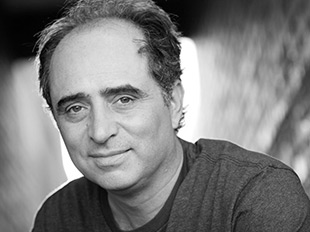 blooloopLIVE at ISE will focus on the growing trend for night time 'spectacular' productions at international visitor attractions.
It takes place Friday February 9th as part of ISE at The Rai in Amsterdam. Tickets can be booked here.
"A trend in the attractions industry has seen many visitor attractions turning from single day to true multi-day destination resorts. Live, night-time spectacular shows are often an integral part of the mix" says Charles Read, Managing Director of blooloop.
Although Bergeron is probably best known for his character roles in films such as Iron Man 2 and the blockbuster TV series, The Sopranos, he is also a leader in the creation of spectacular projection-mapping.
For blooloopLive at ISE, he will be leaving his Hollywood hat at home. He will talk about his passion for transforming 'ordinary architecture into extraordinary, and ever-changing, environments'.
Philippe Bergeron – 'the real world becomes your canvas'
"3D projection mapping isn't just a fad, it is a profound paradigm shift," says Bergeron, "it's incredibly exciting. The real world becomes your canvas."
His company, Paintscaping, specialises in large-scale projects which have included everything from an 8-wall-in-sync 3D mapping show in Las Vegas to an 11-stories-high projection mapping at Westin Kierland in Scottsdale. Paintscaping blurs the boundaries between the real and the imagined. The company has set iconic buildings on fire and turned windows into virtual advent calendars. It has also transformed golf course bunkers into swimming pools.
In a space where technology is constantly evolving, the creative possibilities are expanding, too. A successful outcome, he says, will always come down to very precise planning:
"Every detail from the script to the audio to the correct projectors, lenses, placement and 3D modelling is essential to create this – literally – once-in-two-hundred-years experience.
"There will be no take two," he told VSP partner, Christie Digital, in a recent interview.
Blooloop is the leading online resource for professionals working in the visitor attractions sector. The company also produces a range of international conferences.
"blooloopLive at ISE represents a great opportunity to hear from the operators and AV companies creating some of the world's most memorable events," says Read.
Further speakers will be announced shortly.
Images courtesy Painstcaping