Singapore Green Plan 2030 charts the city-state's green targets over the next 10 years. It is part of Singapore's commitments under the UN's 2030 Sustainable Development Agenda and Paris Agreement
The plan is lead by the Ministries of Education, National Development, Sustainability and the Environment, Trade and Industry, and Transport.
It will build on Singapore's previous sustainability work, create new business and jobs, and improve the living situation of Singaporeans.
Prime Minister Lee Hsien Loong wrote on Facebook: "We need to ensure a Singapore for our future generations. All of us have to work together, and make Singapore a bright green spark for the world."
Five key pillars of Singapore Green Plan 2030:
City in Nature – creating a green, liveable and sustainable environment for Singaporeans.
Sustainable Living – reducing carbon emissions, maintaining a clean environment, and saving resources and energy in Singapore.
Energy Reset – using cleaner energy and increasing energy efficiency to lower Singapore's carbon footprint.
20% of schools carbon neutral by 2030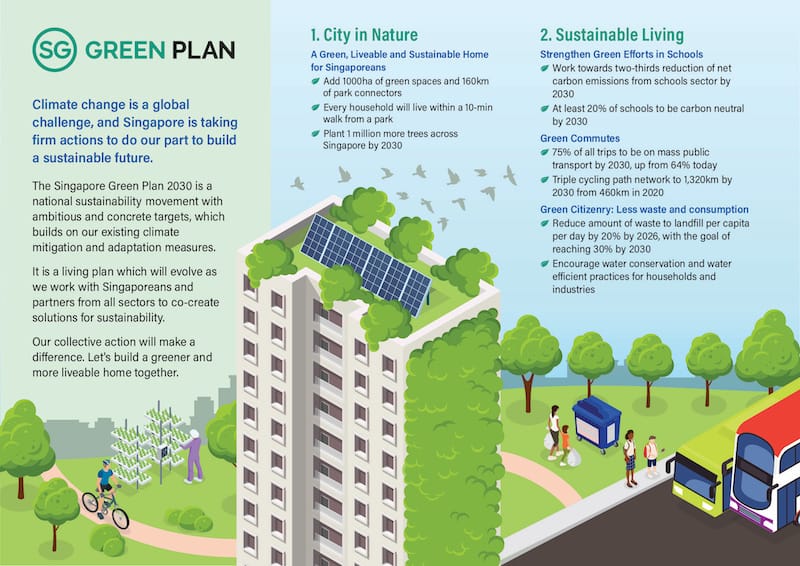 Green Economy – creating green jobs and transforming the country's industries.
Resilient Future – strengthening Singapore's climate resilience and enhancing its food security.
Green Government will oversee the agenda, while Green Citizenry will involve individuals, communities and businesses.
Initiatives include requiring all new car registrations to be cleaner-energy models from 2030, and doubling electric vehicles charging points from 28,000 to 60,000 by 2030. Additionally, at least 20 percent of schools will be carbon neutral by 2030.
Quadrupled solar energy deployment by 2025
Singapore will also reduce waste sent to landfill by 30 percent, with a 20 percent reduction achieved by 2026. It will plant one million additional trees and quadruple solar energy deployment by 2025.
More information about the plan will be released at the upcoming budget announcement on February 16, and at the Committee of Supply Debate in Parliament.
Deputy Prime Minister Heng Swee Keat wrote on Facebook: "With each of us playing our part, I have every confidence that we will be able to build a more vibrant and greener home for future generations."
The Singapore Tourism Board (STB) previously partnered with augmented reality (AR) company Niantic to promote tourism offerings through Pokémon GO.