Technifex, a leader in live and simulated special effects and turnkey attractions, has announced the addition of three new staff members to its leadership team.
Technifex is pleased to welcome John Polk, Howard Smith and John Neilson to their new executive roles at a time of significant growth for the company. Polk will serve as Vice President and Senior Project Director, Smith takes on the role of Vice President of Production and Neilson has been appointed as Technical Project Manager. These appointments will add depth to Technifex's technical expertise.
John Polk
Polk, who is known in the themed entertainment industry as "the water guy", steps into a new position at Technifex as Vice President and Senior Projects Director. His background includes a great deal of knowledge in large-scale technical aquatic design and fabrication. This expertise is not only in water features but special effects of all types including steam, flame, cryogenics, and atmospherics.
Polk previously held positions at Aquatic Design and Engineering (ADE), Fountain People, and was also head of the Special Effects department at Walt Disney Imagineering (WDI). He has several award-winning projects under his belt and also has a solid relationship with many major theme parks. At Technifex, he will be supporting business development and new project acquisitions.
Howard Smith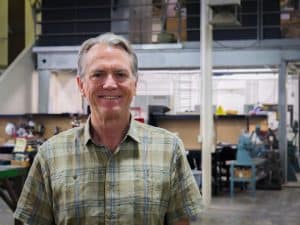 Smith will be overseeing fabrication activities at the company. The former co-owner of Mindrix brings with him a wealth of knowledge that will enable him to grow Technifex's production operations, including experience in managing personnel and delivering several projects simultaneously. With extensive R&D experience as a technical designer, he will also be working with the engineering department as they develop new and innovative systems for the industry.
Smith also has several award-winning projects to his name. He has contributed to 13 Thea award-winning projects and has worked on design and construction of custom sets, scenery, interactives, special effects, exhibitions, models, and show control programming for major sporting events, museum exhibits, retail, and theme park clientele.
John Neilson
Neilson joins the company from the industrial automation industry. In his previous role at Rockwell Automation, he provided Universal Studios and Walt Disney Imagineering with innovative automation control systems.
As Technifex' Technical Project Manager, Neilson will work with Technifex's engineering department and the fabrication shop, managing technical systems development, fabrication and testing for major Technifex clients. He brings a range of unique abilities to the company, including creative know-how and problem-solving skills.
A talented team
"John Polk, Howard Smith, and John Neilson are each incredibly talented and bring high levels of expertise that add to our ability to conceive, design and produce the highest quality technical special effects. We are absolutely thrilled to have such seasoned talent join our already talented team," says Monty Lunde, President of Technifex.  "We are growing and the insights and abilities these three bring to our company and our clients will help propel Technifex to even higher levels of service, quality and execution."
The company recently celebrated 35 years in the industry, providing design, engineering and fabrication of technical special effects for a varied range of clients.