Results from Omni Arena's first three months of operation show that the attraction at Pinballz, a family entertainment center (FEC) in Austin, Texas, is on track to earn $300,000 annually.
The world's first Omni Arena made $75,000 in the first three months from more than 5,000 plays – more than 1,000 of which were repeat plays.
The company said that the repeat play rate for users with a player account was 40 percent. According to Virtuix, Pinballz charges players $15 per play and operates Omni Arena with one attendant – as the attraction is affordable and compact, at $121,000 for 375 square feet.
In a survey of 135 players, 42 percent said they had visited Pinballz to play Omni Arena.
Omni Arena at Pinballz family entertainment center
"We believe VR esports with Omni Arena can be a new anchor attraction," said Jan Goetgeluk, Founder and CEO of Virtuix. "Our current Omni Arena installations are experiencing a high repeat play rate and are attracting an audience to the venue who visit specifically to play Omni Arena."
The Omni Arena experience lasts for 15 to 20 minutes, and invites visitors to play or compete with friends, compete for high scores and top spots on leaderboards, and win cash prizes and other prizes in weekly esports competitions, sponsored by Virtuix, HP, and HTC.
After playing, guests get a video of their Omni Arena experience, which they can share on social media.
Omni Arena installations experiencing high repeat play rate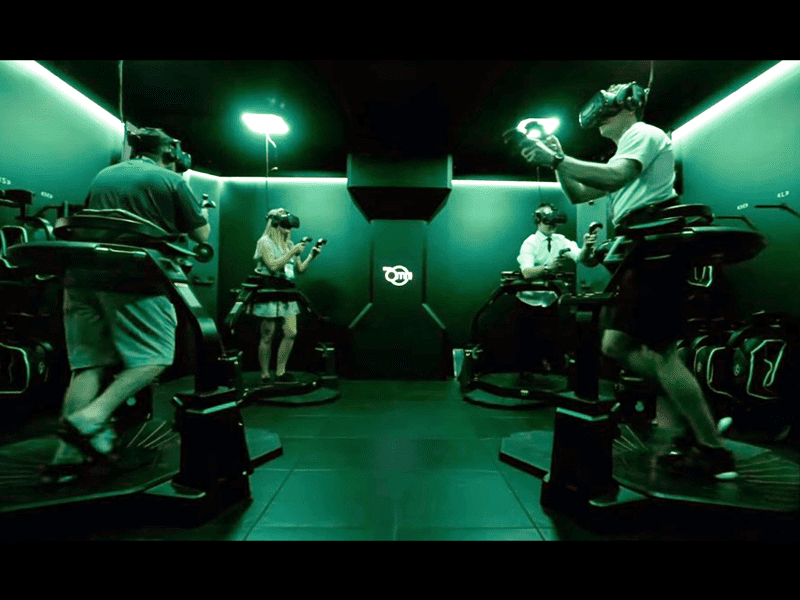 Virtuix recently announced the VR Arena will be available at Dave & Buster's in Austin, Texas. VR Arena is an innovative attraction which allows players to run freely inside video games. Up to four gamers can compete in the full-body, immersive attraction at Dave & Buster's in Austin, Texas, for a limited time.
The company later announced a successful first two months of operation for the VR Arena at its first location.
Virtuix has published a blog post about how VR esports can be a new anchor attraction for FECs, and a white paper about how VR and esports can increase FEC revenues. Interested FEC operators can contact Virtuix for more information and sign up for a VIP demo of Omni Arena here.