This is an unprecedented 200,000-square-foot retail and entertainment complex in Las Vegas.
It features live performances, curated retail, virtual reality, interactive art and exclusive dining in a fusion of creativity and counter-culture. This is epitomised by the complex's key permanent exhibition, by celebrated Santa Fe art collective, Meow Wolf. Blooloop spoke to AREA15 co-creators, Michael Beneville of Beneville Studios and Winston Fisher of Fisher Brothers.
AREA15 is a groundbreaking venture in an all-new category. This genuinely unique attraction epitomises Winston Fisher's passion for innovation. Fisher is the CEO of AREA15 and studied philosophy at Syracuse University. He says:
"Liberal arts has been important in my success. It taught me to think and write creatively, and to look at different patterns."
Fisher is a partner for his family-owned and operated real estate company, Fisher Brothers. He directs the company's financial and investing activities, property acquisitions and dispositions. In addition, he oversees new development initiatives and manages the firm's day-to-day stock and investment portfolio.
"Development is something that excites me," says Fisher. "It's not just creating a building, but a community, a space that has an energy. And that brings me to AREA15."
Winston Fisher and AREA15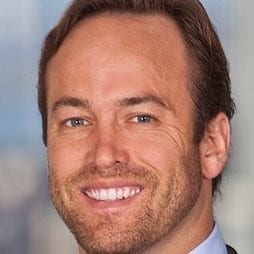 Fisher Brothers had owned the vacant parcel of land for a long time. Fisher had several ideas about what could be done there. But it was when he met designer Michael Benneville that inspiration truly struck.
"I started working with him, and he said: 'Let's dream.' We decided not to be constrained by architects, but to think, 'What are we? What are we passionate about? What are some constraints that we do have to be aware of?'
"We had to remain realistic, we're not the Las Vegas strip. But we understood the idea of human connection, of gathering, which is more important today than it has ever been. We understood what is happening with the immersive economy, the experience economy, the Instagram economy."
Fine-tuning
It took two years to fine-tune the idea: "It was a lot of riffing. The first idea was this burned-out spaceship dystopia. There would be hazmat suits that you could sleep in and a nuke field. It was pretty wild and I loved it."
Creativity, he says, isn't constrained:
"It's allowed to have a process. The flip side of being a hundred-year-old company is I am deeply rooted in process. Creativity is never sacrificed, but you do have to be pragmatic about how you move forward."
"I remember saying, 'Michael, if we're going to throw a warehouse party, let's build a warehouse.' That was really the last piece; the thing that brought us to what is AREA15."
What is AREA15?
Reaching for a definition, Fisher says: "It is a new category, so it's hard to describe. It is a mall-inspired retail entertainment destination complex, in the sense that it's free to enter. The components are that we are leasing space."
The anchor tenant is Meow Wolf, the Santa-Fe based arts and entertainment collective creating immersive, interactive experiences. Also leasing space is location-based VR company Nomadic and the immersive bar and event venue Emporium.
Furthermore, visitors will be able to experience Dueling Axes, the nation's premier axe-throwing lounge. There is also Oddwood, the dynamic centre bar at AREA15, plus a steampunk AR experience, as well as a glide system from Walltopia. This will let visitors soar 20 or 30 feet above the uniquely diverse offerings.
There will be art exhibitions, including:
Shogyo Mujo by Bart Kresa Studio
Pulse Portal by Davis McCarty
Mister Fusion by Henry Chang Design
Ibuku by Elora Hardy
Disco Ball by Ivan McLean
Mechan 9 by Tyler FuQua Creations.
Cool and creative experiences
"We're going to have a music hall," says Fisher. "And we're going to have a wedding chapel. We've got Chris Wink, founder of Blue Man Group, who has joined our company as Director of Content and Cool Shit. He's doing some interesting stuff."
"We're going to have a food hall with character and vibe. There will also be traditional retail, in our Lucid Dreams Bazaar. This will be festival wear and interesting, art-inspired clothing as well as our gift shops. It's stuff you can't find online.
"We will also have events. Everything from 'deep house', EDM, food festivals, corporate events. Interesting, changing content, woven together with art and creativity. The spaces will each have unique storefronts. We don't tell our tenants what to do."
The only caveat is they must be cool and creative. The main hall is AREA15's spine, with Oddwood, the centre bar, at its heart. This showcases a 23-foot Japanese maple tree by Symmetry Labs twinkling with LED lights.
Fisher says: "It's a real tree with each leaf as a digital experience."
Storytelling
Summing up AREA15, Fisher concludes: "It's a cool space; it's entertainment, it's amusement. We are a storytelling company. It's a word that you hear a lot, though only a few people actually do it with authenticity."
We pour our heart and soul into what we're building, and we want it to be the best
"We pour our heart and soul into what we're building, and we want it to be the best. And we have high standards – we say 'no' to a lot of stuff. We are the tip of the spear of the experience economy. This, you see this is the future. We're creating this ecosystem of economic prosperity."
Michael Beneville and AREA15
Michael Beneville of creative agency Beneville Studios is the second of the visionaries behind the concept that is AREA15. Born in the States, Beneville grew up in a variety of countries and returned to the US aged 14.
He says: "It's been an artistic journey. I'm somebody who was blessed with parents that encouraged my talent. That is so critical to an artist's development, although I'm not even sure I'd call myself an artist."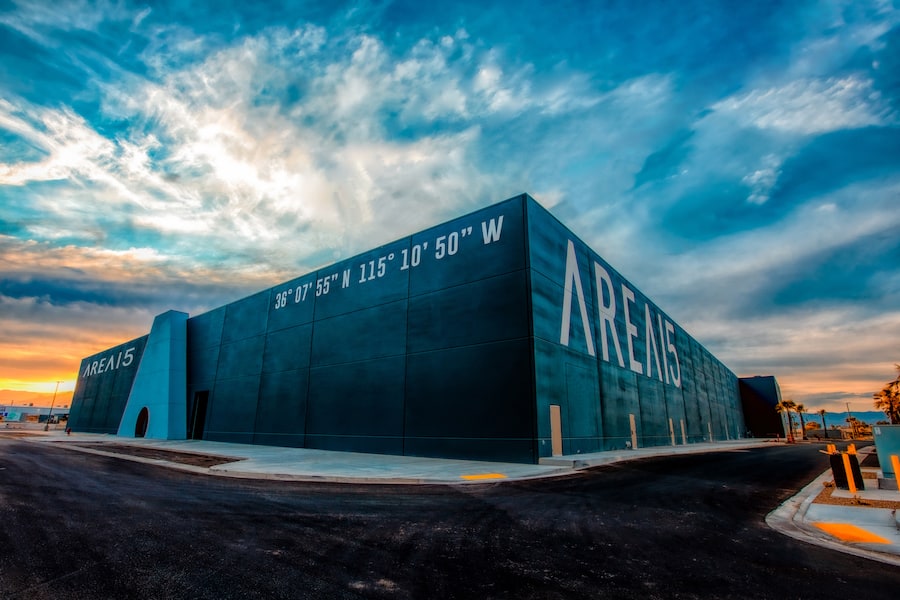 "My studio is, really, an idea manifestation machine. We're agnostic to medium. At any given point in time, we are designing books, machines, interactive rooms. We're building buildings and working on things with iHeartMedia.
"AREA15 is one of those things that brings every single piece of what it is that we do together into one place."
Offering something different
Winston Fisher acquired the land for AREA15 in 2004. Having bought it, he was disappointed by what was suggested to him in terms of its potential. "It was just more of the same," says Beneville. "More condos, more casinos, more shopping. It had all been done."
Inspiration came, he adds, both from the location's proximity to, and its distance from, Las Vegas. He says:
"We looked at the land, and we thought, 'We can't put something here that is competing with the gravitational centre of the Las Vegas strip. So, we needed to think through who comes to Las Vegas, and isn't maybe entirely satisfied by all the offerings."
"No-one should ever presume to design something for counterculture. That's just a really bad idea. But a good idea, maybe, is to create an opportunity for something to happen. One of the great joys of being an artist is to know that you don't control how things develop. You set up the opportunity for [that development] to happen."
AREA15 and counterculture
In terms of counterculture, Beneville says: "The greatest part about working with Winston is that he's really unfettered in his thinking. We both felt that there should be a place that Las Vegas didn't yet have.
"Somewhere counterculture could come out of the small pockets it inhabits, and find its home. We do it by creating a very large, inclusive tent into which the experience economy could pour and express itself."
Experiential Santa Fe conceptual art collective, Meow Wolf will be the anchor experience in the immersive bazaar that is AREA15.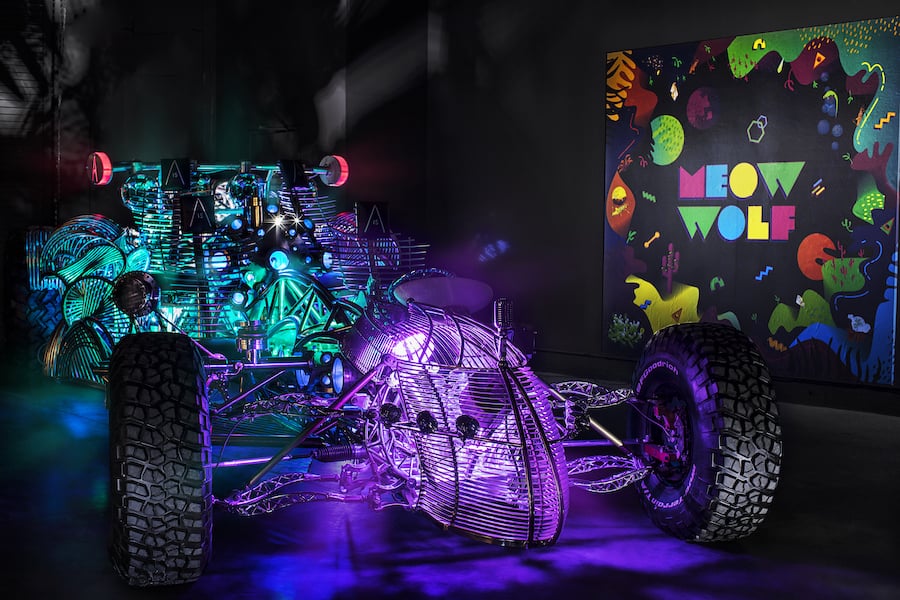 "AREA15 offers context to the multiple different elements that go into it. Our anchor tenant, Meow Wolf, is super-credible."
Transition and transformation
For the creators of AREA15, the transition is key. He explains:
"I've had so many immersive experiences where my let-down is not the experience, but the act of coming back into the world. If the transition is blunt and harsh, you lose the illusion.
"So we were looking for a way in which you could have had an extraordinary immersive experience. And then when you stepped out of it, it goes on. It's as if the world still winks at you."
"If you have been transformed, you want more transformation. For me, it's the Amelie effect. Everybody sees the world in different ways. Some people see it as numbers. For me, it is constantly winking and smiling and laughing.
"I think artists should be midwives into that interpretation so that others can feel it as well."
The future of AREA15
The plan is for AREA15 to be the first of many iterations of the concept. "Great things expand," says Beneville. "When there is a foundation that is simple and elegant enough in its equation, then it can scale and stay true to itself."
The power of AREA15 is that it constantly transforms, through the tenants, the partnerships, the art and music. It is always in rotation, moving in cycles of months, years, multi-year
The idea was never to build something so expensive or complex it could only exist in large cities:
"Others have done that, and have done so beautifully. But we don't imagine ourselves to be the Coliseum at the end of the movie GLADIATOR, but the fighting pits at the beginning. We wanted it to create AREA15 in a way that we could build it in smaller cities, and then connect them.
"The power of AREA15 is that it constantly transforms, through the tenants, the partnerships, the art and music. It is always in rotation, moving in cycles of months, years, multi-years.
"The design of the building is sufficiently practical that it can be built anywhere. It doesn't have to be in a city centre unless that city doesn't have a real centre, in which case AREA15 can help seed one. Otherwise, it can be out in the outskirts, and that is all part of the story."
Creating crossovers
Exploring the possibilities inherent in AREA15 as multiple linked locations, Beneville says:
"That is where we'll get true crossovers in the next 10 or 20 years between where you are, where you think you are, and where you might be. As you phase from reality to augmented reality, to full virtual reality, with all of those points activating your dream state. And then just where you 'are' is something that we really start to be able to play with.
"AREA15 is a laboratory for that. Ultimately, I think it will be connected as much by a digital landscape as a physical one."
Experimenting with the past and the future
Beneville considers himself to be a futurist. He says:
"I'm always grounded in where we've come from. We've had 10,000 years of recorded history, and there are things we do for good reason. Having a foot in the past and a foot in the future is a really effective way to survive and adapt.
"AREA15 will be a place that experiments with all this. A place where technology is something that one embraces, where one is not isolated but is folded in through it."
"I am a midwife to the process. How you come into the world forms a lot of your perceptions of it, and this is what humanity is going through right now. We are hurdling through the birth canal into a new being.
"It's very important for people to have places where they can experience and experiment with these new things in the context of a level of dignity. AREA15 is going to have lots of touchpoints where you get to see something that hasn't yet been really deployed. And that's huge."
What makes AREA15 different?
"Other places do something very different," says Beneville. "They white label everything, bring it to its highest point and then they deliver it as a fait accompli. By contrast, AREA15 is about capturing the iterative."
The creators will adopt a policy of observation, rather than orchestration:
"It's going to be about riding a wave; about seeing what the public gravitate towards, what they want to do, what they bring to the picture. We have left things out intentionally. Not because we were too lazy to write them, but because we think that the mind power of the visitor is going to elevate it at all."
A labour of love
"It's been a labour of love," concludes Beneville. "There are things that one slogs through in life, and, then, as with AREA15, there are teams and patterns that just form and everything flows. We have our twists and turns, but now, as the team has grown there's a great spirit. The pieces just connect and fall into place, and it has that energy."
Otherworldy events for every tribe. We do concerts, festivals, theatrical performances and so much more. Now booking for February 2020 and beyond. pic.twitter.com/wIRX6YksBa

— AREA15 (@AREA15official) January 11, 2020
"We talked about the scaling from a brick and mortar business standpoint. But honestly, it's the human scaling of the team that is key: how we bottle this spirit and spread it across the world to become truly global. That's a DNA that we're developing right now.
"AREA15 wants to adapt to the cultures that it encounters, so we're not entirely about rolling out what we've done here. We want to live with the artists and communities that we're going into.
"It's about our curiosity to develop something that is enticing and built for curious people, the world over.
"Take AA Milne's poem, Now We Are Six, which ends: 'But now I am six, I'm as clever as clever. So I think I'll be six now for ever and ever.' AREA15 is about a six-year-old, in any body, at any point in life."
AREA15 will open in February for corporate and private events, and to the public in Spring 2020.
Images kind courtesy of AREA15