The former Disney executive is charged with building at least one theme park as well as 20 family entertainment destinations and a network of 50 cinemas across Saudi Arabia.
He's got a multi-billion dollar budget to achieve it, but his deadline is tight: 2030. Bill Ernest, the CEO of Saudi Entertainment Ventures (SEVEN), talks to Blooloop about the company's plans.
The scale of SEVEN's ambition is demonstrated by its internet domain name – entertainment.sa. This deliberately broad term reflects the scope of development planned by Saudi Entertainment Ventures over the next decade.
SEVEN aims to become "the leading national investor, developer and operator of a diverse ecosystem in KSA [Kingdom of Saudi Arabia]."
"We believe that together with our partners we have the drive and expertise it takes to build the entertainment economy from the ground up," says its mission statement. "We believe that entertainment will enhance the quality of life for citizens of and visitors to the Kingdom, spreading joy and driving progress throughout the nation."
SEVEN in Saudi Arabia
Founded in December 2017, Saudi Entertainment Ventures' activities complement four 'giga-projects' and other multi-billion investments allied to Saudi Arabia's Vision 2030. Like Qiddiya, NEOM and the Red Sea Project, SEVEN is backed and wholly owned by the nation's Public Investment Fund.
As part of the Vision's 'Quality of Life' programme, there is a call for new theme parks, family entertainment centres, water parks, zoos, aquariums, museums, art galleries, theatres, cinemas, public parks and more. In total, 260 entertainment venues will be created. This is in addition to 358 unique entertainment events.
A series of events linked to 'seasons' in different parts of Kingdom has already begun. These include November/December's Diriyah Oasis in the historic part of Riyadh, and the city's ongoing Winter Wonderland, as part of the capital's wider Riyadh Season.
Accelerating Saudi's entertainment offer
Currently, many Saudis travel to locations such as Dubai for entertainment options. Within the Kingdom, recreation opportunities are often restricted to shopping or eating out.
As well as family entertainment centres in shopping malls, there are already some small amusement parks around the country. However, the 50 cinema complexes that SEVEN will open over the next decade will be the nation's first public movie theatres for 35 years.
Whether it's through new forms of entertainment, improvements to housing, education or the Vision's 'national character enrichment' programme, Mohammad bin Salman, Saudi's Crown Prince and Chairman of the Public Investment Fund, has a progressive agenda.
So what is SEVEN's role in all this? Its first goal is to get 25 movie theatres up in running by the end of 2020. By the time all 50 are open in 2022, there will be 450 screens. These will be built in partnership with AMC, the world's largest cinema chain (owned by China's Dalian Wanda group).
SEVEN also plans to build 20 family entertainment destinations across the country and at least one theme park by 2030. Together, it is hoped they will generate more than 50 million visits a year. Furthermore, they will have the potential to create over 22,000 direct jobs and contribute the equivalent of $2 billion to the nation's gross domestic product by 2030.
A nationwide network of experiences
"We have got an edict to go out and bring fun and entertainment to the Kingdom," says Bill Ernest. "It's no easy task. We are going to build 72 separate entertainment experiences across the country. From North to South, and East to West."
Already announced are two complexes in Riyadh. These will total 100,000 and 135,000 square-metres respectively. The latter will be located close to Salah Al-Din station. This is on the city's new metro, which is set to open later this year. According to the official Saudi Press Agency SPA, it will include "carefully selected recreational facilities". The destination will also feature a cinema, restaurants, cafes, sports facilities and event space.
Saudi Entertainment Ventures #SEVEN is proud to partner with @AMC_Cinemas_SA , as we celebrate the opening of the AMC Panorama 10 cinema, which will provide a fantastic experience for movie fans in Riyadh.#PIF #سينما_AMC #CelebrateCinema pic.twitter.com/BcNvidXvPs

— SEVEN مشاريع الترفيه السعودية (@EntertainKSA) December 18, 2019
SEVEN's first theme park, totalling 1 million square metres, will be located in Al Aziziyah. In addition to this, there will also be entertainment destinations, multiplex cinemas, sports facilities and green spaces in Eastern Province cities including Dammam, Khobar and Al Ahsa. Other projects across the nation will be revealed in due course.
"We aim to facilitate the presence of both international and local brands. And in doing so, become the national entertainment champion," says Ernest.
It has not yet been decided if the SEVEN name will be used as the public-facing brand for each destination. Nevertheless, it's a neat abbreviation of Saudi Entertainment Ventures, with a certain ring to it.
"We've got the budget," he says. "Now we are working with architects, working with creative firms, to create our story and bring it all together."
Industry experience
Bill Ernest has almost 25 years' experience with The Walt Disney Company. During this time, the American-born executive worked in multiple regions worldwide.
Most recently he served as president and managing director of Asia for Walt Disney Parks and Resorts (now Disney Parks, Experiences and Products). As well as co-leading the entire hotel division at Walt Disney World in Florida, he helped launch the Disney Cruise Line's first two ships and associated ports of call.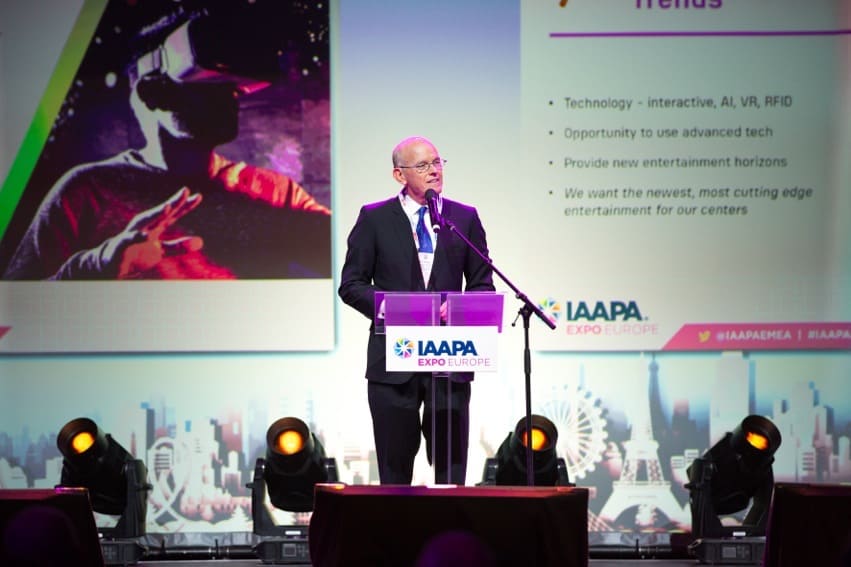 At IAAPA Expo Europe last September, Ernest described his task at SEVEN as "turning the desert into world-class attractions. Furthermore, "I've been given all the tools needed to succeed."
So far SEVEN has committed the equivalent of US$2.7 billion to infrastructure.
SEVEN's entertainment model
What might guests be able to expect at each of the SEVEN outlets, other than cinemas, family attractions and a place to eat?
"You're going to see sporting programmes, fitness facilities, performing arts," says Ernest. "We will have events based on all the different celebrations that go on in the country. And we want technology that is cutting edge." That is likely to include technologies such as virtual and augmented reality (AR/VR).
"I think there may be some things that are the same from location to location. But you are also going to see some very differentiated products. If you are living over in another part of Riyadh, you will want to come over because there are things that are unique. You can't afford not to be there!"
More than an FEC
Ernest promises that his entertainment destinations will be "a lot more elaborate" than a typical family entertainment centre. Rather he thinks of them as a "hub, a central space with a spine, where the community gathers."
"We want these places to be full every day, not just at weekends. You do that by entertaining multi-generations. I compare it to the cruise ship experience; I did that for a while at Disney."
#ارفع_الخفاق_أخضر
للوطن.. نبني مستقبل الترفيه!

For the country.. we are building the future of entertainment! pic.twitter.com/WkZv7XUEjw

— SEVEN مشاريع الترفيه السعودية (@EntertainKSA) September 23, 2019
"There will be programming for kids and young adults. And there will be things for parents and grandparents, who may want to come in and relax and not be as active. But then everyone gets together at night, and they chat about how their day went."
How much will be undercover? "Our architects are looking at it right now. "I think we will have a combination of indoor and outdoor to keep it appealing. But most of it will be indoors."
A domestic-first development strategy
Bill Ernest's background is in hotel and resort management. However, there are no firm plans for accommodation at any of SEVEN's entertainment destinations. "We haven't really got to that yet," he says, "but it would make sense for overnight guests that travel."
The company's plans involve taking its entertainment offer to 20 different neighbourhoods nationwide. Therefore, there is perhaps less need for accommodation than at the resort-style projects proposed elsewhere in Saudi.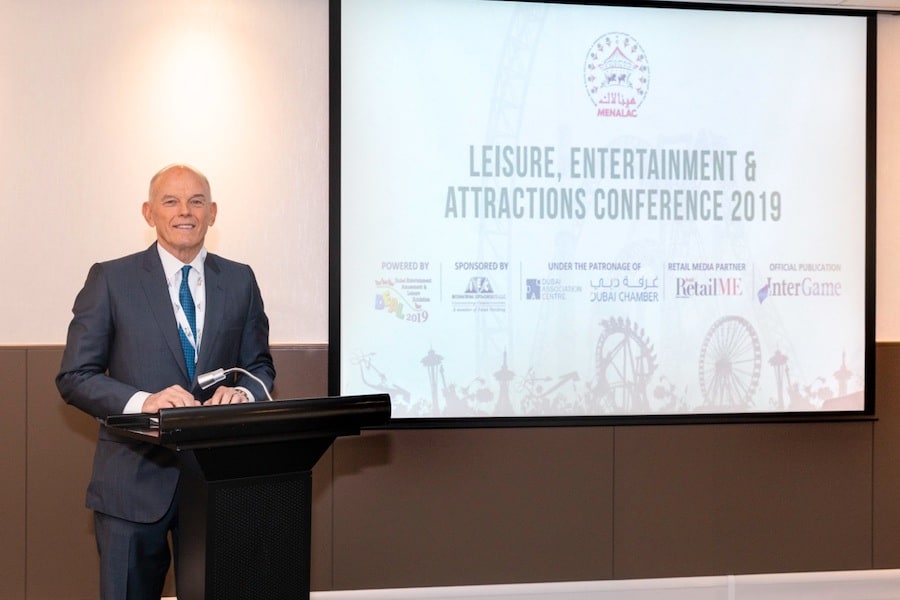 "I think we'll start with a domestic product," says Ernest. "This a nation of 30 million people, 60 per cent of them under 30 years old. So we have a young, vibrant audience who want entertainment and travel around the globe to get it. Our job is to provide it, right here, for the people of Saudi."
Over time, he hopes to develop an international component. "We have had multiple meetings with the minister of tourism. How do we make the country more appealing, how do we make it simpler to visit? I think if you build a compelling visa story, and have great word of mouth about what you are doing, people are going to come."
In October, Saudi introduced a new visa system, making it easier and cheaper for tourists from 49 countries to visit.
Bill Ernest and the road to 2030
Getting visitors to come is one thing. Having enough people to design and build a theme park, 20 entertainment centres and 50 cinemas – not to mention all the other multi-billion dollar projects under Vision 2030 – is another.
"We're going to need a lot of talent," says Ernest. "Our offerings will create exciting new roles for ambitious young Saudi nationals. We will need to provide training in new skill sets."
Thanks to the efforts of SEVEN, Qiddiya, Neom, the Red Sea Project and others, the next decade is going to be an exciting time for the country. SEVEN's CEO says he talks regularly to his counterpart at Qiddiya, Mike Reininger (also ex-Disney). He views these different arms of Saudi's Public Investment Fund and their respective entertainment projects as complementary.
"Qiddiya is part of the same eco-system. Our mission is to be the nationwide component of it. They'll be more of a standalone destination. We all know what our job is."
Ultimately, Bill Ernest wants to create a nationwide network of entertainment experiences that are "accessible to all but aspirational." And he knows the pressure he's under to get it right. "It's going to a be a huge effort to pull all this off. There's a lot of Saudi pride. For me, that's a big deal."
Images kind courtesy of Saudi Entertaiment Ventures.