Following the coronavirus pandemic, destinations are beginning to reopen to the public with safety measures in place. Some attractions have opted for the drive-through model to keep guests safe.
Transforming an attraction into a drive-through or drive-in is an innovative solution to the social distancing challenges presented by COVID-19. Guests who are seeking entertainment from the comfort of their own cars can head to Dezerland Park, Six Flags Great Adventure, or the Immersive Van Gogh Exhibit, amongst other offerings.
Drive-through attractions – movies at Dezerland Park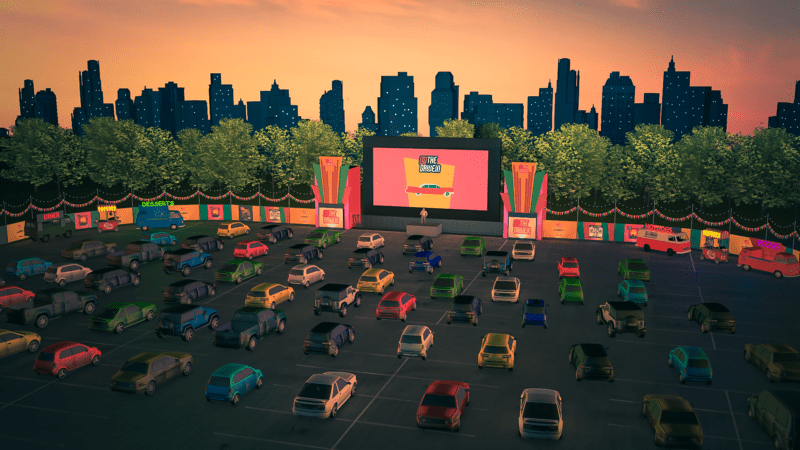 Dezerland Park Miami is the largest indoor theme park in the region. It has been closed since mid-March due to the coronavirus pandemic. However, the attraction is hosting drive-through movie nights every Friday through to 3 July.
"In the middle of this pandemic, the drive-in movie is a safe way for families to get out of the house on a Friday evening and enjoy a movie," said Michael Pizzi, an attorney for Dezerland (via Miami Herald). "We have created a safe environment where families can stay inside their vehicle with the windows closed and enjoy a wonderful night out with the family."
Dezerland is allowing 150 cars per show, and they must be spaced apart in the parking lot. The sound from the movies comes through car radios. Food orders are taken via a phone app and delivered directly to guests' cars.
"The drive-in movie night is the Dezerland way of providing the community with family-friendly entertainment. It can help to reduce stress during these difficult times," said Alex Reed, general manager of Dezerland Park.
https://www.instagram.com/p/CA6e4KwA_NE/
"This is part of many new programs I have planned for Dezerland when we fully reopen," he adds.  "Including a state-of-the-art skating rink."
Drive-in attractions in the UK
The drive-in cinema is also making a comeback this summer in the UK. The Luna Drive-In Cinema is heading to Allianz Park and Blenheim Palace in London. It will also be appearing at Knebworth House in Hertfordshire, and Warwick Castle in Warwick.
The Americana-style attractions will feature burgers, fries and roller-skating waiters. All set against stately home and medieval castle backdrops. Giant screens will show movies including Grease, Dirty Dancing, Sister Act, and The Blues Brothers.
Visitors will have their licence plates scanned on arrival before being directed to pre-assigned parking bays. They will also need to collect a wireless speaker box through the car window.
Drive-in entrepreneur George Wood set up the Luna Cinema. He told The Guardian: "They had no other events going on, their doors were closed. So the financial need was big. Suddenly, everyone was saying, this is a great idea – let's do it."
"People need to rebuild their confidence before they'll step back into a theatre or a cinema. Drive-in is the perfect socially distanced event," added Wood.
https://www.instagram.com/p/CA5t030HLqk/
Classic drive-in entertainment
Businessman Alan Crofton's @TheDriveIn is also coming to 12 sites across Britain. This includes Edinburgh Zoo and Newcastle Airport. @TheDriveIn will show Back to the Future, Jaws, Grease, Toy Story, Joker, and A Star is Born.
"There's been a huge lack of events. So there's going to be a surge in popularity for this kind of thing," said Crofton. "We want to mix that traditional American drive-in theme with a few modern touches."
In addition to movies, @TheDriveIn offers stand-up comedy, music and bingo. When visitors arrive, they will get an FM frequency to tune their car radios, in a throwback to American drive-ins.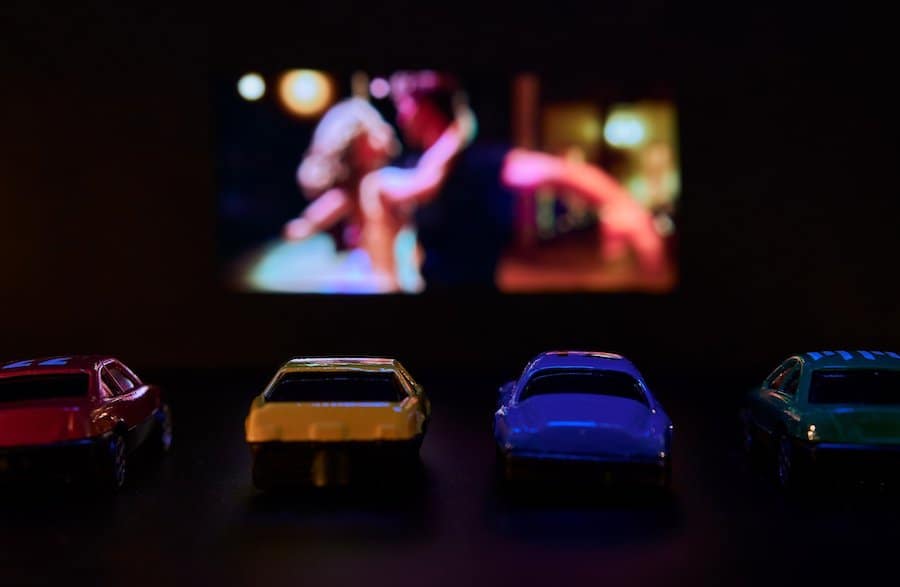 Elsewhere, Rooftop Cinema Club is hosting its third drive-in venue outside the front gates of Six Flags Fiesta Texas. Visitors can enjoy this from 18 to 28 June.
In the UK, a new drive-in entertainment centre is also heading to Manchester. Park N Party will take over EventCity this summer, offering a cinema, live concerts, sing-alongs and bingo. Events will also include comedy nights, blockbuster screenings and in-car discos (via Manchester Evening News).
The company will show performances across three giant dynamic screens. Each event will last between 90 minutes and two hours. Park N Party launches on 17 June with Bingo Bedlam. This is exclusively for charity workers and the NHS.
Immersive drive-in exhibits and museums
The Immersive Van Gogh Exhibit recently announced the world's first drive-in art experience in Toronto. Gogh By Car is an immersive experience of art, light, sound, movement and imagination. The venue can accommodate 14 vehicles per time slot. Participants must park and turn off their engines to enjoy the 35-minute show from inside their cars.
The exhibition places guests in huge light projections of Van Gogh's famous artworks, including Starry Night and Sunflowers.
Step Inside Van Gogh. The world-premiere of the new Immersive Van Gogh Exhibit from the creators of the blockbuster exhibit seen by over 2 million visitors in Paris. https://t.co/HmAoP1iFv4 #VanGogh #VanGoghTO #VanGoghExhibit #Toronto #LighthouseImmersive #1YongeStreet pic.twitter.com/ZMLF8y4fp2

— immersive Van Gogh Exhibit (@immersivevango) February 4, 2020
"We have been working around the clock to come up with innovative approaches. We want to make presenting Immersive Van Gogh safe for our audiences. While also keeping our artists, contractors and staff employed at their pre-COVID salaries," said co-producer Svetlana Dvoretsky.
"We recognize the devastating impact that coronavirus continues to have on the livelihood of artists and the cultural industry and we will continue to do our part to support artists and make art accessible during these extraordinary circumstances. We believe strongly in the resilience of culture in this great city."
Memorial day event
The Military Aviation Museum in Virginia Beach also held a free drive-in event over Memorial Day weekend. There were contactless opportunities for guests to donate to the non-profit museum. They could also pick up products from the online gift shop. Visitors could drive their cars around a specially crafted exhibit on the museum grounds to view some of the attraction's popular WWII aircraft.
"Memorial Day is an important time when Americans reflect on the meaning of service and sacrifice. The Military aeroplanes we will have on display are an important tangible link to those stories from the past," said Military Aviation Museum director Keegan Chetwynd.
View this post on Instagram
"We wanted to do something special for Memorial Day. But to do so with a focus on keeping everyone safe. Which is where the idea of a drive-through museum featuring our largest artefacts came from."
Drive-in exhibitions
Imagine Exhibitions, a pioneer in global travelling entertainment and immersive experiences, has also added drive-through exhibitions to its offerings. Imagine is able to quickly adapt its outdoor exhibitions into a drive-through experience. Without sacrificing the quality or content.
The company is having conversations with leading zoos and cultural institutions about drive-through exhibitions to open this summer. This includes Sean Kenney's 'Nature Connects' made with LEGO bricks and 'Dinosaurs Around the World'.
Imagine's drive-through exhibits will be safe, educational and entertaining. They will also be cashless – something that many attractions are implementing in response to COVID-19.
A new way to deliver stories
"I am thrilled that Imagine Exhibitions is creating drive-through exhibitions alongside several of our zoo partners," said Tom Zaller, president and CEO of Imagine Exhibitions.
"It has been such an inspiration to see the ways that our partners and peers have demonstrated resilience, creativity, and nimbleness by pivoting to drive-through experiences during this challenging time. These early adaptations have demonstrated that drive-through experiences can have a place in the wider spectrum of visitor-serving attractions and experiences."
"We've only hit the tip of the iceberg when it comes to the creative possibilities of drive-through experiences. We're excited for more opportunities to think outside the box of storytelling with this new medium.
Adapting experiences
Zaller explains a little more about how the company has been working to adapt exhibitions into drive-through experiences for attractions:
"Some of the simpler adaptations we are considering include developing an educational audio tour that can be played through an FM channel or via a smartphone as the cars progress through the experience, creating a cashless drive-through gift shop, and placing the displays and lighting them in ways that are ideal for car viewing.
"Some of the more complex ideas that we have considered include having the car drive into an enclosure where it is surrounded by an immersive video installation and/or placed onto a corresponding motion platform to simulate a ride or experience.
Drive-through exhibitions open an entirely new world of immersive possibilities
"It is also possible to combine an exhibition with an off-road experience, or to experiment with adding weather simulations like rain or wind to create a multi-sensory environment for the visitors safe and dry inside their car.
"One thing I have learned from over 20 years in this business is that the more immersive an experience, the more memorable it will be for the visitor. Drive-through exhibitions open an entirely new world of immersive possibilities for us and our partners!"
Guests can buy tickets for Imagine's drive-through offerings online and scan them through the car window. Imagine can also configure a simple drive-through gift shop at the end of the experience. Plus it can create audio components to accompany the exhibitions via smartphone or FM.
Drive-through attractions – zoos and safari adventure at Six Flags
Meanwhile, Six Flags Great Adventure has opened its safari adventure as a drive-through experience, offering visitors a look at its 1,200 exotic animals from the safety of their own cars, amid the outbreak of COVID-19. The safari experience will require advance registration using Six Flags' new online reservation system.
"The health and safety of our guests and team members is always our highest priority. In the current environment, we certainly want to take extra precautions to create a safe experience for everyone," said Six Flags President and CEO Mike Spanos.
Unique zoo experience
San Antonio Zoo in Texas also recently launched its new Drive-Thru Zoo tour, showcasing many of the zoo's most-loved animal inhabitants, such as big cats, bears and more. Visitors could listen to a special audio tour, which explained more about the animals.
The experience lasted between 30 minutes and an hour, and guests could even enjoy curb-side F&B. However, visitors did wear masks when exiting their vehicle to use public restrooms.
"This is a very unique and safe way for families to see the zoo while we are closed from the comfort of their own car," said Tim Morrow, president and CEO of San Antonio Zoo. "This new, creative way to see the zoo will be a gradual step towards our plan to reopen to foot traffic when we are given the 'green light' and the time is right."
Safe zoo visits
Toronto Zoo and Phoenix Zoo have also launched drive-through experiences, respectively called Scenic Safari and Cruise the Zoo. Scenic Safari offers a trip through Toronto Zoo with your own zookeeper commentary. Visitors can also download a printable Scenic Safari Bingo to play during the tour.
Cruise the Zoo has become so popular that Phoenix Zoo has added more summer dates. Guests can maintain safe social distancing measures while viewing a variety of animals, such as flamingos, giraffes, elephants.
It's not just the US adopting this new model. Mother Farm, an animal park south of Tokyo, also reopened as a drive-through attraction. A spokesperson told Reuters that the zoo reopened to provide a change of scene and help relieve stress amid the coronavirus crisis.
"We don't have many opportunities to go outside any more," said local resident Masayuki Arinobu. "So it was great to get a breath of fresh air and see the animals up close."
"We have been getting a lot of good feedback. Visitors are enjoying the amazing view and cute animals," said Mother Farm spokeswoman Manami Ishii.