Now 41, Michael Mack has been CEO of Europa-Park in Germany since 2006. Building on the legacy of his father and Europa-Park founder Roland Mack, he has continued to roll out new rides, attractions and themed accommodation whilst introducing fresh technology and story-driven experiences.
Following his interview at blooloop V-Expo, we bring you Michael Mack's thoughts, in his own words, on the evolution of the popular theme park.
Europa-Park celebrates a new era of storytelling at Rulantica Water World
"Rulantica was the first park we constructed that is totally dedicated to a 360-degree approach. We published a novel together with a German publisher, Coppenrath and we actually wrote the book before we built the park. At heart, we are still European themed, but we decided to go more towards fantasy.
"Normally we do about one attraction a year, and suddenly we had three attractions [also Snorri Touren and Pirates of Batavia, all opening within less than 12 months of each other]."
"It was difficult in two ways; to manage all the construction sites, but also to open a new park with a new storyline. I am totally happy we succeeded. We had a great team, whether that be the people at Mack Solutions, MackNeXT, or of course the outside vendors who did a fabulous job on all the attractions we opened.
"We opened the water park in November. Then we had almost half a year in operation, and it was going extremely well, before the shutdown came [in March]."
Doing business during a pandemic
"We are still missing heavily our entertainment business, the evening business and the conventions. Hopefully, we will get back some of the local events, like the Deutscher Schaustellerbund (German showman's association), which is looking into making their convention at Europa-Park. And we are talking to IAAPA EMEA, so they can do a kind of expo here in February."
"In Germany, we say our glasses are empty when it comes to investing in new attractions. We first have to recover from the pandemic. We've invested a lot already in the last two years, so I think we are in a fairly good position to wait and see how things are going.
"Mack Rides has big jobs for the next two years. Some are them are postponed, but it's still not bad business without being at IAAPA, although surely we will need a trade show next year. The hotel business is doing great, so investment would be into beds rather than attractions."
Europa-Park and the staycation trend
"We see the word staycation being used in the past two years. And it's a trend we see even more at the moment. People want to stay close to home, they are afraid of travelling far."
"One of the good things in this crisis is that we are not depending so much, like Disney would be in Paris, on overseas tourists. We are having problems with the legislation being different in France, French people can't easily access Germany, but we still have a very local market.
"An average reach for our guests would be two-and-a-half hours by car, we don't have many coming by plane. Next year I believe people will stay in the country, spending their money with local brands."
The many businesses of Mack
"We brought some of the brand names back into Europa-Park. MackMedia we changed to be our in-house agency, providing video content for the park. It's not like it used to be, a company out there on the trade show floor looking for business. The same with Mack Solutions, that is going to back to being our construction team at Europa-Park."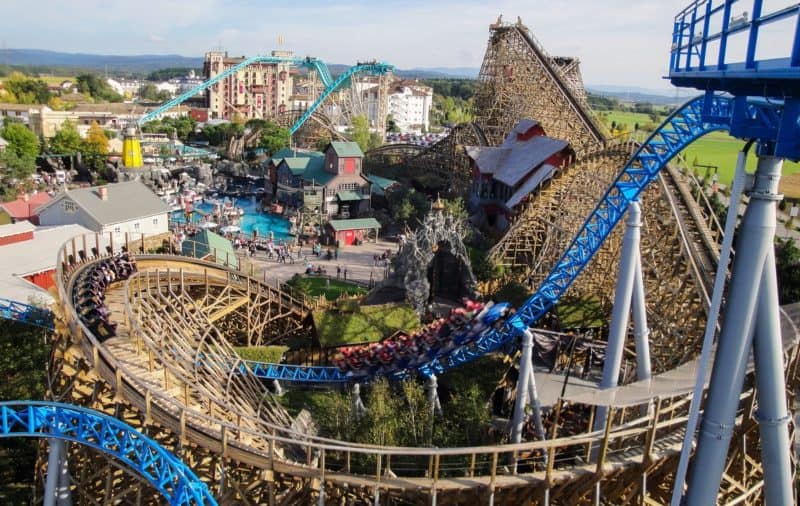 "The ones that are looking for outside business are Mack Rides, obviously, Mack Animation, Mack NeXT and VR Coaster.
"We are now focusing on MackNeXT being the business incubator within the company, with some highly talented people. A little bit like the Imagineers within Disney, creating the new attractions of tomorrow. We don't want to step into competition with existing theming companies, but we want to offer our knowledge to customers who have already purchased a Mack Rides product or VR attraction."
Mack Animation, flying theatres and feature films
"With Mack Animation, our arm in Hanover, we are one of the very few companies who can do real-time footage for flying theatres, like the one in Voletarium, and also animated movies for your theme park."
"We recently signed a contract for a flying theatre in Kazakhstan, and we did a second real-time movie for Fly Over Mexico. It was finished half a year ago and is beautiful. Unfortunately, the world can't see it because they are in lockdown.
"We are releasing a full feature animation next summer. We already did a movie, Happy Family. I think it was differently named in the UK. And certainly, we have some strong characters who would be good for another film, so we are looking to do a third one in 2025."
Technology = longevity
"I believe in the immersiveness of the theme park. Whether it's a VR headset, an AR headset or some kind of gadget; something other than just a roller coaster.
"People still want to be together with their family, having a jolly good time. I don't think it's one or the other. It's a choice between being at home with your VR/AR glasses and your mobile phone, or being together where you can share digital moments."
"Years ago people were saying, "The internet is coming, it will ruin theme parks". None of that happened. Sometimes I do wish it would be gone if people are walking through your park with their mobile phone in front of their face, but it is part of our everyday life. We have to consider how you can be entertaining, accepting that these techniques are existing.
"Just recently I did the Yullbe [VR] attraction with the vice-president of the German showman's association. He said: 'I have been a Mack customer all my life, from when you started with the caravans, moved onto bumper cars, then I had a Mack merry-go-round. And now I am wearing some Mack glasses!'
"I was quite proud because in life you always have to reinvent yourself. I think that's one of the strengths of the Mack family. That's why we have been now in the business for eight generations and 240 years."
Yullbe – Europa-Park's new free-roaming VR experience
"The difference between Yullbe and the Valerian Coastiality experience on Eurosat is that on Eurosat you are just being tracked by your head and it's like an 8-10 minute virtual reality pre-show to the ride. With Yullbe you are actually wearing a backpack computer, so we are much better off for the resolution, and you are walking around for 30 minutes in your group and can see the movement of the people around you."
"There is a very wide viewing angle, 200 degrees. You get tracked on your head, hands, feet. There are over 80 cameras to track your precisely. You see your whole body in VR. It's really difficult to explain, but it takes you really quickly into the immersive world.
"We have two different experiences at Europa-Park. Yullbe 30 is a permanent, premium experience at Hotel Krønasår, taking you into the world of Rulantica. Then we have Yullbe 10. This is a cheaper version, where you don't have the cameras installed in the building but you could set it up anywhere, like shopping malls.
"We will start Yullbe 10 with a Traumatica experience at Europa-Park for Halloween, but we would like other brands to come onto the platform, like Apple is doing with the Apple Store."
The power of storytelling at Europa-Park
"I believe stories are very important as the world is getting more and more digital. People want to experience stories back home and on their way to the park.
"I give you a perfect example. I showed my nine-year-old son a new coaster we are going to implement in the park for 2023. He said, "Dad, are you doing a TV series with that? I would love to listen to the story before you open the coaster." I thought that was quite funny. In my day, you would just get some merchandise!"
"We have always been storytellers, but in a different way to Disney. Walt was a filmmaker. As a European themed park, we always told our story with German and European architecture.
"We could have just built a normal park with rollercoasters, but we spent the extra money to make it look beautiful. We will continue doing so, but I think we can add another level, not only being storytellers with concrete and architecture, but also digitisation.
"Nobody is expecting Europa-Park to be the next Netflix or Amazon. But nowadays we can use our stories on a VR coaster, in a Yullbe experience, a 4D cinema, a musical, a dark ride. Of course, it would be nice if we could launch our IPs on a bigger scale than the theme park, that would be the cherry on the cake, but we don't need the movie business to be successful."
Getting the right intellectual property strategy
"You have to carefully control the IPs, see what IPs fit into your park. There are a couple of good European brands I would be eager to bring into the park. One is based in the UK and is about a small agent going around the world doing his thing."
"With Yullbe and VR, every IP could be part of the digital experience. But when it comes to our park and the European architecture, I couldn't think of having a Marvel ride or something American, that is too far off what we do. And I don't want to be like a movie park with one IP after the other; to give people the impression of being continually overwhelmed with stories and in need of buying merchandise."
Europa-Park's dark ride legacy
"In the days when Mack Rides did a lot of showmen's attractions, we did quite a lot of dark rides. Haunted mansions are part of our legacy. We are still pretty OK with dark rides, although we are looking much more into the coaster segment now."
"There were several reasons for doing Snorri Touren. One was that my grandfather always had in mind to build a dark ride underneath the Scandinavia area but we never had space. When the fire came, we redid everything, so gave it a try. Reason two was that it's a great cross-promotion for the water park. The third reason is the Scandinavian village has the same look and feel as Rulantica; it's a Nordic saga.
"The fourth reason was to show the world that we are able to have a lot of assets of our company together. Whether it's Mack Rides producing the ride system, MackNeXT developing the concept, or Mack Animation delivering the content, I think this is the first attraction we brought to Europa-Park which shows all the different qualities within our company."
Rebuilding Batavia
"What we tried to do when relaunching Pirates in Batavia is keep the old feeling and make it better, a bit more modern. We kept the ride system the same but prolonged it a bit, and wove in a little story with Van Robbemond as the founder of our Adventure Club of Europe. We changed the animatronics, we brought them over from a company in the US. And we put in Mack Animation content."
"In the old days, the story was quite cruel because the Dutch sailors were taking over a lot of places including Batavia [Jakarta] and kind of plundering the people over there. It is quite a difficult story to tell nowadays.
"We tried to put in a story that's much nicer. The bad guy, Cortez, is trying to look for the fire dagger, which is hidden in Batavia, Van Robbemond joins him for his journey and falls in love with a young lady who knows where the fire dagger is being kept. It's a bit of a James Bond story!"
The future for Europa-Park
"Of course, we would love to grow. Hopefully, there will be an expansion of the business with Rulantica. Hopefully, there's going to be an expansion of the hotel business also, because we do see that trend for staycations."
"We have some great ideas for the park. We are thinking of putting in at least two more themed areas. At least, I would say, five more attractions coming.
"If you talk long term, five to 10 years, I'd love to see a cable car crossing the Rhine towards France. Expanding to France would be a unique thing to do, a once in a lifetime dream. It's about 3.5 to 4km between the two countries, depending on how directly you go."
A family with a focus
"One of our strengths as a family company is that we have a great relationship and understand what everyone is doing.
"Thomas is doing a great job with heading up conferences, entertainment, hotels, food & beverage. My sister [Ann-Kathrin] is heading up the construction department. She is quite new to the company, I am finishing off with Batavia and handing over to her. We have Jürgen who is doing all the finance and HR. I think we are working perfectly together, and I am proud that we have this variation within the family."
"As the next generation, myself, Thomas and Ann-Kathrin don't have the same pressure my dad had. We have already five descendants, and not everyone's married yet!
"We live in the park, so my children can soak it all in and experience it from a very close distance, but I don't want to pressure them. I think they should all do what they love to do, and of course, be the best in their fields.
"I have nothing against my dad giving the family advice. We can see that he is stepping back from the operational side of the business but, I mean, he lived the company for 50 years. There is no reason to kick him out or tell him when to stop. I think the most important thing is that he is happy."