For over a century, the Lund family has been providing entertainment across Scandinavia.
The word 'Tivoli' is used as a generic term for amusement parks and travelling fairs throughout the Nordic countries and Lunds Tivoli is a household name in Norway. Over the past two decades, however, Lund Gruppen (Group) has branched out and enjoyed success in other areas of the entertainment industry too.
Håkon Lund Snr started the family business in 1895, establishing rides at parks and pleasure gardens in Oslo, Berlin and in Ireland. Today, Lunds Tivoli continues to travel throughout Norway with its rides and attractions.
In 2015, almost 20 years after buying Kongeparken near Stavanger, Lund Gruppen took on a new venture in Sweden. Skånes Djurpark is the family's first experience of running an animal attraction and Håkon Lund (great-grandson of the firm's founder and head of the parks division), believes it holds great potential.
Håkon's younger brother, Aasmund Lund, keeps Lunds Tivoli on the road while the youngest brother, Magnus Lund, oversees the music festival business. In addition, Lund Gruppen runs Oslo's popular Christmas market, Jul i Vinterland.
Lund Gruppen and the business of Christmas
It was Christmas that helped kickstart Kongeparken as an attraction under Lund's first season back in 1997. The family had already witnessed the public's appetite for amusement over winter, having attended the Funderland indoor funfair in Dublin with some of its midway games.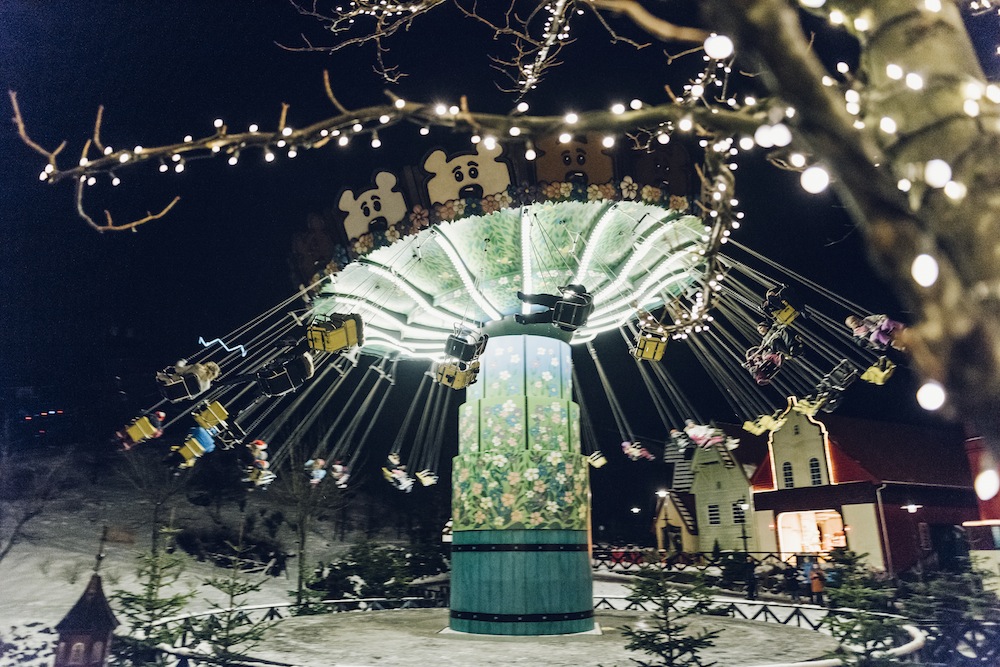 Kongeparken's first series of Christmas shows were not an immediate success. "We put the shows on over four consecutive Sundays," says Håkon Lund. "It was just me and the Salvation Army band; no guests. The last Sunday I was ready to send everything back. However, the weather was nice and we got a queue 2km long outside the gate. I thought, 'There might be something in this'!"
Jul i (Christmas in) Kongeparken now plays for 30 shows each November/December, entertaining around 1,000 guests per session. Here, visitors can explore a seasonally themed park featuring over 1,000 Christmas trees and 1.5 million lights.

It all began with a teddy bear
In addition to its seasonal activities in Scandinavia, Lunds Tivoli also participates in London's busy Hyde Park Winter Wonderland. If you've ever seen visitors walking around the event with a 2kg chocolate bar (a popular prize at Scandinavian Tivolis) under their arm, they probably won it on one of Lunds' games.
If there's a classic prize when it comes to midway games, however, it is surely cuddly toys. Håkon Lund says that his great grandfather was one of the first people to introduce teddy bears to Norway, thanks to his work in the carnival industry. Then, a trip to Canada many years later provided his great-grandsons with some fresh inspiration.
"We went to a children's hospital, where they explained to children what they were going to do to them by showing them on a teddy bear," says Lund. "We thought this was an amazing educational tool. When we got home, we rented out the biggest stadium in Oslo and put on a winter fair.
"But we also made a teddy bear hospital. People could bring their teddy for a health check with students from local hospitals. We 'treated' over 2,000 bears in the first hour. That was two years before we bought Kongeparken, but teddies have become really important for our company ever since."
Kongeparken – a park fit for a king
A 'king' (Kongen) bear now serves as Kongeparken's mascot. The improvements the family has made over the past 18 years have given personality to a former 'summer land' that "didn't have a soul, didn't really know what it was," says Lund. "The attractions we inherited were very basic."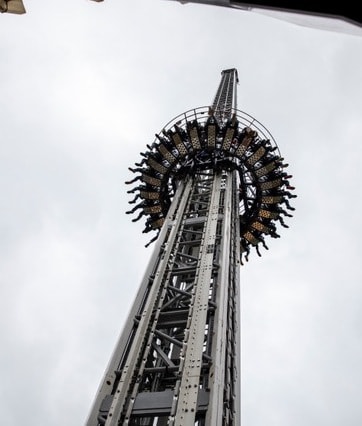 Almost all of its attractions are now themed. That includes Thea Award-winning offerings such as the imaginative Barnas brannstasjon (children's fire station) and Fergie the tractor ride that anchors Gråtassland. The latter represented Lund's first experiment with an external intellectual property (IP).
New for 2019, added in an attempt to reach out to a slightly older demographic, was a freefall tower from Austrian manufacturer Funtime, named Stupet (The Cliff).
Venues with values
The development of Kongeparken has been guided by six key values that Lund Gruppen strives to deliver at all its venues. These are magic, excitement, play, explore, learn and share. "These are important not just for the guests, but also our team members," says Lund.
From ice cream vendors to ride operators and even those in working in finance, all staff are recruited via 'auditions' rather than traditional interviews. Before each park or attraction opens each day, team members gather for a warm-up session.
Igniting passion
Each November, Håkon Lund takes some of his younger staff members out to IAAPA Expo in Orlando. "IAAPA is important for trade, but it's also very important educationally," he says. "Some of the best brains in the business are there. We tie what our staff learn back into our own training programmes after the show. If you train your people well, you light a passion within them, and they will stay with you forever."
If guest experience and service are important at the company's parks and attractions, so too is story. "Our industry is like the movie industry," says Lund. "It doesn't matter how expensive your actors are, how good your theming or sets; none of it matters if your story is crap."
That story could be something as simple as the magic that comes from singing songs around a fire pit over Christmas at Jul i Vinterland. Or it might the narrative that runs through Fåret Shaun Land, the Shaun the Sheep themed area added to Skånes Djurpark in 2017.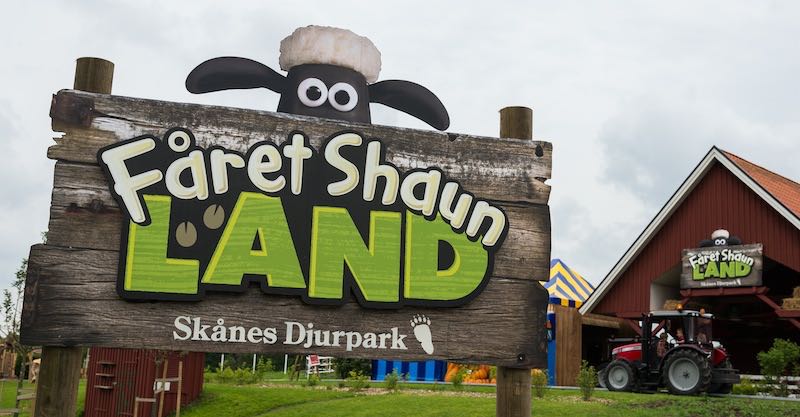 Sweden calling
Håkon Lund explains the reason for venturing outside the family's native Norway when looking for a new park. "There are not many regions in Scandinavia that have a lot of people," he says. "So we quickly turned our attention to the southern tip of Sweden.
"We had been to Skånes Djurpark on our travels, but it wasn't quite what we were looking for. Then one day I received a call from the governor of the Skåne region, who was also the head of the park's board. She said the park was struggling and asked if we'd like to take it on."
Lund's reaction was a cautious one. "First of all, animals are a complicated topic and not something that was within our key competence zone. However, I was willing to put aside three days with my team and offer an honest opinion. We basically said in five years either all these animals are going to be dead, or you are going to have an amazing experience. You cannot go on just floating."
Six months later the governor called back, with an offer to make a large investment in the infrastructure of the site. "They put in proper sewage, power, the internet, which benefitted all the park's neighbours too. There wasn't even mobile coverage before."
Scandinavian animals and story-driven attractions
Skånes Djurpark is the world's largest animal park featuring only Scandinavian native breeds. This informed Lund Gruppen's strategy for developing the site, which is located about an hour from Mälmo.
"We said early on that were are not going to grow this park by adding lemurs or tigers," says Håkon Lund. "We are going to grow this park by driving the story."
The introduction of Shaun the Sheep, one year after the Aardman character had made a number of guest experiences in the park, made a statement about the new owner's intent. The signature attraction of Fåret Shaun Land is a tractor ride by Metallbau Emmeln. It is surrounded by lively scenes and animatronics from Themesparx, Hofman and P&P Projects, with AV by DJ Willrich.
"Putting in a ride was a big deal for this park," says Lund, "so we had to be careful what we chose. Even though a drop tower would be fun, it would not suit the story. We love working with Aardman, they are really talented people."

Skånes Djurpark – adventure awaits
Guests are now immersed in adventure the moment they arrive at Skånes Djurpark and its 'basecamp' welcome lodge. The inside of the building is decorated with old skis, backpacks and other expedition equipment donated by people from the surrounding area.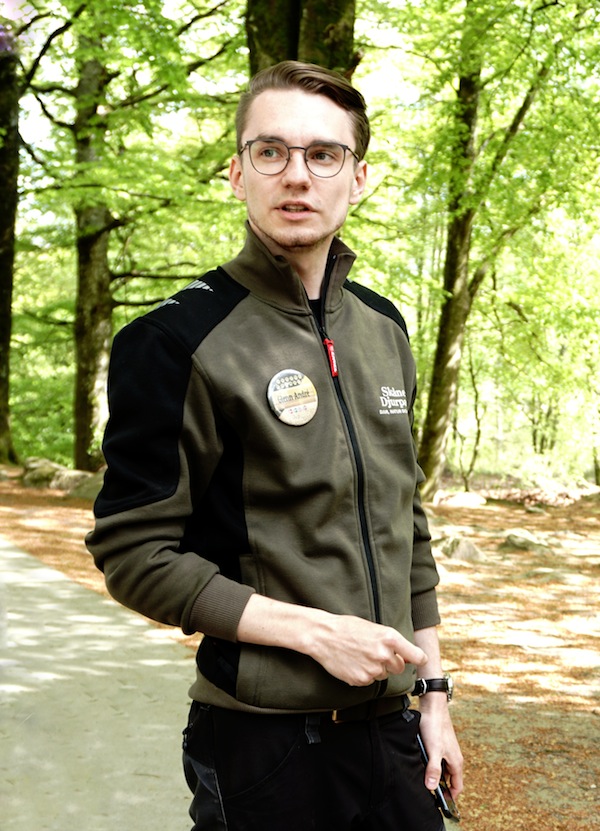 Skånes Djurpark's 27-year-old chief operations officer, Glenn André Viste Bøe, is a former games operator and alumni of the Big Bear training programme who says "I grew up in Kongeparken".
"We did some market research in Mälmo in the summer of 2014," says Viste Bøe. "People described the park as like an old aunt. It's always there, has great waffles and tea to drink, but doesn't change. So it doesn't matter if you come today, tomorrow or in five years' time."
One of the first things Lund's did when taking over the park was to introduce seasonal events, to encourage repeat visits. With 40% of all season cards now sold on the way out, many families are clearly liking what they see.
Connecting humans with animals
Given an 'Explorer Passport' and a pair of binoculars on arrival, guests are asked to look for different animals on their 'expedition'. There are also given additional missions to complete as they make their way around the park.
"We have huge enclosures, which is good for the animals, but means guests don't always get to see every breed," says Kasper Schumacher, the park's CEO. "That's why we have to think of ways to engage people even when they don't see some of the animals."
The Explorer Passport is also linked to an app. However, says Schumacher, "we would prefer people to be digital before and after their visit rather than spoiling their experience in the park."
The Lund Gruppen has also made its mark on the park by freshening up its logo. This now appears against a wooden background and features a bear's paw print.
"Usually zoos depict the front paw," says Viste Bøe. "We use the back paw, which looks more like a human foot. This works brilliantly with our mission of connecting humans and
animals."
Award-winning poop
One particular message about the park was communicated with a memorable piece of marketing in Copenhagen. The Danish capital is linked to Mälmo by the Øresund Bridge that connects Sweden and Denmark.
Schumacher, who used to work at the city's famous Tivoli Gardens, tells us more about the stunt: "We scooped 9 kilos of bear poop, drove it to Copenhagen, then placed it outside one of the main train stations with a sign saying 'Skånes Djurpark – closer than you think'. We then filmed people's reactions and put the video on Facebook."
The increase in social media activity and, importantly, park attendance was almost instant. As proof that the brown stuff turns heads, this would not be Skånes Djurpark's last piece of poop-related promotion.
"The Poopcakes well sell in the park are without doubt our most photographed and Instagrammed meals," says Viste Bøe.
The creations are in fact made from chocolate and oatmeal by a local bakery. Their introduction follows a deal with the German author Werner Holzwarth, whose Story of the Little Mole tells the tale of a dog's 'deposit' on a molehill.
Both the Poopcakes and 'Poopie Movie' marketing campaign in Copenhagen achieved global recognition for Skånes Djurspark during the Brass Ring Awards at last year's IAAPA Expo. At the event in Orlando, the park picked up more plaudits than any other attraction, also taking home Brass Rings for its employee reward and training programmes.
Park attendance – Kongeparken Vs Skånes Djurpark
Since taking over Kongeparken, the Lund family has built annual attendance from 40,000 to 250,000. Repeat visits are key to that figure given the local population base.
"Within one hour there are 300,000 people," says Håkon Lund. "Within two hours there is 300,000, and within three hours there are still 300,000 people! We are surrounded by a lot of water and fjords."
He sees greater potential for Skånes Djurpark, which currently entertains around 175,000 guests but has over one million people on its doorstep.
"There are Swedish and Danish parks with worse locations than us that have up to 500,000 guests," says Schumacher. " So I think we can go big."
"I want us to become the number one outdoor exploration destination in Sweden, and maybe even Denmark and Northern Germany," says Lund.
Building upon the park's 'expedition' theme, it has already started offering overnight camping in a Magical Tent Village. Recently Lund Gruppen acquired a lake next to the park, which will be connected to a new beach area. Lodge accommodation may follow.
"People want to get out in nature, but they are uncomfortable with camping," says Viste Bøe. "We can help them by providing more of an experience."
Adding story to the Tivoli
It's not just at its theme parks that the Lund Group strives to create bespoke attractions. "The world is more competitive," says Aasmund Lund. "People have seen more and more stuff. We need to create a unique atmosphere."
Rather than ordering 'off the shelf' carnival rides, the boss of Lunds Tivoli has come up with custom themes for most of its new rides in recent years.
Go 2 Gate is a 'Speed' propeller ride from the Dutch manufacturer KMG, themed around an airport. Riders are even given a boarding pass ahead of their 'flight'. New for 2019 is a British-built Waltzer ride (similar to Tilt-a-Whirl) called Fireball, complete with blazing LED screens.
Perhaps the most elaborate new arrival ride of late is Dragon Nest, a Star Flyer style ride, also from KMG. To accompany the attraction, Lund's had two trailers fitted out in Italy by Gosetto. One of them features a pre-show (virtually unheard of on a travelling fair) and giant animatronic dragon. The other houses a bar and a viewing platform.
Such attention to detail gives Lund's an edge against other carnival operators when seeking out new sites.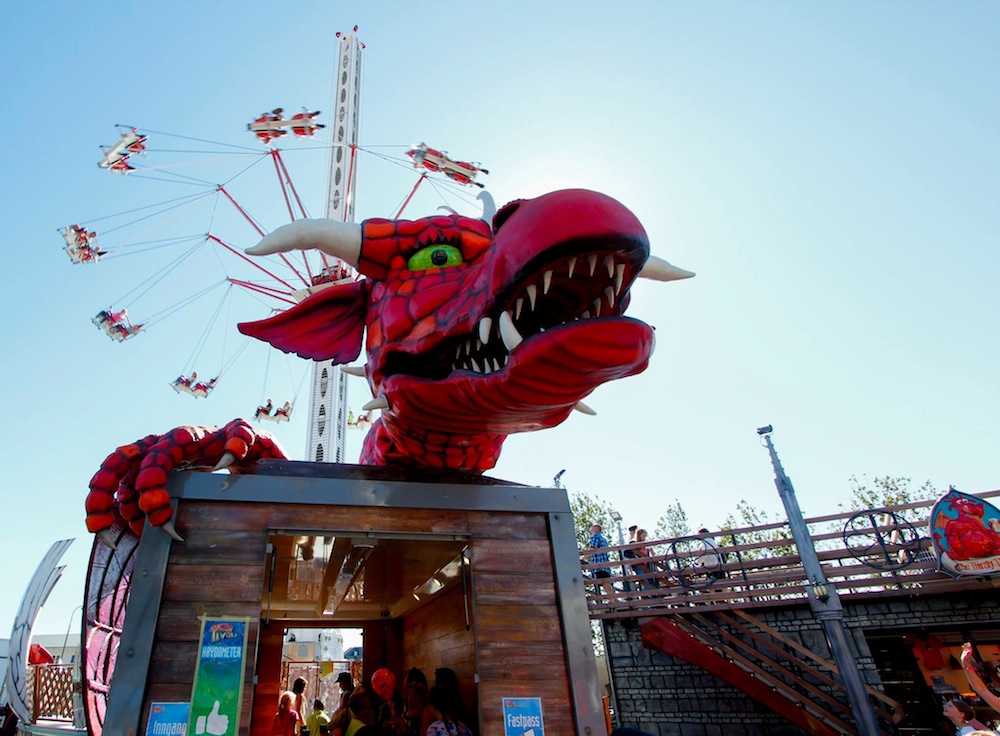 Christmas in Oslo
For six weeks each winter, Lund's Tivoli brings several of its rides and attractions to Jul i Vinterland in Oslo. These are joined by around 60 seasonal market stalls. There are also craft workshops, cosy fire pits and an ice rink.
All the seasonal food and drink you'd expect is there, including Bratwurst and Glühwein, or Gløgg as it's known locally.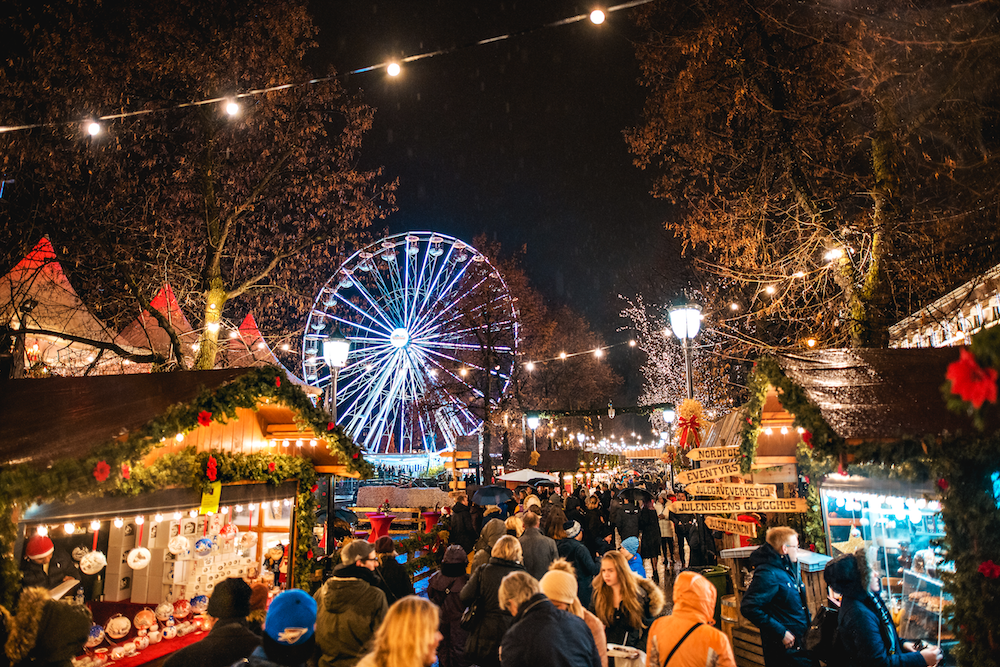 Lund Gruppen won a tender to the run the event, which is located on a prime site close to the Norwegian parliament and Oslo's main shopping street, in 2016. What had previously been a simple row of stalls has grown considerably in scope and attendance. Last winter, the event welcomed a record 2.4 million visits.
One of Jul i Vinterland's most popular features is a tunnel with hundreds of thousands of lights. Tourists, couples and groups of friends flow through it all day, and into the evening. Few can resist the temptation to get out their phones. So much so, it has become the Norwegian capital's number one selfie spot over the festive season.
Music festivals and magical moments
In 2017, Lund Gruppen acquired the Palmesus beach party in Kristiansand. It also runs an additional two music festivals in Norway. These are Elve Festivalen in Drammen and Festdager in Skien, Mysen and Hamar. These allow the company to leverage its experience in event logistics, theming and marketing. Rides feature too.
Whilst they might operate in different industry sectors, and different countries, the company encourages all staff to share experiences.
"The whole group communicates via [the apps] Slack and Actimo," says Håkon Lund. "Everyone can see and contribute to every project, even if they are not part of it. We also use Basecamp for all our planning and Mobaro for our maintenance checklists. So we use a lot of technology to bring all these venues which are quite far away close together."
Lund Gruppen might have diversified somewhat from its travelling carnival roots, but it hasn't abandoned them. What unites the family's efforts across each of its businesses – theme parks, fairs and festivals – is that it provides 'magical moments' that make people happy. And that, as others in this industry will tell you, is worth getting out of bed for.
Top image: Barnas brannstasjon at Kongeparken. Images courtesy of Lund Gruppen and Owen Ralph.