Pre-school kids and their parents who grew up watching "Sesame Street" will be able to step into a real-world version of the television neighborhood when Sesame Street at SeaWorld Orlando opens.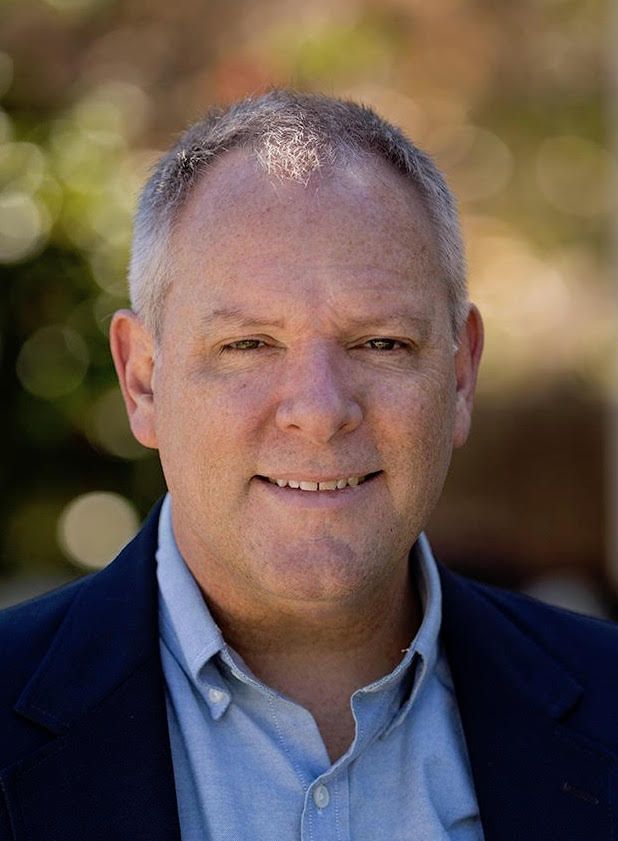 Sesame Street at SeaWorld Orlando opens this spring on March 27 with a faithful recreation of the familiar TV set along with six attractions, two play areas and a retail shop themed to the 50-year-old children's television show.
I recently took a behind-the-scenes construction tour of Sesame Street at SeaWorld Orlando with Amanda Trauger, creative manager for theme park development at SeaWorld. During my visit, the theme park version of the famed fictional street still remained unpaved, although the curbs were in place. Cement was drying on the nearby sidewalk. Construction crews were laying underground piping for the water play area. A series of paint color tests covered the facade of the show's familiar 123 Sesame Street building.
"We wanted to create something new," said Trauger, who wore a pink Abby Cadabby hard hat during the tour. "We wanted to take a moment to say 'What's something that our guests haven't been able to do yet?' This is the first time they're going to be able to walk down Sesame Street in this real-life architecture."
What you'll see
The faithful recreation of the New York City TV neighbourhood coming to the Florida theme park will let visitors:
Shop inside Mr. Hooper's store
Wander through Abby Cadabby's garden
Listen to Big Bird tell stories from his giant nest
Sit on the familiar stoop of 123 Sesame Street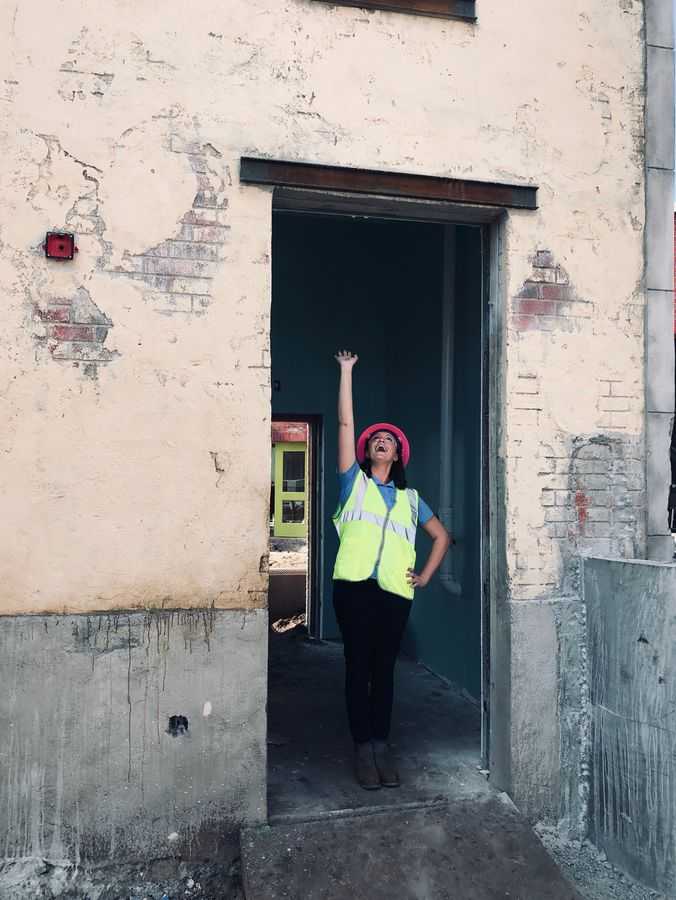 The new themed land will have 22 building facades recreating locations from the children's television show that began in 1969. One building even has a door big enough for the 8 foot, 2 inch Big Bird to walk through.
Once the work is done, the new land will look just like the television neighbourhood. Mr. Hooper's corner store will have black-and-gold striped awnings over the windows and a rooftop billboard. Colourful floral planters will hang beneath the second-story windows on the 123 Sesame Street building that serves as the centrepiece of the land. Rows of brownstones with wrought iron fire escapes will line a paved street with curbs and crosswalks. Hopscotch squares and chalk art will adorn the sidewalks. A subway station, newsstand and theatre will fill out the block.
Located next to Shamu Stadium, Sesame Street at SeaWorld Orlando takes over six acres that were once home to Shamu's Happy Harbor. All of the former ocean-themed rides from the kiddie land will be re-themed for Sesame Street at SeaWorld Orlando.
From TV Show to theme park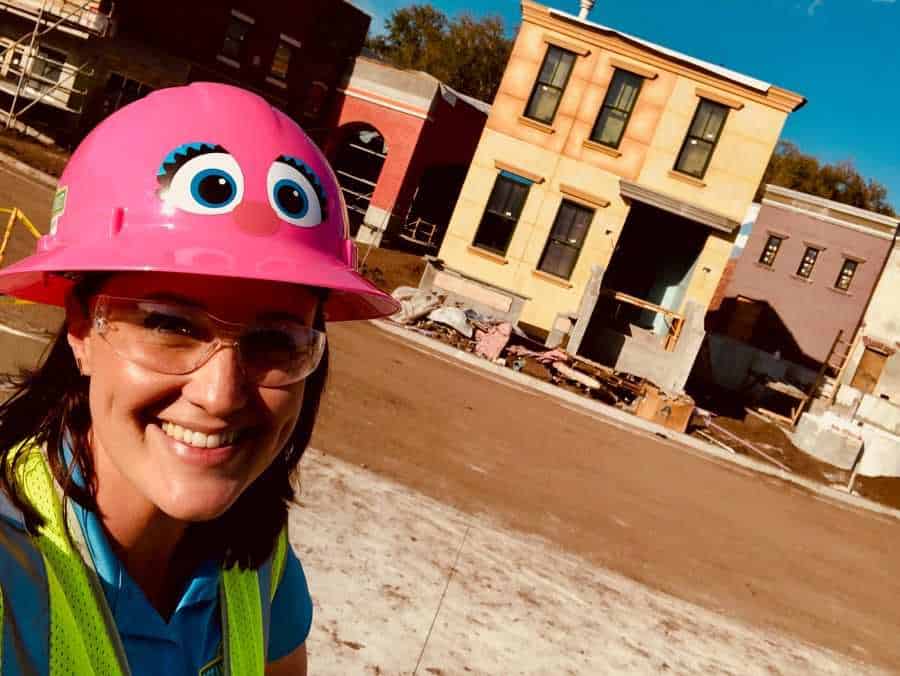 A majority of the new land will be an exact replica of the current TV show set, which has undergone several remodels through the years. SeaWorld's creative team worked closely with Sesame Workshop to bring the new themed land to life at the Orlando park.
"The core of what you see on the set is what we've built on the exterior street," Trauger said of the TV to theme park transformation. "We have more space than the set does. We have a bigger street than the set does. So we had to expand on the idea of what is Sesame Street and what would you have there."
Challenges
One of the biggest challenges: Creating a second story for the new themed land. Viewers only see the first floor of the TV set.
"We had to work with the Workshop to envision how tall 123 really is. We don't know. It just kind of stops," Trauger said. "Hooper's also just goes to a point where it stops. We don't really know how tall Hooper's is. So we had to figure that out."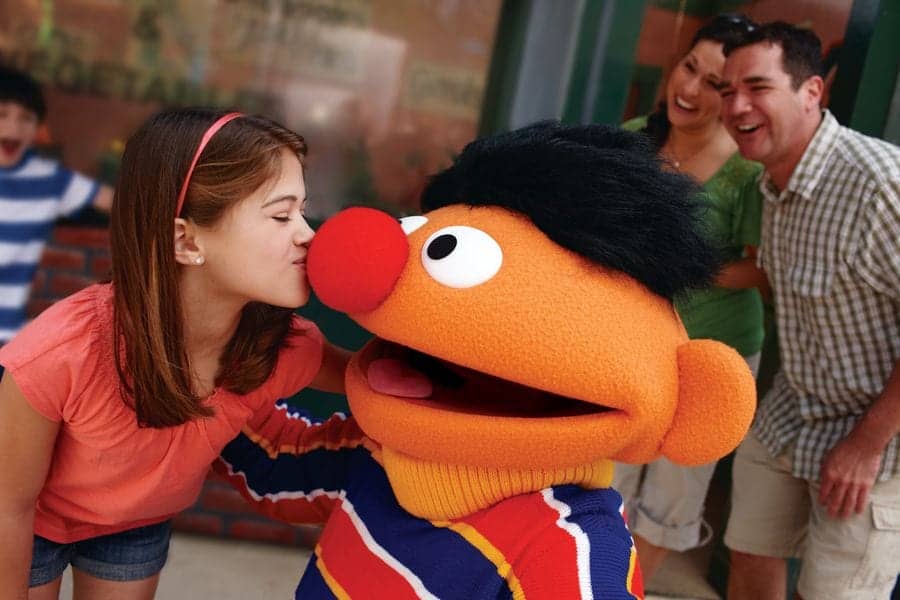 Visiting the Sesame Street television set thrilled Trauger's inner child. It also helped the SeaWorld creative team translate the TV universe to a theme park environment.
"The set has a whole different environment. It's indoors. It has different lighting. Everything's always perfect on the set," Trauger said. "In the theme park world, guests are in here every day. That's tricky whenever you're building something that you're going to have all of these guests walking through."
Digital tools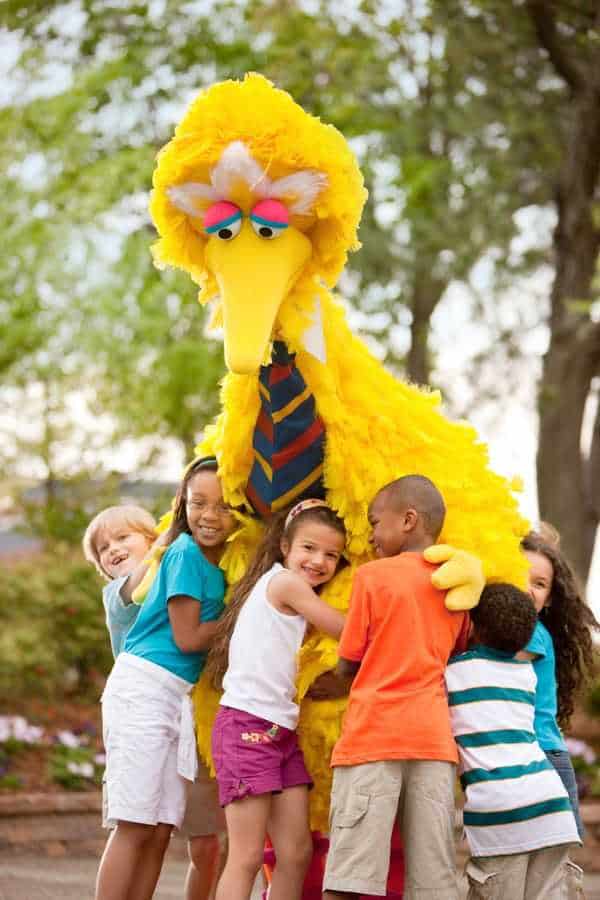 During the design phase, SeaWorld's creative team referenced a digital version of the Sesame Street television set that allowed them to zoom into every architectural detail. Prior to construction, the SeaWorld team created a virtual 3D model that let them look at Sesame Street at SeaWorld Orlando from any point of view.
"It was a super helpful tool," Trauger said. "We could put the 3D glasses on and go down to a 3-year-old's height. Or we could go to the adult height. Or we could stand on top of the building and see where the lights were going to be pointing."
SeaWorld's creative team referenced previous Sesame Street sets and Sesame Workshop illustrations to ensure architectural details like decorative cornices were as accurate as possible. The SeaWorld team even built a full-size mock-up of the 123 stoop facade to make sure the dimensions of the forced perspective building were correct. Trauger brought her 8-year-old son to the park to see how his height compared to the 123 mock-up.
Reliving memories
The goal of the project was to strike a balance between the "Sesame Street" kids watch today and the show their parents remember from their own childhood, Trauger said.
"The Sesame Street that I remember is a little bit different from what my kids remember," said the mother of two young children. "There's bits and pieces that I remember that maybe the kids haven't seen. So we're really trying to build a land that has some vintage, throwback moments for adults. And also something that the entire family can enjoy."
Trauger hopes the new land triggers memories and emotions for die-hard fans of the show, regardless of their age.
"Because Sesame Street has been around for 50 years, we're going to have the same reaction even if we're different ages. I've seen it. I grew up with Cookie Monster. You've seen it. You've grown up with Big Bird. We get to see these moments in these character's lives and it's real. This is it. That is exactly Big Bird's nest. That's what the exciting piece is."
Recreating Sesame Street
Construction of the new themed land pushed the footprint of the former kiddie play area closer to Shamu Stadium. This was done to make room for a broad Sesame Street and a new parade. The main path around SeaWorld Orlando will soon pass directly through Sesame Street.
"There's kind of no missing Sesame Street if you come to SeaWorld," Trauger said.
The 123 stoop, where puppet and human characters gather on the show, serves as the centrepiece of Sesame Street at SeaWorld Orlando. Big Bird's giant nest will sit next to the building.
Mr. Hooper's store, a laundromat, newsstand, subway station and bike shop stretch out to the left. On the right, there's a theatre, hair salon and veterinary centre. Behind the 123 building, Abby Cadabby's garden will spread out beneath a brick wall painted with a baby blue sky and puffy white clouds.
Most of the locations are a "direct lift" from the TV set, Trauger said. The SeaWorld team worked with Sesame Workshop to imagine the rest.
The cityscape facades front a large building that serves as a retail shop and character meet-and-greet area.
Character interactions
The windows lining Sesame Street will help tell the backstories of the characters, where they live and where they play.
"We're going to have some surprises in some windows," Trauger said. "We have worked out a way where we think we can bring the characters to life in the windows for our guests."
Digital versions of the characters will appear in the windows throughout Sesame Street at SeaWorld Orlando. Visitors will hear but not see Oscar the Grouch in his trash can next to the 123 stoop.
Life on Sesame Street
Each character has a home on Sesame Street. Elmo lives in the bottom floor of 123. Bert and Ernie live downstairs in the basement.
"That's the good thing about working with the Workshop is they help us understand where characters live, where they would be if they worked and how old they are," Trauger said.
Inside Mr. Hooper's store, shoppers will browse through the shop's stockroom for Sesame Street-themed retail merchandise. The indoor meet-and-greet area inside the theatre will take visitors backstage to the character's dressing rooms. Guests will then have opportunities for a photo op with Elmo, Abby Cadabby and Cookie Monster. Green screens will allow the park to quickly change out the digital backdrops for seasonal and special events.
Outside next to Abby's garden, Big Bird will host a daily storytime in his super-sized nest. A host will read a book while the bright yellow anthropomorphic canary reacts to the story with the help of a pre-recorded audio track. Big Bird will make a dramatic entrance for storytime by way of a 9-foot-tall door in the side of the 123 building.
"It's a big door for a big bird," Trauger said.
Re-themed rides
The six existing rides from Shamu's Happy Harbor received a Sesame Street character overlay and thematic reskin. All of the rides remained in their original locations.
"The great thing about these rides is these are family rides that the whole family can ride together," Trauger said.
The rethemed Sesame Street at SeaWorld Orlando rides include:
Super Grover's Box Car Derby – A family coaster built by Germany-based Zierer with cars themed to Cookie Monster, Abby Cadabby, Oscar the Grouch and Bert and Ernie (formerly Shamu Express in Shamu's Happy Harbor)
Abby's Flower Tower – Riders sit in flower pots in this spinning tower ride from Italy-based Zamperla (formerly Jazzy Jellies)
Slimey's Slider – A gliding and twirling rockin' tug boat ride themed to Oscar the Grouch's worm friend (formerly Ocean Commotion)
Cookie Drop – A bouncing junior drop tower that carries riders to a height of 20 feet (formerly the crab-themed Flying Fiddler)
Big Bird's Twirl 'n' Whirl – Riders spin in birds nests in this classic teacup ride (formerly Swishy Fishies)
Elmo's Choo Choo Train – A kiddie train ride that encourages young riders to find objects along the route (formerly Seven Seas Railroad)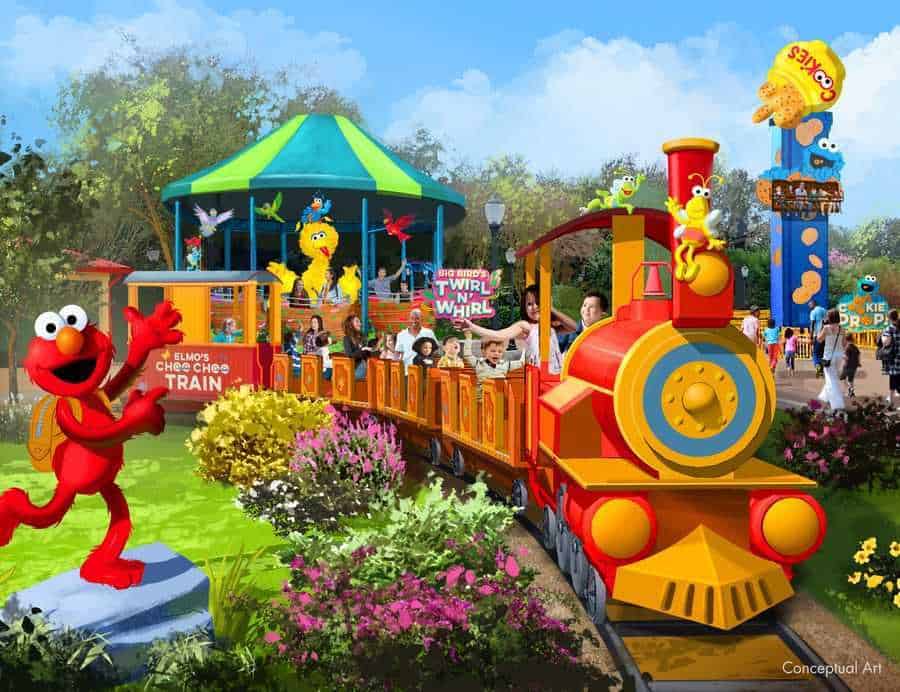 First parade
SeaWorld Orlando's first-ever parade will feature costumed Sesame Street characters. The daily 30-minute Sesame Street Party Parade through the new land will have a dance party theme. Bert and Ernie will appear on a float themed to look like Mr. Hooper's store.
The block party-style parade will make show stops along the route. Characters will hop off the eight parade floats to dance and play with the kids watching the procession.
"If you want to see the parade, you have to be in Sesame Street," Trauger said.
Play areas at Sesame Street at SeaWorld Orlando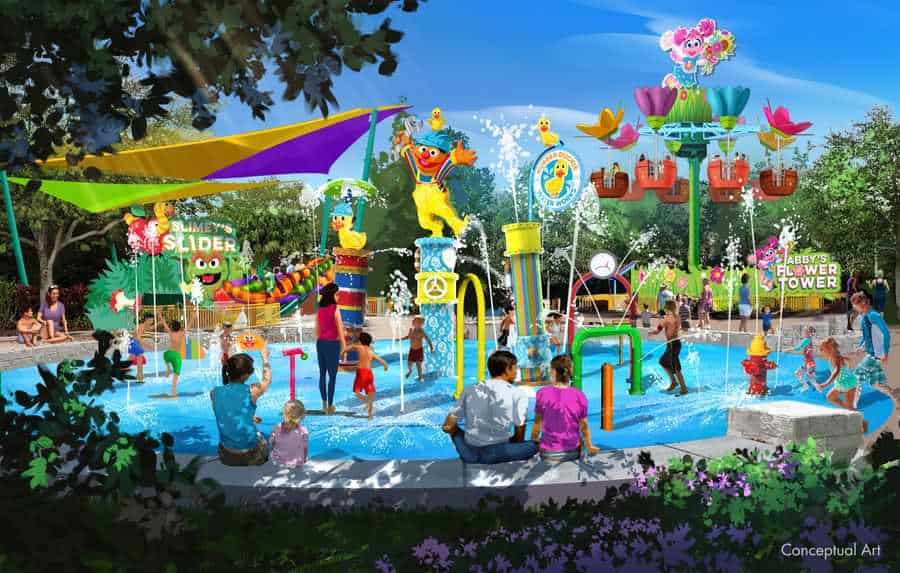 The new themed land will also include a Rubber Ducky Water Works water play area as well as a dry kiddie playland.
A hard hat-wearing Ernie and his beloved rubber ducky will try without success to fix the leaking pipes in the splash pad-style water play area.
"There's going to be water everywhere," Trauger said.
The 18-foot-tall Count Around Playground play structure will be themed to the vampire-like Count von Count counting muppet from the show.
Next to the play areas, a pair of SeaWorld-operated food trucks will offer quick bites. Nearby, Cookie Monster's foodie truck won't actually serve food but will offer a few fun moments.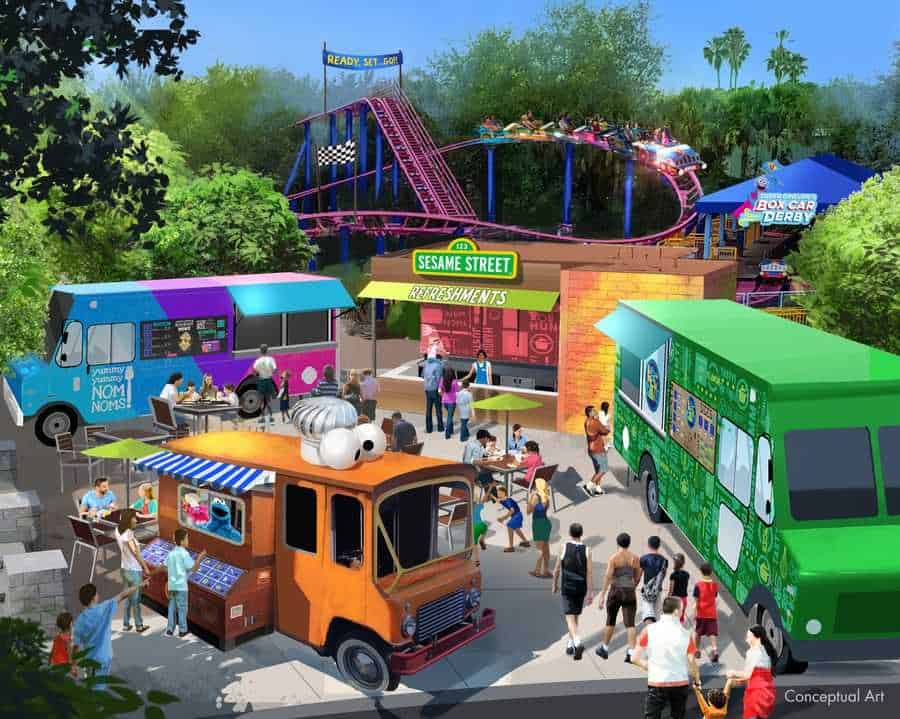 Franchise lands
Sesame Street at SeaWorld Orlando is the latest entry in the biggest trend in the theme park industry right now. The goal: Create walk-through versions of the universes fans see in popular movie franchises, television shows and video games.
Universal Studios has had tremendous success with lands themed to the Harry Potter franchise. Disney has followed suit with lands dedicated to "Cars," "Avatar," "Toy Story" and "Pirates of the Caribbean" and soon "Star Wars" and "Frozen."
SeaWorld has Sesame Street-themed lands at its marine parks in San Diego and San Antonio as well as its sister-park Busch Gardens Tampa. But those parks place the Sesame Street characters in safari- or ocean-themed areas rather than in a replica of the television neighbourhood recognisable to generations of fans.
Sesame Street at SeaWorld Orlando is one of the largest investments in the park's history. The new themed land is part of SeaWorld's push to shift its parks away from live animal attractions toward more traditional amusement park rides.
SeaWorld Orlando opened the Infinity Falls water rapids ride along with the Ray Rush raft slide at its Aquatica water park in 2018. Aquatica will debut the KareKare Curl water slide with a zero gravity wall this year around the same time Sesame Street at SeaWorld Orlando opens to the public.
Images kind courtesy of SeaWorld Parks & Entertainment and Brady MacDonald.