There's more to Technifex than meets the eye, which isn't that surprising given the company's ability to deceive the imagination with state-of-the-art special effects.
Alongside its thriving theme park activities, Technifex also builds training systems for government agencies including the fire service and the military.
The two disciplines have more in common than one might think, according to President, CEO and founding partner of Technifex, Monty Lunde.
"In both cases, our job is to make fantasy seem real, " he says.
Blooloop spoke to Lunde about the company's broad client base, his decision to found The Themed Entertainment Association (TEA) and the new technologies that are offering more possibilities than ever before.
Early days at Disney
Lunde joined Disney in 1981 straight from Stanford University. He had graduated with degrees in Design and Human Biology. He had also received the Harley Earl Award for excellence as a design student.
"I was at Stanford about to graduate, and Mark Fuller, who was working in the special effects department at Disney at the time, came to give a presentation and recruit mechanical engineers and related type individuals to join the effects department at Disney. Already in the process of applying to Art Center College of Design in Pasadena to pursue a graduate degree, I went to his presentation and was amazed. I had no idea there was a possibility of doing this type of work for Disney. Speaking to Mark after the presentation, I said I'd like an interview, and he said 'by all means'.
"So, several weeks later, I drove to Los Angeles, and the rest is history.  If it weren't for that chance presentation, at a time when I was about to graduate, I probably would not be working in themed entertainment today."
Lunde started work on the design and construction of special effects for various attractions at Epcot Centre. He continued to do so for the following three years. Major attractions to which he contributed significantly include the Horizons, American Adventure, Imagination and Mexico Pavilions at Epcot.
Starting Technifex
"The Horizons Pavilion opened a year after Epcot, so I missed being a part of the major Disney layoffs: I stayed on a year longer to help open the Horizons Pavilion. Once I finished that project though, the end of the line appeared, oddly enough about the same time Mark Fuller left the company. He ended up starting WET Design, (a water feature design firm based in Los Angeles), at the same time my business partner Rock Hall and I started Technifex."
The pair focused initially on theme parks, since they were already familiar with the sector, and started to develop effects for theme park applications.
"The first project we worked on was the Six Flags Power Plant in the Baltimore Inner Harbor, in cooperation with Gary Goddard Productions (later renamed Landmark Entertainment). That was the project that launched Technifex, " says Lunde.
"We worked on the Power Plant project for a little over a year, which gave us a head start on establishing our company, our staff, and building up the facility.  The faith that Gary Goddard and Tony Christopher placed in us was also pivotal to our success at that time."
King Kong
Shortly afterwards, Universal Studios hired Technifex to develop effects for their King Kong attraction in Hollywood.
"That huge gorilla and the effects were a really big deal for Universal. A milestone for them, in terms of upping their game" he says.
"From then on, when Universal opened a new attraction, the public wanted to see even more. What's the next big thing? I think it's an innate part of our industry. If you open an attraction, the public's going to love it, then go, 'okay, how do you top this?'"
This constant drive to push boundaries is all very well for the big players.
"The smaller parks can't compete on that level, " admits Lunde. "It takes millions of dollars to keep pushing the industry forward but when it's done right, it's pretty spectacular."
Cornering the telecomms market
Around the same time that Technifex was working on King Kong, they were also working at developing their proprietary form of the Pepper's Ghost effect. This is a system that superimposes 2D video or film imagery into a 3D set or scene.
"On a whim, a friend asked if we wanted to exhibit at TS2, a tradeshow for tradeshow suppliers. He was sharing a booth with another company and they had backed out. So he asked if we could take their place."
"To try and make a splash at the TS2 show, we built a little Pepper's Ghost display within a kiosk. Inside, a 150mm tall spokesperson talked about Technifex, and the various illusions and crowd gathering systems we could create. As a result of attending the show, we ended up landing AT&T as a client. This really launched Technifex in terms of developing a broader client base.  Now we were playing in the trade show industry with a huge name brand, as well as in the theme park industry with a couple of the biggest names in the business."
That relationship with AT&T lasted for a decade.
Technifex and a Split Personality
"We produced unique Pepper's Ghost systems and other special effects for the AT&T stand at the Consumer Electronics Show (CES) every year for ten years, as well as for other special functions and events."
"And, as a result of our notable work for AT&T, we landed Motorola, Northern Telecom, Nokia, Philips Electronics and several other telecommunications companies."
It was during this same period that Lockheed Corporation (now Lockheed Martin) became another long term client.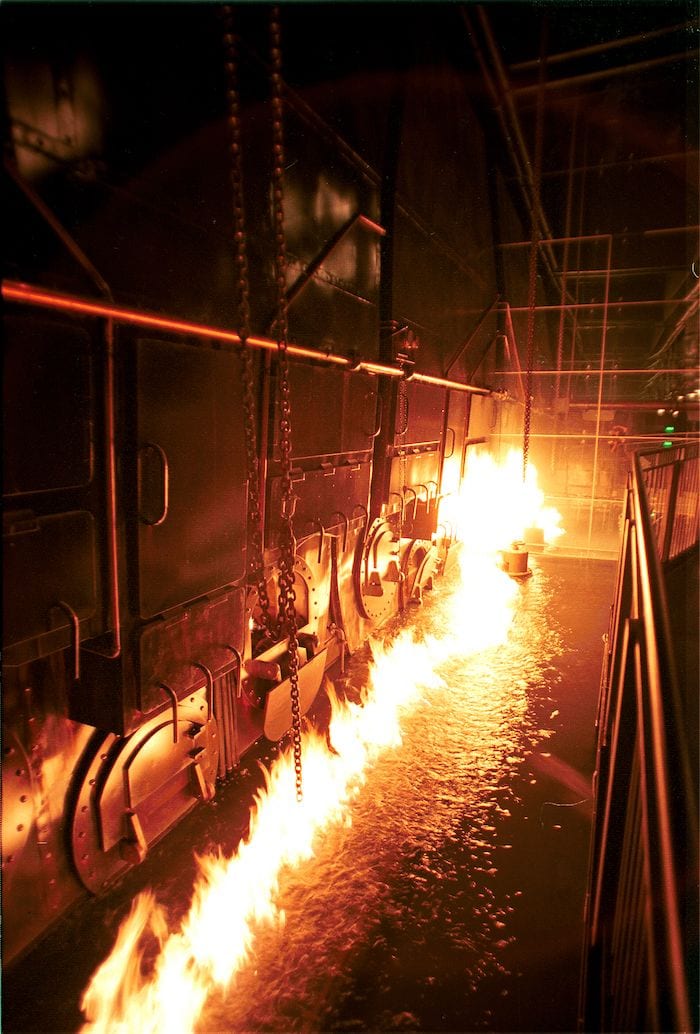 "We produced a huge Pepper's Ghost display that won Best of Show honors at the Paris Air Show for Lockheed.  Over the next seven years, we produced a number of innovative displays for Lockheed, using similar technologies.  As the Lockheed displays continued to gather huge crowds word spread. Other aerospace companies like Raytheon, General Electric and Honda Jet became clients.
"We became a company with a split personality. We were doing a lot of tradeshow work, while also doing theme park projects. The split between the two types of industries really helped to level our cach flow. It also kept keep Technifex growing at a very good pace. The first ten years of our existence was a great time for our company."
Technifex Consolidates
At that point, having spread into three buildings, the decision was made to consolidate.
"In 1994 we moved up to Valencia, and ended up purchasing a much larger facility. Since the move, we've been in the same location for the last 22 years. We continue to serve both the trade show and theme parks industries, though the amount of work in either industry shifts depending on the economy."
Much of Technifex's theme park work is on a large scale. Some clients require entire attractions to be built for them. However, most of Technifex's work is focused on engineering and building high-end special effects and mechanical show systems.
The company has also branched out into other market sectors, doing work for museums, zoos, and aquariums.
Training systems
Furthermore, over the past seven years, Technifex has started building training systems for government agencies. In particular the Los Angeles County Fire Department and the US Military.
"I have often found myself sitting in a room full of colonels and generals. Initially they are looking at me and wondering why I am there.  I'm an entertainment guy so what could I possible understand about military training?" says Lunde.
"I explain that Technifex's speciality is making fantasy seem real and that this can have a powerful affect on trainees.  We can make trainees feel like they're in the middle of a life threatening event and it's happening, in real time, all around them.  They truly feel like  they're being affected by these events which directly translates into positive and memorable training experiences.  In short, what scares them they remember."
"If you want fire or military personnel to feel as if they're in a real world situation, the effects we create help to make the training feel real and visceral, be it fire, water, explosions, falling debris. It all helps trainees suspend their disbelief and feel as if they're in the middle of a raging inferno, or a fight on the battlefield. The same techniques and technical systems that we use in major theme park attractions,  transfer directly to developing powerful training experiences."
"When I explain this direct connection to military training personnel, they get it. When I go into detail, they understand how we can take their training scenarios to a much higher and more realistic level than anything they could contrive on their own."
Founding the Themed Entertainment Association (TEA)
In 1991, Lunde founded the Themed Entertainment Association (TEA). To understand why it was necessary, it's important to understand the industry climate at the time.
"You have to go back 25 years, to understand why forming an association like the TEA was important" he says. "Technifex had been around for 7 years by then. We were still a relatively new company, but we had made a name for ourselves. We had worked for Disney and Universal, and several other big names in the entertainment world, on the US side of the pond. That said, we were finding it difficult to be a small entity, doing business with really large corporations."
In the entertainments sector in particular, Lunde found it difficult to negotiate favorable contract agreements.
"So, the TEA came about from a feeling on my part that if we organized as a community of small companies and started to share best practices,  establish common contracts and so on, we could make our respective businesses more successful."
"It was really about creating a situation that facilitated better dialogue with the buyers of our services. We would give ourselves a better chance at being successful businesses. In the beginning, it was small business owners that came together to form the foundation of the TEA."
Bringing Attractions Developers to the Table
Within a few years, however, that had changed.
"We soon determined that it was in our best interest to allow the developers of themed attractions to be full voting members within the association as well. Initially they were excluded from holding board seats and voting. However, we realized if we wanted project developers and owners to come to the table and talk, they had to be part of the group."
"So, we allowed Disney and Universal and Paramount and many other developers to join the TEA as full members. Several have held seats on the TEA International and regional boards, and have done so for many years.  They are an integral  part of making not just the vendor community stronger, but the whole industry stronger."
Interestingly, it is currently the vendors who seem to have the advantage. There are so many new parks being built and existing venues being renovated worldwide that, in many instances it is difficult to find sufficient vendors to do the work. Therefore, it is in the interest of the developers to be in a position to have positive dialogues and negotiate mutually beneficial contracts.
Controversy
But, at the time,   the decision to allow the big developers into the TEA caused a certain amount of controversy.
"It just seemed logical, " says Lunde. "There was some tension within the original TEA community about giving the owners and developers such a strong voice in the organisation. But I stressed that we cannot orchestrate any change if it's an 'us' and 'them' situation."
We are all working in the same industry, Themed Entertainment.  The vendor community needs to be successful. The developers need to pay a reasonable price and receive a good product. We all have our agendas. If we can't sit down face to face and talk about how we achieve our respective goals, we're not going to go anywhere as an industry."
Crediting suppliers for their work
Having launched the TEA and shaped it through its inaugural years, Lunde's next initiative was the creation of the Thea Awards in 1994 to ensure that suppliers were properly credited for their work.
"In any other segment of the entertainment industry, credits are given as they are earned. If you look at the movie or TV industries, they're big on giving proper credit. But the Themed Entertainment industry had no such ability to recognise the designers and creators of attractions."
"At the time the TEA was formed, the developers of major theme parks wanted the general public to think they were doing everything. If Disney developed an attraction, it didn't matter who was working on it, whether it was an employee or a contractor. It was a Disney project and that was the only name on the project. That came from Walt himself. He felt that if you were working for his company, it was the Disney name that should be recognised. Not the names of individual artists and craftspeople. Universal and others adopted the same approach; for their marketing purposes."
"Conversely, there were also concerns that people in the themed entertainment industry were taking more credit than they should when marketing their project work. So the Thea Awards were an attempt to 'circle the wagons' relative to industry credits."
It was, he admits, an indirect approach.
A Public List of Credits
"The Thea Awards recognise outstanding achievement in themed entertainment. It is the project developers who are given the award for the attraction. In order to receive the reward, it is required that the project developer supply the TEA with an extensive credit list. This list includes outside individuals and companies that worked on the project and their respective roles."
"The Theas are ultimately a vehicle for assembling a public list of credits for our industry. They recognise the many individuals and companies who do outstanding work in themed entertainment. And after 22 years, that's a pretty extensive list."
There was a certain amount of resistance to providing credits. It went against the grain of many internal corporate policies:
"But, eventually,  all Thea recipients have provided credits and I think they see the benefit. We're all working in one industry; it's not 'us' and' them'. We work in an industry where people shuffle from one company to another. It's a very fluid community of designers and fabricators. Being able to recognise these people, no matter where they are is the fair thing to do."
The highly prized Thea Awards have since become internationally recognised as a symbol of excellence within the industry.
The potential of VR and AR
Something that interests Lunde currently is the fact that new technologies can be combined to dramatic effect in an entertainment environment that are not always within the conception of the initial technology developers.
He is particularly enthusiastic about the potential offered by Augmented Reality. (Virtual Reality replaces real-life surroundings with simulated ones.  Augmented Reality enhances real-life surroundings with computer generated sensory input – video, sound, graphics, data, and so on.)
"Virtual Reality seems to be something that captures people's imagination, " he says. "It's been around for some time. Even now, it's interesting to see how many companies are embracing this as the next big step in themed entertainment. I don't think it's the entertainment technology that's going to overthrow everything else. But it has a place in certain types of attractions.
"What I do think has even more potential is Augmented Reality; combining that technology with physical elements could be really amazing and has so many far reaching possibilities.
"Relative to new technologies being adopted by our industry, there's a gestation period when a 'new' technology comes out, " says Lunde. "The designers and big thinkers in our industry need to understand it, play with it, get familiar with it's additive affects.  Then they conceive new ways to use this technology in entertainment formats, perhaps in ways that the original designers of the technology never thought of.
"We're looking at new technologies from an entertainment perspective, rather than some other end use, so it's a different/unique way of looking at technology."
The 1+1=3 experience
"I think our themed entertainment community is looking at VR and at AR and going, well, how can this technology really enhance the guest experience?  My feeling is that VR and AR will be components of future entertainment but not the entire attraction.
"It's a learning curve. There are coasters now that have VR. It's interesting because you're feeling physical motion, combined with visual imagery that has nothing to do with the coaster you're on. You're riding on the back of a dragon, but you're having that visceral experience that only a coaster can give you."
"Combining technologies can be a 1+1=3 experience, and that's what the themed entertainment community is so good at: taking differing technologies and combining them with compelling stories and environments to create the magic that bring guests back and asking for more."