I happened to find myself in Brighton recently on a very misty and cloudy day; by 8am I was on the seafront and I could just make out the BAi360 in the distance.
by Martin Barratt
I was a bit put off by the two ladies fighting with their pimp on the next corner, (this is a British seaside resort after all), but undaunted I decided to wait a couple of hours and take my "flight'. Just like the early days of the London Eye the BAi360 is sponsored by British Airways, so the staff look like stewardesses and the ride is a flight.
Built with an Eye for Detail
It's a very impressive erection and no mistake. The architects call it a "vertical pier' which I have to admit doesn't chime well with me. After all, what is a pier? A pier can be a lot of things; boat jetty, fishing platform, entertainment centre, none of which is provided by the BAi360. Perhaps it would be less pretentious to call it what it is, an observation tower.
But it certainly is a big one. 168 metres tall (or 450 feet in old money) which makes it the tallest structure in Sussex! My first view of it probably only went up to 100 metres because of the low cloud. It certainly has been built with an eye for detail. It will also tidy up what was a rather neglected part of the town. Already more building work is going on around it and it is clear that the developers share the Council's desire to stretch the tourist trail further along the sea front.
Ticketing was pretty smooth, even though the staff were still learning the niceties of the ticketing system. This is to be expected given that it had opened only two weeks before, and the staff were smiley and welcoming. There was not much demand on such a cloudy day so we walked straight to security where our bags were checked, our lighters confiscated and we were scanned by some very friendly guards.
Brighton Pod Life
Once through we were on the loading area. There, we watched the "pod' go down to the floor below us where passengers alight. I have to say that it seems to take an age for the doors to open and close, the pod to move up to loading and the doors to open again. The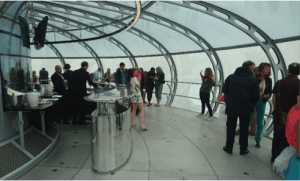 door attendant seemed a little embarrassed but it clearly wasn't his fault. Not a problem when demand is low, but maybe more of a problem when slow unloading and loading leads to capacity constraints.
But once we were in, it was very enjoyable. We took advantage of the champagne bar of course. However, as it was English Sparkling Wine one probably shouldn't call it champagne, for fear of annoying the French. But it tasted like champagne and it certainly cost as much. The rise to 450 feet is incredibly smooth. There is no noise and, unlike the London Eye, no movement, apart from steadily upwards.
BAi360 and a Curate's Egg
The views from the BAi360 are certainly interesting, although a bit of a curate's egg; good in parts. Looking East one can easily see the pier and the Pavilion; looking West there are a few pools and lawns. Northwards we could see lots of roofs and we took the opportunity to work out a route to our lunch spot. I understand that on a clear day we could have seen beyond the serried rows of bungalows to glimpse the South Downs!
But oh dear, the view to the South… Looking at the sea from 450 feet up is very very similar to seeing it from 100 feet, 20 feet even. This could be seen as a drawback when half of your view is waves that get smaller as you go higher. Unsurprisingly few people stood on this side of the pod.
Taking photos is tricky too. The curved glass means that taking pictures through it gives more reflection than anything else; perhaps why shots through the glass don't feature in the publicity. Anyway not many people seemed to mind, as they wanted photos of themselves, not panoramas of Brighton.
Repeatability?
Nevermind, we all thought it was worth A?15, and I think if I go back on a sunny day I may do it again. But maybe therein is the problem. An awful lot of people who visit Brighton go once a year, some go more. There are foreign tourists, but nothing like the number that London receives and unlike London only a small number are first time visitors; so the accepted wisdom is that to be successful it must be repeatable. But I'm not sure it is.
Sealife down the road has "New for 2016: Secrets of the Reef' and no doubt there is something planned for next year and the year after that. But what will the i360 do to pull the punters in for another go? A new roof renovation at 45 Acacia Avenue? Flocks of rare breed British sheep grazing on the faraway downs?
I sincerely hope that I am wrong and they keep coming in droves.
Image at top, Neil Flickr CC, others Martin Barratt.