Its developer, The Poarch Band of Creek Indians, will be hoping that The Park at OWA will be more enduring than the ill-fated Hard Rock Park and Wild West World before it. By integrating the park with a wider leisure, retail and sports complex, it stands a good chance.
The Park at OWA opened on July 21. Director of Marketing and Public Relations, Kristin Hellmich (left), is appreciative of the welcome extended by the rest of the attractions industry.
"The industry support has been phenomenal," she says. "From IAAPA to the WWA, even fellow amusement parks and enthusiast clubs, everyone has reached out to wish us well. It's a great family to become a part of. We look forward to many years of success in this industry."
Hellmich is an integral part of the team that helped deliver The Park at OWA over what was a relatively short conception period. The Poarch Band of Creek of Indians came on board in April 2015, picking up the threads from a previous developer who had a vision for an amusement park, retail, dining and entertainment destination. Construction then began last October.
"The City of Foley had already invested in a state-of-the-art sports facility with 16 soccer fields here on property," says Hellmich. "The tribe saw OWA as an opportunity to become part of something special and solidify its partnership with the city government and, also, the state of Alabama."
Unlike many eastern Indian tribes, the Poarch Creeks were not removed from their tribal lands. Consequently, they have lived together for almost 200 years in and around Poarch, Alabama. In common with other Indian tribes, however, they derive significant gaming revenues from what is recognised as a sovereign land with its own system of government and bylaws.
Leading the Poarch Creeks to water
OWA is pronounced phonetically, rather than as three separate letters, and means 'big water' in the Muskogee Creek language. The name was chosen in recognition of the lake at the centre of the site. Fitting, given that it brings to an end the USA's drought of new amusement park openings in recent years.
After rejecting an initial masterplan prepared by a company in Utah, the team at OWA opted to work with PGAV Destinations out of St Louis, Missouri. PGAV finished the design for the 14-acre park and developed a masterplan for the wider 520-acre site. Rides were supplied exclusively by Zamperla.
"During the planning of OWA, the Poarch Band of Creek Indians brought ambitious goals and a thoughtful vision to the table," says Emily Howard, PGAV Vice-President and project team lead. "As master planners and concept designers of the destination, we worked to distill the information and determine the creative path that would bring this grand vision to life."
OWA – Alabama's new city park destination
According to Hellmich, there are three distinct parts to the project, each with nods to bygone eras. "The park is very much a throwback to the 1920s and '30s," she says.
"It's an amusement park, not a theme park, because we have not incorporated a heavy level of theming. It's as if the rides were installed in a city park, with all the buildings and the fountain that surround them. That's why it's called The Park at OWA.
"Our retail/dining destination, which you find right outside the park gate, is reminiscent of what you would see at a Downtown Disney or Universal CityWalk. There's a sort of Southern downtown feel from the 1950s. And, then, we have the Warehouse District for shopping and dining as well. That is very turn of the century."
Given the rich well of stories that must exist within the Poarch Creek tribe, it seems a little surprising that this has not been tapped as a source of inspiration for the new park.
"We did actually discuss it, we have conceptualised it, but we have not implemented anything at this point in time," says Hellmich. "Everything that we have done in Phase I is focused on that Southern destination theme, but we are definitely looking to incorporate other elements in future phases."
Much of the initial $240 million investment has gone on rides, infrastructure and landscaping rather than elaborate theming set pieces. This is a park built within its means at a level in keeping with its target market.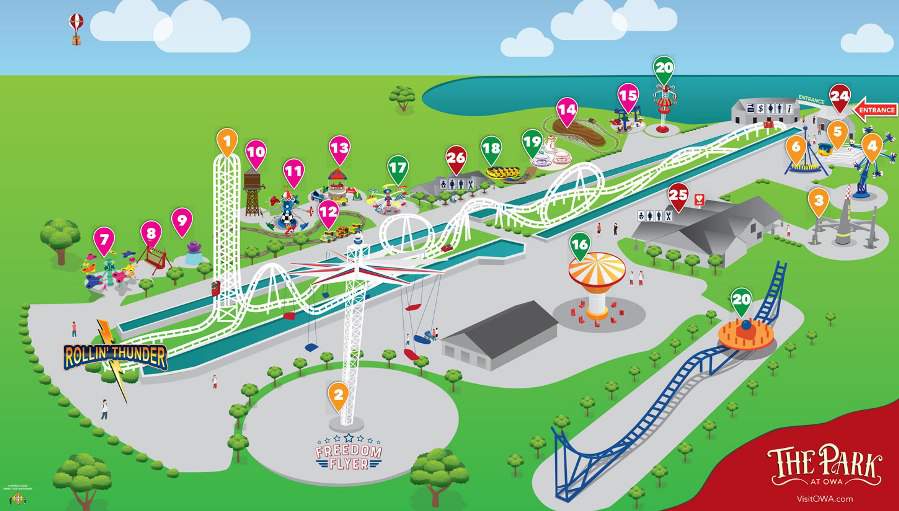 A hard time for Hard Rock
The most recent, and high profile, new theme park opening in the US was the $400 million Hard Rock Park in Myrtle Beach. Although this South Carolina coastal destination enjoys a healthy tourist trade, it is thought that, amongst other shortcomings, the park was priced too heavily for local families who prefer to spend their day at the beach.
The Hard Rock brand was only ever licensed from Hard Rock Cafe International, owned by the Seminole Tribe of Florida. After a lacklustre first season in 2008, it reopened as Freestyle Music Park the following spring. Without a tried and tested IP behind it, the park failed to open for a third season.
More depressing is the story of Wild West World near Wichita, Kansas. After debuting in May 2007, the park closed after just two months. Its founder, Thomas Etheredge, blamed bad weather, yet his subsequent conviction for securities fraud raised a number of questions.
According to the Wichita Eagle, the park left debts of $24 million, equivalent to 80% of its modest €30 investment. Even then, suggested some observers, it was difficult to see where the money had gone, thanks to its uninspiring selection of rides and cheap-looking buildings.
Multiple reasons to visit
In the case of the two parks highlighted above, a set of unique circumstances led to their rapid extinction. The Park at OWA has already outlived Wild West World. Like Hard Rock Park, its developers are pinning some of their hopes on ocean-bound tourists. But, that is only part of the business model.
"Families who come to Foley for sporting events will also have all of OWA's offerings available to them," says Tim Martin, President of Creek Indian Enterprises Development Authority.
"We are somewhat of a community destination," says Hellmich. "For those that live locally, OWA offers a good day trip. But, this region is a huge vacation destination. There are over six million people that come to this part of Alabama each year to visit the beaches. Our markets are, I would say, anywhere from six to nine hours' drive away. That takes you into the northern parts of Alabama and Mississippi, and then as far away as Dallas and Houston, Texas."
Hellmich says that amusement offerings in the region have, until now, been fairly thin on the ground: "There is a waterpark about 15 minutes south, but it is about 25 years old. And, there are two small FECs that are probably about between 15 to 20 years old, and they are pretty small. So, there is nothing of this magnitude along the Gulf Coast that we are aware of. It's very much an untapped market."
Making amusement park history
As well as PGAV Destinations, another industry expert was brought in to get the park up and running. ProFun Management Group, which specialises in theme park operations, came on board to train the management team. The California-based firm will eventually hand over the reins when its contract ends.
Staff were keen to be part of the opening team, says Hellmich: "We have people from all over the United States, and from other parks, attractions and the entertainment industry. Even people serving food or working in one of our retail stores just wanted to be part of the team. All because it is the first new park to have opened in 10 years. They want to make history!"
Thunder strikes Foley
Of the 21 rides at The Park at OWA, one particular attraction has already emerged as a firm guest favourite. Running down the centre of the park, Rollin' Thunder dominates with its 681 metres (2,235 feet) of twisting track. Finished in blue with white support columns, the ride's signature vertical lift is followed by elements including four inversions. The ride and its layout are strikingly similar to Zamperla's Thunderbolt coaster at Coney Island in New York.
In fact, OWA represents another Stateside 'showroom' for the Italian manufacturer in much the same way as Luna Park at Coney Island. Most of the rides appear in Zamperla's standard designs, many with the company's chosen catalogue names.
An exception, at least when it comes to the name, is Alabama Wham'a, a 24-seat Zamperla Endeavour. Air Racer (right), meanwhile, features the manufacturer's own name but a design reminiscent of the version installed in 2014 at Walygator Parc in France.
Hellmich cites Aero Zoom, a WindStarZ ride, as her personal attraction highlight. "It simulates being in a hang glider and is just a very pleasant, enjoyable ride. I like the interactive element, too."
OWA rides and attractions
Other major attractions featured in the line up at OWA comprise the Crazy Mouse (Twister Coaster), Wave Rider (Disk 'O Coaster), Freedom Flyer (Vertical Swing) and Twister (Discovery). Family-friendly attractions include the Southern Express (Family Coaster), Flying Carousel (Wave Swinger), Rockin' Raft, Flying Tigers and Sky Balloon. A further eight Zamperla rides complete the collection. See the full list here.
Hellmich discusses the reasons for choosing to work with a single ride vendor: "We basically had a fast-track construction on this project," she highlights. "So, we looked at who offered the diversity, quality and speed of service to produce what we needed in the timeline we had. That drove us to Zamperla. We are definitely open to working with other manufacturers as we move forward and evaluate what are the best options for the park and our guests."
The price is right?
The Park at OWA opened in July with a pay-one-price structure. Admission is priced at $34.99 + tax for adults or $27.99 for those under 42 inches (1.1m), seniors or military personnel. Children aged three and under go free. The team at OWA does not rule out a multi-gated entrance or alternative pricing structure in future. Point-of-sale software and hardware was provided by Gateway Ticketing Systems with its flagship Galaxy system.
"There were many long days of negotiation on pricing," says Hellmich. "There were comparisons to make to other attractions in the local market, including FECs. We also looked at other parks in the region and across the US that were similar in size and offering. All the guests have been very responsive, and we have had no complaints about pricing. Many said it was more affordable than they thought."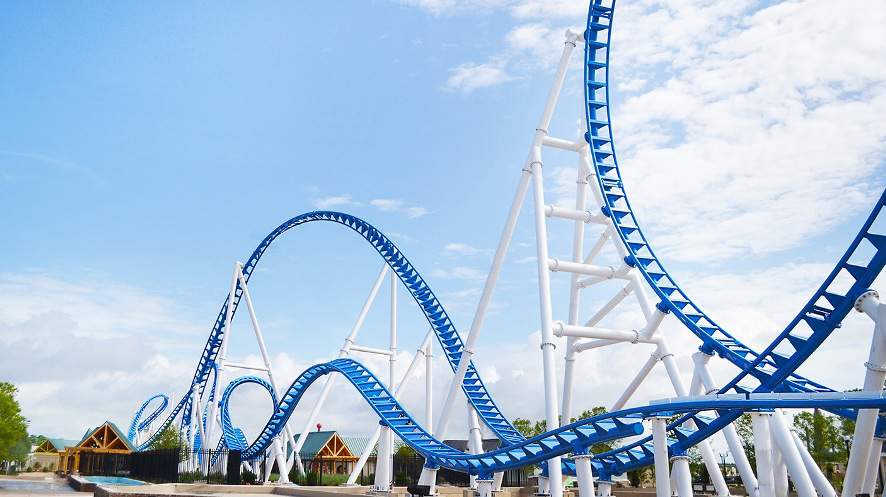 Season pass sales have been strong. In fact, the park ran out of physical passes after the first few weeks. "We had to rush in some more material to print them on," says Hellmich.
As for attendance, "we have not pushed out any numbers yet," she says. "We had about four different feasibility studies on the park. Each of those studies had different numbers, but we've received a healthy mix of guests so far. We opened at the end of our summer season, when a lot of kids are getting ready again for school. But, they have still been coming out to the park to enjoy that last minute summer break."
Lessons learned: guests love Icees!
"Every day is a learning process for us right now," says Hellmich. "We've learned a lot about what people like to purchase within a retail store when they are in an amusement park. We've learned what food and beverage they like. Coca-Cola Icees have been one of the most popular items here this summer!
"We've also learned what guests are seeking so far as rides and entertainment. We are working towards including more entertainment at weekends. That could be live entertainment, musicians, or interactive activities for the kids. The tribe is very committed to making this the best park it can be for the state of Alabama and this region. With that in mind, we have the flexibility to implement new programs quickly."
Now that summer has come to an end, the park has switched to a weekend schedule; open from noon 'til 10pm most Fridays, Saturdays and Sundays. It is the management's intention to open year-round, although the full winter calendar has yet to be finalised.
A Halloween event, The Park in the Dark, is running for selected days in October. Guests can walk through the Tower or Terror scare maze if they dare. More family-friendly offerings include trick-or-treating and a spooky spell search. A Christmas holiday season will run from mid-November onwards.
Future plans include a waterpark
"I think the future is very bright for OWA," says Kristin Hellmich. "We've invested $240m in Phase I but, once we're said and done, the entire project will be $600 million. So, you'll be hearing about many great new additions in the coming years."
The Park at OWA has been allocated a further 16 acres, more than doubling the size of the existing facility. Guests wanting to stay the night can already book a room at the new Marriott TownPlace Suites hotel on-site. As part of the wider OWA masterplan, there are also plans for condominiums and an RV park. When completed, the development is expected to generate close to 3,500 direct and indirect jobs and boost local tourist spending by 7%.
Families can look forward not just to more rides, but also slides. Hellmich confirms that a waterpark originally earmarked for year three may be brought forward. This should meet what she describes as "big demand in the heat of South Alabama." Icees will surely feature on the menu.
All images kind courtesy The Park at OWA