Merlin Entertainments has released trading performance results for the 40 weeks ended 7 October 2017. Shares fell as much as 21 percent as the market reacted to the announcement.
No longer confident of year after year of double digit revenue growth, the attraction operator's portfolio has been hit hard by the perceived terrorist threat in major cities like London.
Although overall revenue grew by 12.4 percent year on year, this was largely due to favourable FX rates.  At constant rates growth was down to 5.9 percent, driven by new openings, with like-for-like growth at just 0.3 percent.
Midway attractions in gateway cities suffer effects of security concerns
Midway attractions in London have suffered as a result of the increased terror threat.
Attraction hubs in non-gateway cities have performed better as visitors choose to go to what are perceived as less risky locations.
Although overall the UK is experiencing an influx of overseas tourists due to favourable exchange rates, many families are choosing to visit locations outside the capital.  Those tourists who do visit London may be more interested in shopping for bargains than visiting attractions.
Resort theme parks suffer from terror threat and poor weather
Despite the opening of the CBeebies Land hotel at Alton Towers, resort theme parks have performed poorly due to the increased terror threat in the UK and poor weather in the UK and Northern Germany.
LEGOLAND parks perform best
LEGOLAND parks revenue growth has been largely due to the opening of LEGOLAND Japan in April 2018 which is expected to perform in line with expectations.
Flexing the strategy
"When you are experiencing storms, the sensible thing is to navigate around them"
NICK VARNEY
Key navigational shifts are to reduce the capex commitment and performance expectations for existing attractions, particularly Midway.  A release of £100 million of previously planned capex over the next four years will be earmarked for better performing investments, namely themed accommodation, new LEGOLAND parks and new Midway roll outs including new brands.
Investment in existing operations will focus on productivity initiatives for example self service terminals, procurement savings, increased upselling and integration with trade partners.
Key capex planned for Alton Towers and LEGOLAND California is still on track for 2018.  Lego Movie Lands will be developed in all LEGOLAND parks in 2019 to tie in with the release of The LEGO Movie 2.
Overall the aim is still to diversify the portfolio in terms of brands (families, city centre tourists, teens and young adults, pre schoolers and adventurers) and geography (a third each for Americas, APAC and Europe).
Health and Safety and Repairs and Maintenance capex will not be subject to cuts.
Accommodation
Adding themed accommodation and glamping options to encourage longer stays has generated strong returns and an 8 percent satisfaction differential for short break guests over day visitors.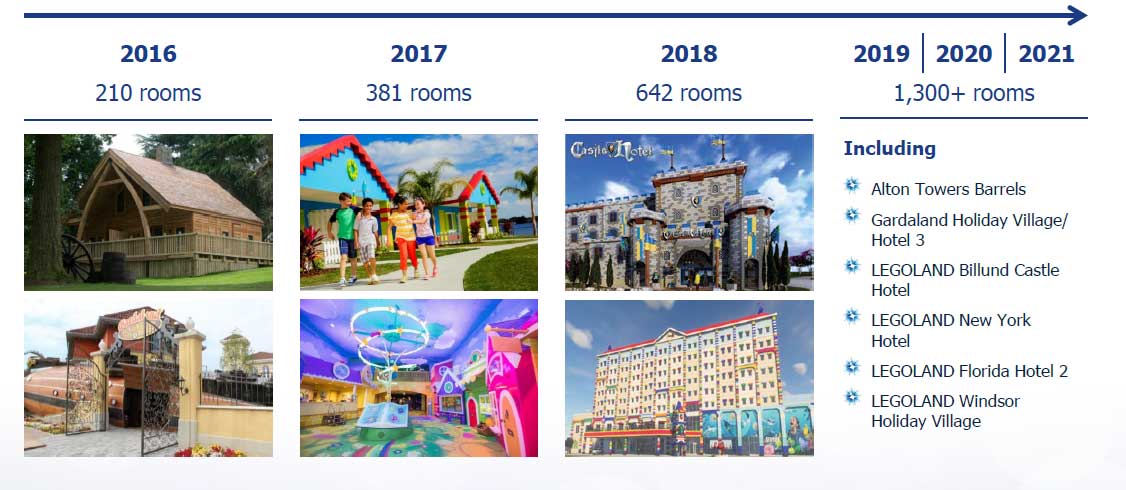 LEGOLAND park investment
As well as continuing to invest in existing LEGOLAND parks, Merlin is to continue with new openings.  2020 should see the opening of LEGOLAND New York and LEGOLAND Korea.
Beyond 2020 there are study agreements in place for four parks in China and Merlin continue to believe that there is a market for 20 LEGOLAND parks worldwide.
New brands
Alongside the announcement came news of two new IP driven attractions with the Peppa Pig and Bear Grylls brands.
At less than £5 million per attraction for a Peppa Pig and over £20 million for a Bear Grylls Adventure, the new developments offer diversification in cost as well as target market (pre school vs adventure experience).
The Peppa Pig attractions will include standalone LBE attractions as well as themed areas in resorts and themed accommodation.
The first Bear Grylls Adventure will open at the NEC in Birmingham next year.
CEO commentary
Commenting on the results, Nick Varney, Merlin Entertainments Chief Executive Officer, said, "Merlin has delivered another period of good total revenue growth reflecting the contribution from New Business Development as well as more favourable currency movements, with over 70% of profits being derived from outside the UK. Another busy year has seen us open five new Midway attractions to date, nearly 400 accommodation rooms across four of our theme parks, and a new LEGOLAND park in Japan. The exciting new partnerships with eOne and Bear Grylls, as well as the planned opening of LEGOLAND New York in 2020, show there is plenty more magic to come.
"In the Existing Estate, trading to date has been more mixed. After strong early season momentum across most of our businesses, we have experienced difficult trading over the summer period, as the spate of terror attacks witnessed in the UK marked an inflection point in Midway London and UK theme park trading. Poor weather in Northern Europe and extreme weather in Italy and Florida also impacted peak season trading.
"Despite the diversity of our business – by geography, brand and visitor mix – our markets continue to be impacted by certain external shocks, not least terrorism which is currently at record levels of intensity in Europe. We also continue to face significant cost pressures, largely brought about by employment legislation, particularly in the UK.
"Going forward therefore, whilst our long-standing Six Strategic Growth Drivers remain unchanged, reflecting the longer term structural attractiveness of the markets in which we operate, we will be reallocating capital to adjust to the current environment and to maintain our capital discipline. Over the period of 2018-21, we will reduce Existing Estate capex by approximately £100 million, reallocating this into accelerating our highly successful accommodation roll out programme, as well as increasing our investment in our Productivity Agenda. As a result, we expect a stronger contribution from New Business Development to offset an assumption of low single digit like for like growth, based upon similar aggregate levels of capital investment.
"Merlin has experienced unprecedented levels of demand volatility in recent periods and it is testament to the diversity of the portfolio, the strength of our brands, and the commitment of our team, that we have continued to deliver revenue and profit growth during these times. Our business model allows us to 'adjust the tiller' given the difficult market conditions and we are doing so. I and Merlin's management team therefore remain confident in the longer term prospects."
Images: Merlin Entertainments Summer Trading Update presentation