According to Thrill Engineer Brendan Walker, the most  thrilling moment of any theme park experience is just before it begins.
That brief interlude between being strapped in and the launch of the ride.
"Nothing matches that moment of giving yourself to the ride, that point of no reasonable return, " he says.
Walker specialises in analysing sensation: taking a thrill attraction back to its constituent parts, then using the data gleaned to create seminal experiences and spectacles.
He spoke to Blooloop about his company, Thrill Laboratory, his thought-provoking work and why visual technologies such as VR and AR will never replace the power of the physical experience.
Brendan Walker wears many hats. He is Professor of Creative Industries at Middlesex University and Principal Research Fellow in Computer Science at the University of Nottingham. He is also associate lecturer in Industrial Design at Central Saint Martins, Director of the Thrill Laboratory, and Managing Director of Aerial, specialising in the creation of tailored emotional experience.
In his role as Thrill Engineer, he has entertained and informed audiences about the science of thrill at venues as diverse as Alton Towers, Tate Modern, the Science Museum and New York's MoMA.
From Aircraft to Art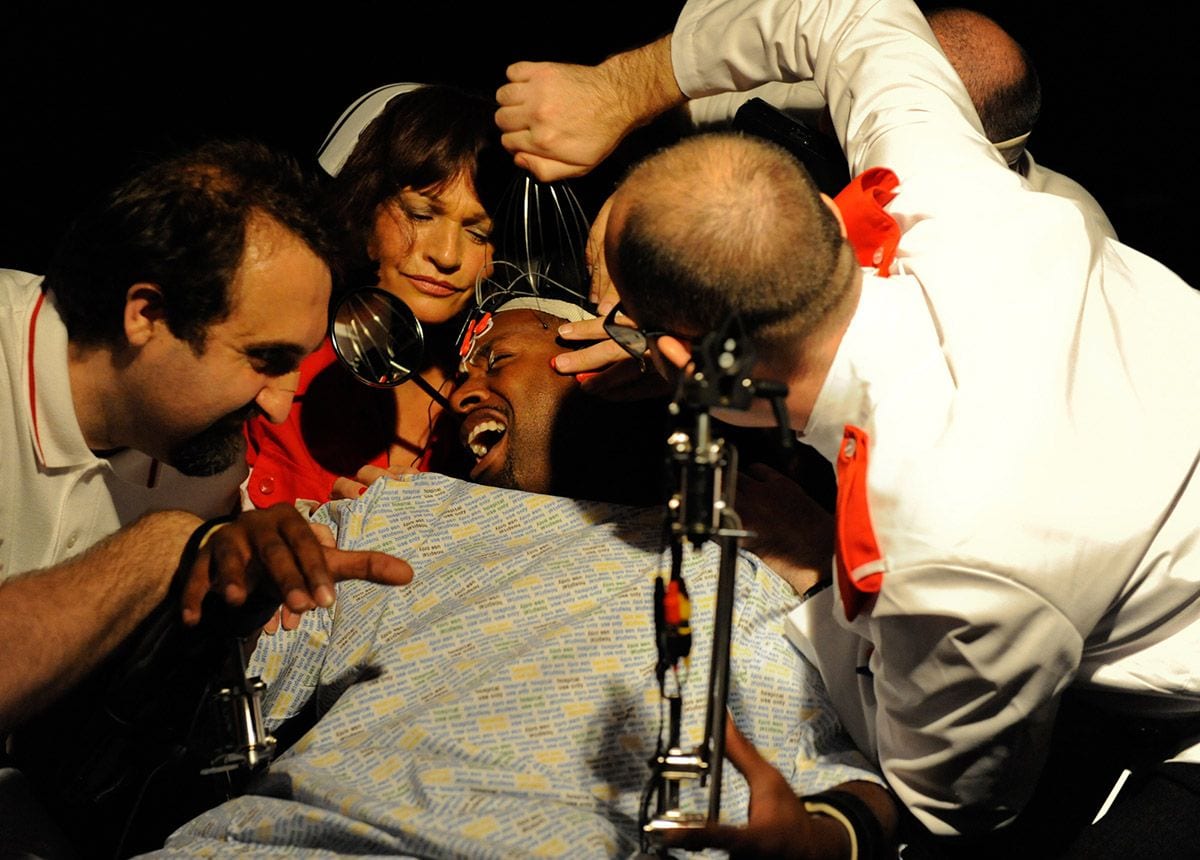 Walker began his career as an apprentice at British Aerospace in Warton, Lancashire, having completed a degree in aeronautical engineering at Imperial College.
"I left because of the fact that aircraft projects take about 45 years from inception to completion, " he says. "I needed a much faster-paced industry to work in."
He bailed out of the aircraft industry with the idea of developing a line of white goods and enrolled at the Royal College of Art to study Industrial Design Engineering, a joint course with the Imperial College.
It was during his two years there that he first became involved with interaction and digital design work.
When he left the Royal College of Art, he started work at Hollington's design studio. He was part of a team designing and building electro-mechanical installations for venues such as the Science Museum. He was also making his own pieces – large mechanical sculptures – which were shown in art galleries.
Controlling People's Emotional Experience
At the same time, he began researching interaction design.
"It wasn't until twelve or thirteen years ago that I brought those two worlds back together. I started looking at these large structures that were entertaining people from a sort of interaction psychology angle. I began looking at the idea of designing and controlling people's emotional experience, " he says.
As the idea of studying people's experiences began to evolve, his control of what he was designing to elicit those emotional responses became more finely tuned.
"There has always been this dual aspect of being a voyeur watching an audience. On the one hand, I wonder exactly what is going on in their bodies and minds. How did they experience delight and excitement and horror? Alongside that, what could I design to try and create those moments?"
The Taxonomy of Thrill
He spent a year researching intensively before producing a publication entitled The Taxonomy of Thrill.
"There was a criminologist in the States, Jack Katz, who studied 'crimes of thrill', " explains Walker. "I went over to see him on a research trip."
"He gave me an insight into how to unpick people's experiences at a forensic level and spot the triggers, motivations. It was all about motivation: what drives people to want to experience this ride? What drives them to do the next thing? And, when the payoff is thrill, everything seemed suddenly to become very clear to me."
There are, according to Walker, distinct stages to the thrill of an attraction.
"Advertising has quite a well-defined articulation of this area. The first time that you're thrilled will be when the idea of something comes into your consciousness. It might be the first time a ride is written about in the press. Or, the first-time a photograph is leaked about it. Or, the first time it appears in your consciousness.
"I'm talking very much about rides at the moment, but this could equally apply to other things such as theatre. Any kind of thrilling experience. As soon as you imagine yourself doing it, you get a certain frisson.
"And, then, you get another burst of excitement when you decide that you're going to do this thing. At that point, there's a certain commitment to doing it. It's no longer simply in your imagination, it's an actual prospect.
"As that moment gets closer, the thought comes into your mind with increasing frequency and increasing potency. Then, on the day itself, if you are going to travel somewhere…
"There are all these points of commitment along the way."
Creating the Journey of Anticipation
"You can design those moments, craft the correspondence and create that journey of anticipation leading up to the moment. A ride on a rollercoaster is only going to last two minutes. Even the ride queue experience is infinitely longer than the ride experience itself.
"Afterwards, through souvenirs and photographs, you can start to unlock that experience over and over again."
Walker discovered that communicating the science of emotions with his designer/artist hat on proved problematic. It was not, he says, that audiences disbelieved him, simply:
"…that you can't be everything to everyone. So, I developed a character called the Thrill Engineer that I use to communicate with the public, either through the media, or directly in live performance of science.
"This character is really useful. The Thrill Engineer exists primarily to take the science, the engineering of thrill, and communicate it to an audience."
Thrill Analysis
One of the services offered by the Thrill Engineer is to perform an analysis of attractions.
"The process of performing the experiment is usually on members of the public, and the data I gather is presented as a spectacle. Then, I will often help the company to create artefacts  which can then be passed out to the media. These could be films or graphic visualisations of the data.
"So, while I'm engaging the public with the science of what I'm doing, I'm also bringing to life the emotional effects that that particular attraction will have. What's more, I'm making them visually comprehensible for anyone who hasn't actually been on the ride. I am making tangible emotions visible, whether to a live or a broadcast audience.
"Sometimes, it isn't just a marketing exercise, and we will do a longitudinal study where we have real insights; rather than just testing ten people, we might test thousands."
The Ultimate Abyss
Harmony of the Seas, owned by Royal Caribbean Cruises Ltd., is the world's largest cruise ship. It is also home to the tallest slide at sea, The Ultimate Abyss. The Abyss, manufactured by German company Wiegand, comprises two spiralling tubes that descend from a glass platform before dropping, in a series of adrenaline-inducing spirals, for ten storeys.
In his character as the Thrill Engineer, Walker measured the physical reactions of those who rode on the slide, before pronouncing it "possibly the most thrilling man-made adventure at sea".
Ten volunteers took part in the two-day test conducted during the final days of construction at the shipyard. Walker's data showed the slide caused the participants' heartbeats to have increased by an average of 44 beats per minute above the resting rate for people of their age and overall fitness. 'Facial expressions indicative of extreme pleasure' were shown to be evident for over 40% of the ride and the sympathetic nervous system to have become activated by almost 16% above the resting rate.
"The Ultimate Abyss was designed and made by the manufacturers of the ArcelorMittal Orbit slide at the Olympic Park in London, " says Walker.
"It is the world's tallest slide at sea and they themed it around an angler fish at the top. So, you walk into the giant jaws of this fish and then onto a glass platform. At this point, you can see down 16 floors. Then, you jump into the tube and emerge at the bottom where you can either have a very stiff drink or a hotdog."
The Five Stages of Thrill
As a marketing exercise, Royal Caribbean decided to create a series of online videos covering the Thrill Engineer's independent survey of their slide.
"They asked me to conduct an experiment, but wanted to know if there was something new I could bring to this. So, this was the first time I started talking about the five stages of thrill throughout the ride. Instead of simply rating this ride, we would break it down into the five stages and try and assign thrill levels for each of those stages.
"It was just another way for them to be able to talk to their guests and potential clients about the qualities of rides and experiences."
Walker went on to visit Wiegand in Germany:
"They are a family business, a really old ride manufacturer, " he says. "They began by making 2m tall municipal parks slides, and improving their technique year by year.
"Now, they have a whole range of incredible gravity-fed rides. Their dedication blew me away. While I was there, somebody from the Olympic Stadium was also visiting, which is when I realised there was a slide being installed just down the road from me. I was also part of a discussion about a slide for a museum in New York, who want to commission a slide to go through the museum.
"Talking to a manufacturer like Wiegand from the perspective of a thrill engineer, and talking to a museum as somebody who has worked in museums, and is therefore used to engaging their audiences, was quite a nice meeting of worlds."
The Point of No Return
According to Walker's research, the most exciting moment of the ride is just before it begins and it's too late to change one's mind.
"It is the moment there is no going back without a real palaver, without having to press that big red button."
"Nothing matches that moment of giving yourself to the ride, that point of no reasonable return. When I've monitored people's emotional states, the best features on the rollercoaster (eg. the longest fall, the scariest corkscrew inversion) only ever managed to reach 80% of the power of that moment of giving yourself to the ride. That is the moment that has the most emotional impact."
Walker has chosen to draw a line at invasive experimentation or to study the psychology and biochemistry of thrill. Instead, he focuses on the external expressions of arousal and pleasure in his subjects.
"I look back at the Taxonomy of Thrill and I still think if I do no other primary research, there is a lifetime of work in exploring these ideas through practice. It's about using art and design practice to explore ideas.
"Science got me into an area, a very particular place with a very particular understanding. Ever since that point ten years ago, I've been using my art and design practice to keep questioning. My aim is to continually unlock new areas of interest. Now, I have teams of scientists, like at the University of Nottingham, who pick up on the questions I ask.
"My job, as I see it, is to pose questions, and then there are scientists who come up behind me and start unpacking all these areas."
Victorian Swing Meets Oculus Rift
"In my new work, which is using virtual reality and playground swings, I'm looking at the relationship between kinaesthetic experience and visual perception.
"I've done some tests, recreating effects which are similar to the Victorian haunted swing effect, but using VR. And, I've realised that this is a very two-dimensional approach to what VR could actually help us do. I'm now using my engineering skills and charting this whole new visual world, this whole new visual language that relates body experience to visual perception, and making new artworks which are going to be inspired by that.
"On the back of this, the University of Nottingham has just applied for one and a half million pounds in research money. The intention is to try and unpack the kind of work that I'm doing."
The original prototype for this was 'Oscillate'. Walker based his immersive interactive artwork on the combination of two technologies: Victorian swing meets 21st century Oculus Rift.
"The new work I'm making is called Oscillations, which is going to be 12 versions of that swing. They are going to be quite abstract visual spaces and a prototype of the new work shown at the V&A from November 25th in their galleries.
"Both virtual reality and augmented reality are becoming bigger and bigger, " observes Walker.
"There is a sort of hybridisation going on such as the rollercoasters where you put on a headset. You get a sensation that's tied to a completely different visual experience."
Will VR Replace Rollercoasters?
While VR and AR are making their presence felt in the attractions space, Walker doesn't see them as the 'be all and end all'.
"Our thrill-seeking is split into two parts. One part is sensation seeking, which is physical stimulation. The other is thrill and adventure which is much more cerebral and to do with theatre. Over the last five years, I have always said we're going to be going more towards theatre. We're not going to be giving up on the body, but the language of what we can do with the body is probably quite mature.
"When VR came along, people asked me: will this create a whole new thrust in entertainment in the future? Will VR replace rollercoasters? No."
The point, he says, is that we are biologically attuned to respond to the way our bodies move.
"We spend most of our time in physical environments, learning to balance, to sway. I was talking to University of Westminster's John Golding, who developed the Motion Sickness Susceptibility Questionnaire, about how we are natural pendulums. We are used to our bodies swaying and we get great delight in this kinaesthetic experience of our body moving. You just have to look at instrumentation. The slightest touch to the human skin causes the excitement levels to climb incredibly. Try to evoke that response by telling an exciting story, and it's almost impossible. So just a simple touch compared to delivering an incredibly engaging narrative through audio is incredibly powerful.
"Now, there's an awful lot you can then do with that psychologically to capitalise on certain moments, " he says. "But, they both work in concert together."
So while VR and AR offer exciting opportunities for thrills, the physical experience of being launched, dropped and twirled at high speed will be hard to replace.  Rollercoasters are here to stay … for now.
Images: Brendan Walker, Aerial