Alton Towers is opening two new themed attractions for CBeebies Land this spring: a 'Peter Rabbit Hippity Hop' ride and a Teletubbies live show.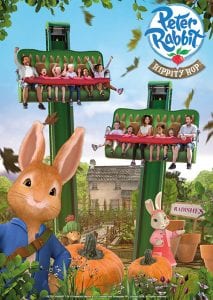 From March 23rd the 'Peter Rabbit Hippity Hop' ride will be open at the Staffordshire theme park. Children will join Peter and Lily Rabbit as they explore Mr. McGregor's Garden, hunting for mischievous Benjamin Bunny and 'unleashing their inner bunny' as they 'hop high into the sky' to try and spot him from the top of the ride.
From April, young visitors will be able to see the Teletubbies performing a new live show. The twice-daily interactive performances, where young will guests join the iconic Dipsy, Laa-Laa, Po and Tinky-Winky in a musical extravaganza, are exclusive to CBeebies Land.
Opened in 2014 to promote learning through play, CBeebies Land features children's TV favourites such as Octonauts, Postman Pat, Tree Fu Tom, the Furchester Hotel, Go Jetters and In the Night Garden. Live shows include Bing and Flop in Bing's Picnic and Hey Duggee's Big Day Out Badge.
Natasha Spence, Live Entertainment, BBC Studios said: "CBeebies Land offers a brilliant opportunity for young children and their families to experience hands-on some of their favourite CBeebies shows and characters. The addition of the new Peter Rabbit ride and the exclusive Teletubbies live show is incredibly exciting and adds to what already is a rich portfolio of children's brands."
James Walker, Marketing Director for Alton Towers Resort, added: "We are really excited to further extend the fun-packed programme of entertainment and rides in CBeebies Land and bring to life even more TV favourites to captivate the imaginations of children."
Themed accommodation and IP branded experiences
In 2017 Alton Towers opened an immersive CBeebies Land Hotel, with rooms themed around In the Night Garden, Octonauts, Postman Pat, Swashbuckle and Something Special, with live entertainment round the clock.
Adding themed accommodation to theme parks is part of the Merlin Group's strategy to tap into the popularity of short breaks by creating resort destinations. In April, Alton Towers will be unveiling its Stargazing Pods, providing an on-trend glamping experience and early access to the park.
IP themed experiences are what consumers are looking for, says Merlin CEO Nick Varney. In the preliminary results announcement last week he said, "this is an extremely exciting dynamic market which can only grow as leisure consumers around the world get more disposable income and more time, and they're after quality branded and intellectual property led experiences."