Dark arts Wizards, escape room thrill rides, record breaking hybrid coasters and Ronto Ribs with a side of Blue Milk… all in stride in the latest theme park news updates from around the world.
By Lance Hart, Screamscape
1) SeaWorld Entertainment still experiencing steady recovery
The 2018 final year results for the SeaWorld Entertainment parks were released this past week as the company continues to show steady signs of recovery from the post Blackfish years of decline.
The strategies employed over the past year included everything from a revised annual pass membership program, numerous special events throughout the year as well as the return of free beer samples. The end result is that overall attendance was up 8.6%, guest spending increased 10.9% and overall revenue was up 8.6%. Combine this with a new company CEO and an aggressive growth plan for the parks with new attractions, and it does seem as if SeaWorld may be on the road to a strong recovery.
2) Dark Arts show coming to Universal's Wizarding Worlds
Universal Studios has announced that they will launch an all new nighttime projection show at the Wizarding World of Harry Potter in Hollywood starting this April to be called "Dark Arts at Hogwarts Castle".
Universal promises that this will be a much darker experience compared to previous "The Nighttime Lights at Hogwarts Castle" and "The Magic of Christmas at Hogwarts Castle" shows.
"As darkness falls on Hogwarts castle, Dementors, Death Eaters and other unspeakable creatures from Aragog and Mountain Trolls to Thestrals will cloak the castle with sinister images from the darker side of magic; even conjuring the visage of Lord Voldemort himself, until the Patronus spell; one of the most famous, difficult and powerful defense of the Dark Arts charms in the Wizarding World, is cast."
Universal Orlando says that they will also debut the Dark Arts show sometime later in 2019.
3) Another world's first coming to Trans Studio Bali's Road Rage attraction
Shortly after the announcement that Trans Studio Bali will be home to the world's first "Stunt Show Dark Ride" that will feature live stunt actors mixed in with a cutting-edge dark ride attraction, another world's first detail was just announced.
According to the release, the attraction from Legacy Entertainment will also feature the first true Escape Room experience to be built into the attraction's pre-show experience. The concept has been designed to allow for re-rideability as well, since there will be seven entirely different escape games that guests could be asked to solve. In addition, there will also be live actors present. They will pose as prison guards while the guests are trying to make their escape.
4) Busch Gardens Tampa confirms record-breaking details for 2020 coaster
https://youtu.be/WhQHHUM-thA
Busch Gardens Tampa has confirmed some major details for their plans to work with Rocky Mountain Construction. This collaboration will transform the former Gwazi wooden coaster into a record breaking monster hybrid coaster. In 2020, the park promises to open the coaster as North America's tallest and the world's steepest and fastest hybrid coaster.
5) Las Vegas to add flying theatre in 2021
From the creators of FlyOver Canada and the newly announced FlyOver Iceland, a new flying theatre is set to make its debut in Las Vegas. FlyOver Las Vegas will suspend its riders in front of a 52.5 foot spherical screen for a cinematic flight experience. This experience will be enhanced with in-theatre effects like mist, wind and scents. The attraction is expected to open in 2021 on Las Vegas Boulevard.
6) Paris Las Vegas Hotel & Casino gets new nighttime light show
As part of a 20th anniversary celebration for the Paris casino in Las Vegas, the resort has added a new free light show. This takes place on their half-scale recreation of the Eiffel Tower; recurring every 30 minutes on the hour throughout the night.
7) Murder charges dismissed in Schlitterbahn Kansas City's accidental death
A local judge has dismissed the murder and manslaughter charges filed against Schlitterbahn's Jeff Henry, John Schooley and Tyler Miles in connection to the death of 10-year old Caleb Schwab on the Verrück slide at Schlitterbahn Kansas City. The charges were dismissed after the judge ruled that 'improper "illegal" evidence' was presented to the grand jury. There are still legal options open for the state to continue the case in other matters; such as in criminal court, but nothing has been decided yet.
8) Orlando's Skyplex project update
Joshua Wallack discussed the status of the Orlando Skyplex project during a local news interview this past week. While construction hasn't started, the previous $500 million budget for the project was scaled back to just $250 million. Furthermore, it would take up less of the 14-acre site than originally planned.
Nonetheless, the thrill ride tower will still be 570 feet tall, with some of the on-site land left open to build a future hotel project. Perhaps the most interesting thing is that Skyplex is now set to open in 2020. However, unless construction begins very soon, I think that is going to be a tough deadline to meet.
9) Universal Studios Florida to open TODAY Café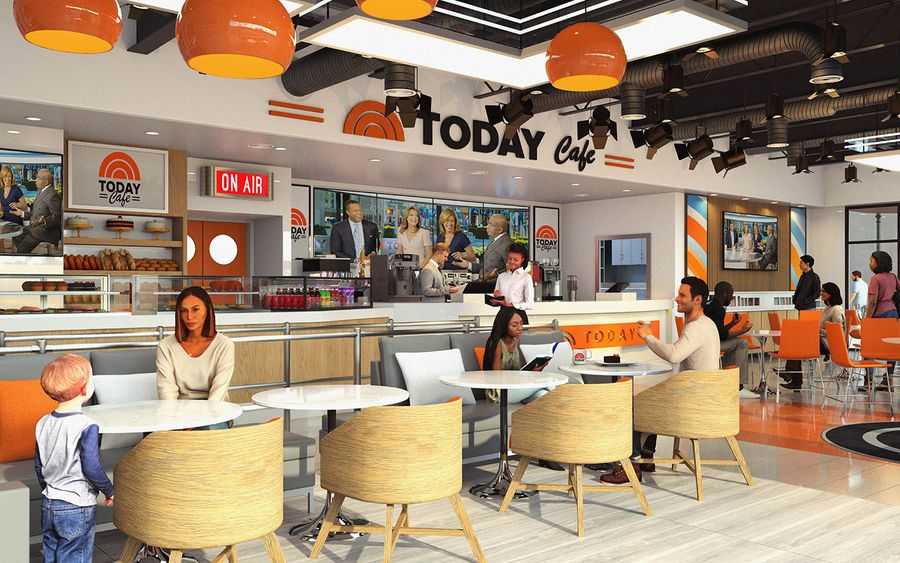 According to a press release from Universal Orlando, the park will replace the former Beverly Hills Boulangerie eatery with the TODAY Cafe; a cafe themed after the famous NBC morning talk show. The official description states that the location will serve breakfast, lunch and snack items throughout the day. It will also be designed to look and feel like Studio 1A in New York City. The cafe will feature large orange awnings, floor-to-ceiling windows, outdoor seating, as well as wine and beer on tap.
10) Get ready for flavours from a galaxy far far away
In a massive release of new details about Disney's upcoming Star Wars: Galaxy's Edge, a comprehensive description of a wide assortment of new themed food and beverage options that will be offered there exclusively, was announced. Following Universal's Wizarding Worlds, dining options inside Galaxy's Edge will be restricted to the Star Wars theme. Guests can find them when dining at Ronto Roasters, Docking Bay 7 Food and Cargo or Oga's Cantina.
Since no one has ever tasted Star Wars themed food before, this presented a huge challenge for Disney. They had to create an assortment of new flavours, smells and tastes that would be uniquely "Star Wars" while still appealing to the guests of Earthly origin.
Ronto Roasters will feature various roasted meats appearing to be cooked by a former Podracer engine, repurposed as a massive Ronto meat roaster. Over in Docking Bay 7, guests will be treated to delicacies like Kaadu Ribs (pork ribs) and Endorian Tip-Yip (fried chicken). For those wanting to get their drink on, Oga's Cantina provides a wide variety of colourful alcohol and non-alcoholic beverage options.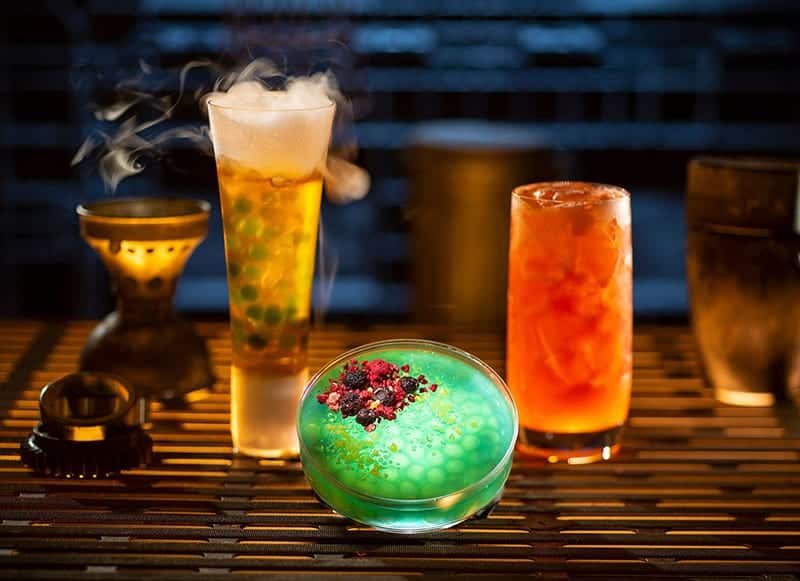 And yes, I did say alcohol. While this is nothing new for Disney's Hollywood Studios, it will be the first time that adult beverages will be offered to the public anywhere in Disneyland. The drinks will come with colourful names like Fuzzy Tauntaun, Yub Nub, Bespin Fizz, Outer Rim and The Bloody Rancor; a drink that comes with an edible bone in it. There will be plenty of options for everyone else. This includes a tea-based Tatooine Sunset drink, a Blue Bantha, Moof Juice, and the Blue and Green Milk.