Warner Bros World Abu Dhabi has revealed details of the rides and attractions in two more of its themed lands – Bedrock and Dynamite Gulch.
The Bedrock area of Warner Bros World Abu Dhabi is themed on The Flintstones, a cartoon about a stone-age family that has spawned multiple television series and films. Meanwhile, Dynamite Gulch will feature animated characters from the Looney Tunes and Hanna-Barbera, such as Road Runner, Wile E Coyote and George Jetson.
The park will have a total of six themed lands based on Warner Bros intellectual property. It has already unveiled the attractions in the Batman-themed Gotham City, the Superman-themed Metropolis and the animation-themed Cartoon Junction.
Mark Gsellman, general manager of Warner Bros World, said: "We're incredibly delighted to bring iconic animated characters to life through none other than the park's very own Bedrock and Dynamite Gulch. The characters in these lands have fascinated fans of every age for decades, and it will be a dream come true for many of our guests to walk the streets they know and love.
"From Bedrock's picturesque rocky landscape, featuring towering plants, a landmark river and a waterfall, to Dynamite Gulch's lifelike rustic desert – this section of the park is guaranteed to be a charming, heart-warming and fun-filled retreat for the whole family."
Bedrock
Walking the streets of Bedrock will be characters from The Flintstones, such as Fred, Wilma, Barney and Betty. Attractions in this land include The Flintstones Bedrock River Adventure, a boat ride through scenic stone-age wetlands and the prehistoric neighbourhoods of Bedrock.
While aboard the eight-passenger boat, guests will enter through boulder-strewn pathways, framed in oversized native palm trees and foliage, and pass by the occasional fountain or statue honouring one of the town's leaders.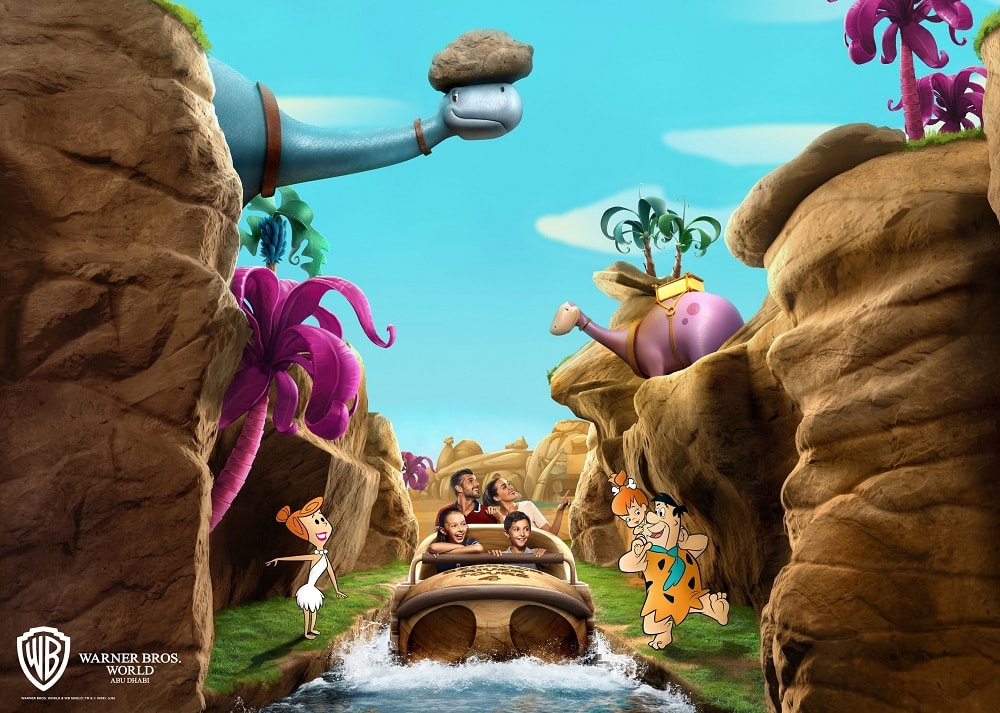 The area will also include two-themed restaurants – Mammoth Munchies and Bronto Burgers and Ribs. Outside the latter restaurant will be a row of quirky cars where visitors can take pictures. They can also visit the Bedrock Boutique to purchase Flintstones merchandise.
Dynamite Gulch
Dynamite Gulch is an animated storyland where visitors will encounter the famed duo Road Runner and Wile E Coyote, as well as beloved characters such as Marvin The Martian, Yosemite Sam, and The Jetsons.
Visitors can experience Wile E Coyote and the Road Runner's dizzying dash first-hand when they hop aboard the Fast and Furry-ous roller coaster. The coaster invites passengers to climb onto Wile E Coyote's latest gadget – the ACME Road Rocket 9000 – for an exciting journey through the desert cactus and chasms, joining Wile E Coyote in pursuit of Road Runner.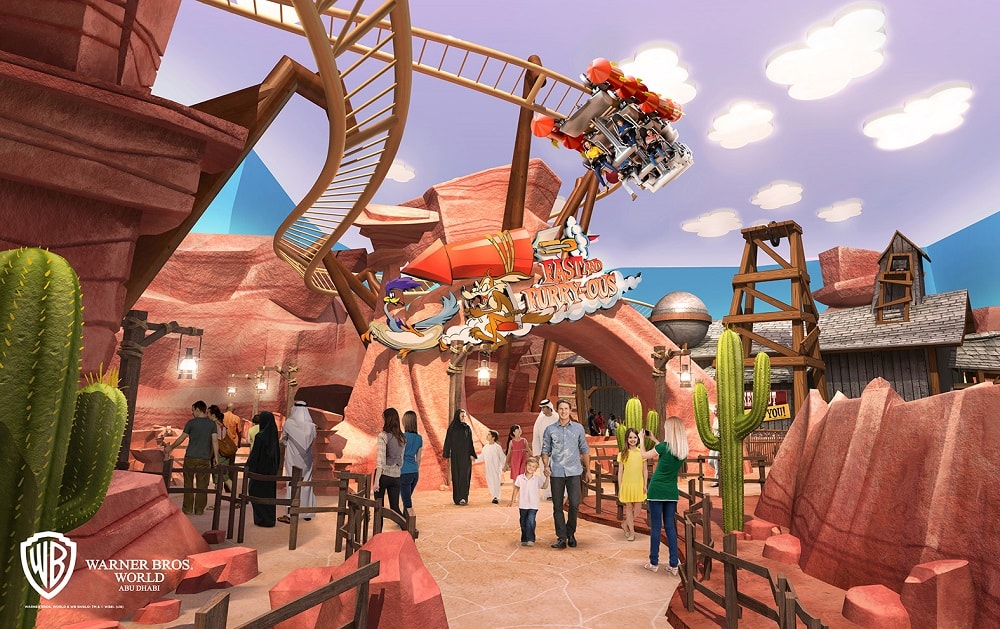 Nearby, The Jetsons Cosmic Orbiter lets guests fly their own futuristic spaceship as they circle a space-age landing pad on a high-energy joyride. Meanwhile, Marvin invites adventure-seekers to take a spin on Marvin The Martian Crater Crashers, which turns a crash-landing crater into mini-bumper car fun.
Fans of hot tempered Yosemite Sam can visit Yosemite Sam Rootin' Tootin' Gas, a kitschy, Route 66-themed shop filled with all the oddities Yosemite Sam has picked up throughout his travels.
Warner Bros World Abu Dhabi is being developed by Miral in partnership with Warner Bros Products and DC Entertainment. The $1bn indoor theme park situated on Yas Island is due to open this summer.
Images: c. Warner Bros World Abu Dhabi.