BoldMove Corporation is pleased to announce the launch of a humorous new IP, TooMush, designed to complement the Smash & Reload dark ride family. Smash & Reload is a double-action dark ride that combines simple gameplay with a compact footprint, resulting in a high-throughput.
This versatile dark ride family is a good choice for regional theme parks, FECs, shopping malls, zoos, leisure centres and more, engaging new audiences and providing a fun new experience.
TooMush
BoldMove partners Polymorph, based near Rennes, France, have come up with a fun and easy IP that is ideal for Smash & Reload rides.
The storyline follows cute creatures called Mushies who live in a serene forest. These rapidly expanding Mushies begin to cause problems when they are exposed to pollution and transform into horrible creatures. Players must work to restore them to their original state before they threaten nearby residents.
Thanks to the high-scoring formula, the game encourages competitiveness and repeat play, as players try to beat the scores as displayed at the end of each game. This scoreboard can also be shown alongside an optional hall of fame with action photos from the most recent gameplay. There is also a range of TooMush merchandise which can be made available in an onsite shop.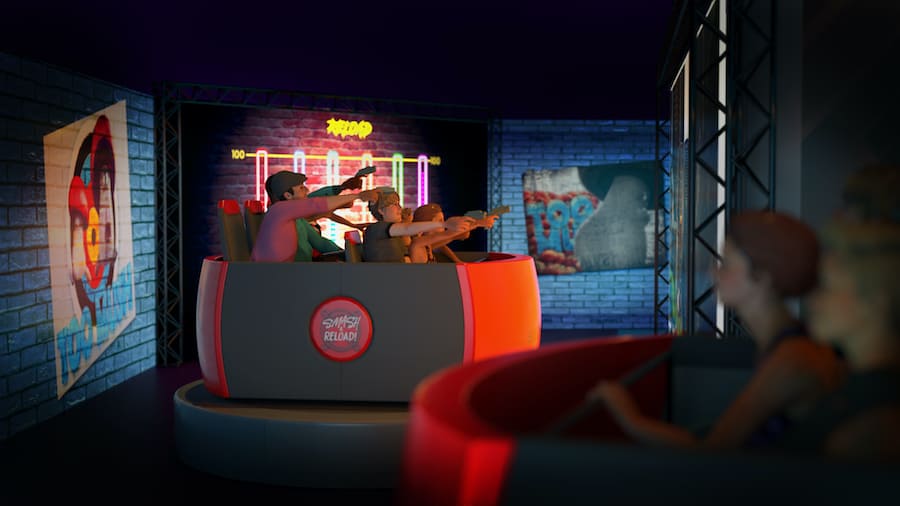 Clear storyline and mission
Fabrice Guichard, CEO of Polymorph, says: "It's important to offer a fitting IP to a dark ride like Smash & Reload, with characters that are easy to understand and shoot at. We kept the storyline very clear and linear as in only 4 minutes players want to enjoy the game without having to get their head around complex stories, competitive setups and gameplay.
"The mission is simple: save the city by restoring nasty transformed Mushies. Although they are very straightforward, we have put some personality in the characters with facial expressions and physical traits like a tattoo and other small touches.
"It's just so much fun to watch them expand and float all over the screens, and it's even more satisfying to disactivate them as fast as possible. We enjoyed the design and development process with Benoit [Cornet] and it's great to see it all come together now into a fun and dynamic ride."
Smash & Reload
Smash & Reload can also be adapted for other IPs, including custom IPs. The ride system comes in three versions, from the track-based XXS ultra-compact system, measuring 12x12m with a 6-person vehicle, through to the XXL system which can accommodate 500 – 700 people. The original version can be trackless, measures 15x15m and has a throughput of 360 people per hour.
The trackless vehicles by Rogue Rides use a laser-guided system while the track-based ones are powered by Gosetto with Dual Rail.
This ride technology is designed and delivered by BoldMove partners, who have years of expertise in successful attractions across the globe. For Smash & Reload, the technologies have been refit to tight budgets and limited infrastructures, featuring a compact centralised projection system for easy maintenance. The smart sound system and light & projection technologies also create a fun atmosphere for players.
BoldMove's Captain of Creative Minds and CEO, Benoit Cornet, says: "This is what BoldMove is all about, creating happier worlds with fun and memorable visitor experiences. Smash & Reload has generated lots of interest, and we have other versions lined up to fit specific IP's and even a karaoke version!
"Furthermore, our team is available to design and build new concepts or attractions that fit the customer needs and venues. There is a lot in our creative pipeline and we are enjoying valuable feedback from our partners and the market, so watch this space for more to come soon!"
Cornet is the founder of interactive technology company Alterface and recently announced the launch of  BoldMove Corporation as his next move in the attractions industry.