Bompas & Parr has unveiled its new report, the Future of Food for Attractions, discussing expanded narrative, social distancing, virtual food and seasonal offerings during the first ever blooloop V-Expo.
Bompas & Parr's presenters at V-Expo were co-founder Sam Bompas, development chef Danny Cheetham, and creative strategist Alix Hope.
Bompas & Parr offered a thrilling presentation exploring the major challenges and opportunities for F&B at attractions and location-based experiences (LBE).
The team looked at what visitors will be eating and drinking next, and how attractions can offer "new interesting experiences that activate all of the senses".
Bompas & Parr also provided a look at the future in the innovation kitchen, with guests learning about what they'll be soon eating and drinking.
"Attractions of the past created some of the greatest food innovations that we know today, and they can again," said Bompas, referencing F&B at Star Wars: Galaxy's Edge.
F&B can be "part of the experience itself"
"One of the particularly brilliant innovations there was blue milk, which is a sweetened milk concoction," he said. "You're adding some blue food dye – very, very cheap – to a milk product. But you're able to achieve selling them for $30."
"We also love the art-inspired cakes at the San Francisco Museum of Modern Art, by pastry chef Caitlin Williams."
Bompas said these food experiences are "not just filling a hole, they are part of the experience itself", and noted that "greasy burgers, soggy chips and highly sugary desserts are all associated with a day trip to the theme park".
"This can completely disrupt visitor flow and imagination," said Bompas. "Crafted narrative stories are abruptly interrupted by a carton of salty chips in an environment strewn with screwed up napkins."
"It's pretty disgusting. The bottom line – this is a hugely missed opportunity."
Hope went on to outline Bompas & Parr's top five key opportunities for F&B within attractions, starting with expanded narrative.
Attractions can enhance their own IP through F&B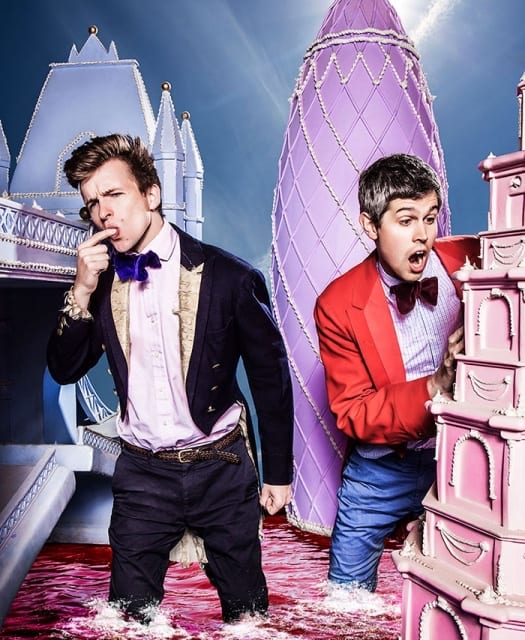 "Attractions really offer journeys into fantasy worlds when no one else can," she said. "Bompas & Parr believe that every part of a journey really should be considered.
"So even if you pop to the toilet, you should still be in your fantasy world." Here, she referenced the haunted toilet attracting visitors at Lagunasia in Japan.
She continued: "What if the food and drink experience was as good, if not better, than the attractions themselves?" 
Hope said "there's an opportunity for attractions to really enhance their own IP through F&B", also discussing the Andy Warhol exhibition at the Tate Modern.
After the exhibition, visitors can head to a themed dining experience where they "can enjoy Andy's tomato soup, you can enjoy a tuna fish disaster".
"We need to be continuing those narratives," added Hope. "The narratives that really people are going to theme parks and attractions to gain."
This involves "really looking at food and beverage becoming the attraction itself", said Hope. "Galaxy's Edge is a fantastic example of where food and drink really has become the main attraction."
Bompas & Parr's second opportunity is social distancing, or "adding a positive spin" to health and safety measures amid COVID-19.
"As groups of six or less are waiting in queues, we could develop narratives for those groups of six people," she said. "It's about taking these rules and tying them into something much more fun."
Bompas & Parr's third opportunity is virtual food, because "we're seeing more trends for digital avatars". The studio also suggests using augmented reality (AR).
"We can start looking at how we can combine both food and beverage and digital," said Hope. "There are opportunities for any food packaging that you get to have AR easily added to it.
"Perhaps when you get your burger box, you can scan it, and a digital piece can pop up."
Virtual food and augmented reality (AR)
As for the fourth opportunity, Bompas & Parr suggests seasonal F&B. "Seasonal refreshment is a really simple thing," said Hope.
"You can have hot and cold updates, and it can be done to coincide with the launch of an exhibition or a ride offering."
Finally, Hope said the studio "looks at food halls as theme parks" and has seen "a continuing number of food halls pop up over the country as consumers look for more casual dining experiences".
She acknowledges that while food halls are not attractions, they "allow groups of friends to experience multiple cuisines and experiences within one place".
"But one problem currently is that those food halls are all fairly similar in their offerings, and they lack an overarching narrative to allow the experience to be truly joined up," said Hope. 
"So we really believe there's a huge opportunity with food halls, by implementing a narrative journey across a visit," she added. "With themed moments throughout."
Hope summarised Bompas & Parr's findings: "We can really summarise all of that by saying that the future of food at attractions lies in imagination building.
"It lies in continued narrative and finally an elevated experience design."
Sci-fi prototyping and transparent restaurants
https://www.instagram.com/p/CEEniv5HGIr/
During the V-Expo session, Bompas & Parr also discussed "scream-fuelled food", with Cheetham creating "fractal desserts".
"Bompas & Parr imagines the future of theme parks to feature circular energy systems to power food and beverage production," said Hope.
"Heat can be pulled from roller coaster frictions before being transferred to kitchens."
"The studio has also been looking at sci-fi prototyping and what this means for the future of food and drinks at attractions," said Hope.
"This is all about expanding that IP narrative, and using that narrative to really drive innovation."
Bompas & Parr predicts an entirely transparent restaurant, with Hope explaining: "The kitchen is transparent, the tables and chairs that you sit on are transparent, even the food is transparent."
Of course, the team showcased the transparent restaurant "through the realm of jelly".
Bompas & Parr predicts "scream-fuelled food"
https://www.instagram.com/p/CGHfGc-Hun7/
In addition, Bompas & Parr said "the worst part about visiting any theme park is the motion sickness that you can experience" after riding coasters.
"What if food and drink offerings could, in fact, help with that impending motion sickness?
"Imagine if you've got a digital wristband and that wristband is monitoring your motion sickness to access the vending machine.
"We imagine that you can go and tap that wristband on the vending machine and then you'll then be dispensed a mind-over-matter dropper."
Watch the full session at the blooloop V-Expo, running from October 13 to 15. The full session will be on demand from October 15.