The opening of a third hotel on April 30th is set to provide a major boost to Hong Kong Disneyland. The new Disney Explorers Lodge will add 750 rooms to the Hong Kong resort, taking the total number of hotel rooms on site to 1,750.
The new hotel's motto is "ad explorare et somniare" – to explore and dream. As well as providing accommodation, the property also offers recreation, shopping, "exquisite culinary adventures" and Disney entertainment.
"With its exotic theme and immerisve storytelling, Disney Explorers Lodge will be an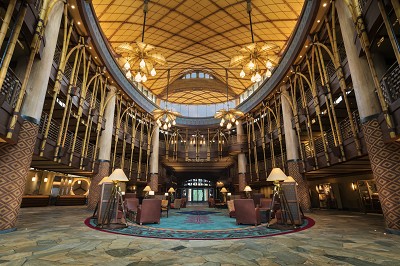 experience unlike any other in Hong Kong," says Terruce Wang, vice-president of sales and hotel operations at Hong Kong Disneyland Resort.
The new hotel is pitched as the perfect "staycation" for Hong Kong residents and an ideal getaway for guests from further afield. According to Wang, it will allow Hong Kong Disneyland Resort to accommodate more MICE business.
Disney Explorers Lodge highlights
Disney Explorers Lodge has a number of unique features. These include the following:
Richly immersive theming
Todd Richins is senior program manager at Walt Disney Imagineering. He says, "More than 1,000 artifacts that explorers collected from around the world like Mali, Papua New Guinea, Bali, Costa Rica, Bolivia, the Ivory Coast and more are displayed throughout the hotel, in the lobby, guest rooms, dining venues, kids' corner and various indoor and outdoor areas".
Guests will therefore be immersed in a rich cultural journey, with every artefact, from crafts, to textiles and antique toys supporting the exploration narrative.
Exclusive merchandise for sale
Souvenirs are on sale at The Trading Post. This is a specially-designed merchandise store which stocks a variety of items including over 20 exclusive products .
An adventure for the palate
The resort hotel's three restaurants, which can each cater for 500 guests in a single seating, provide an epic dining adventure. Food from around the world is served. They incorporate various cultural elements with the Disney Explorers Lodge theme.
The restaurants are:
Dragon Wind. Themed with a whimsical dragon kite this serves rural and classical provincial Chinese cuisine.
The World of Color Restaurant. A fusion of "tastes of new and old from worlds from far and wide". Themed as an explorer's art studio, with a botanical and entomological flavour.
The Chart Room Café. In this facility, lighting fixtures evoke the constellations used in
navigation. The Café serves specialty coffee, freshly made sandwiches, pastas and homemade gelato.
Lush themed gardens
The seven-story hotel is surrounded by four lush themed gardens. This means that every hotel room has a view of either the gardens or the sea. Each garden is named after a popular Disney character. They are:
A South American-themed "Kevin" Garden (after the giant bird in "Up.")
An Oceania-themed "Little Squirt" Garden (the turtle in "Finding Nemo.")
An Asian themed "Hathi Jr." Garden (an elephant from "The Jungle Book")
An African themed "Rafiki" Garden (the mandrill from "The Lion King").
The launch of the Disney Explorers Lodge makes Hong Kong Disneyland Resort an ideal "staycation" destination for guests.