Disneyland has announced the opening date of Avengers Campus, which is heading to Disney California Adventure in summer 2020. Disney has also unveiled the name of its new Spider-Man attraction, WEB SLINGERS: A Spider-Man Adventure.
In addition, Disney has revealed casting news, as well as new details and renderings of Avengers Campus, set to open on July 18, 2020 (via Disney Parks Blog).
The Worldwide Engineering Brigade (WEB) will house the first Disney ride-through attraction to feature Spider-Man, which is called WEB SLINGERS: A Spider-Man Adventure.
Disney has used innovative technology for WEB SLINGERS, including a seamless blend of 3D. Spider-Man star Tom Holland will reprise his role for the ride.
Tom Holland reprising role for Spider-Man ride
The WEB Suppliers store is where guests will find the latest WEB inventions, including interactive Spider-Bots, which also feature in WEB SLINGERS.
The customisable Spider-Bots all come with remote controls, and guests can also purchase a backpack to carry Spider-Bots, Spider-Man light goggles, and a spider web kit.
Guests can purchase official Avengers Campus gear at Campus Supply Pod, while three new dining spots are launching – Pym Test Kitchen, Pym Tasting Lab, and the Shawarma Palace.
Disney's first ride-through attraction featuring Spider-Man
Pym Test Kitchen is a food innovation science lab where Pym Technologies Researchers are using Ant-Man and the Wasp's technology to grow and shrink food.
Pym Tasting Lab will serve craft beers and Pym Particle-infused cocktail experiments, while the Terran Treats food cart will offer intergalactic eats.
Superheroes will also feature throughout Avengers Campus, including Iron Man, Captain Marvel, Black Widow, Doctor Strange, the Guardians of the Galaxy, and Black Panther.
F&B at Pym Test Kitchen, Pym Tasting Lab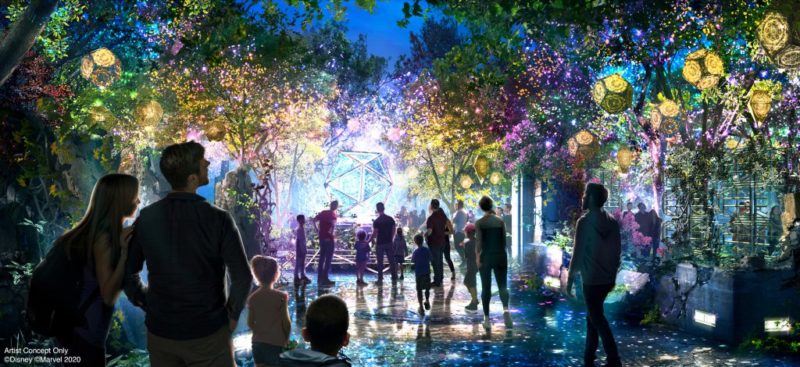 "We're going to give you super powers," said Brent Strong, executive creative director at Walt Disney Imagineering.
"There's not a kid who has read a comic or watched a TV show or a movie who hasn't walked away wishing they could sling webs, and we're going to make that happen for every single guest.
"The new technology can render a virtual web coming directly out of your wrist and into that world without touching an interface. It's as close to being Spider-Man as you can get."