European theme park fans who like their thrills at high altitude, and tower rides with an added twist, are in luck this season. Four new freefall attractions have opened recently in Germany and the Nordic countries.
Here, in order of height, is that quartet of new rides:
HIGHLANDER – Hansa-Park
This North German park previously operated a 42-metre tall ride from Maurer between 2000 and 2012. With Highlander, it has blown its predecessor – and nearly all other tower rides – out of the water. Reaching 120 metres (394ft) into the sky, the new attraction is in fact the tallest free-standing drop tower in the world.
Built by the Austrian manufacturer Funtime, the ride features a 24-seater gondola that falls from a height of 103m. During the rapid descent, passengers reach a top speed of 120km/h. In addition to the ride's turning gondola, the seats tilt forward to an angle of up to 30 degrees at certain points during the ride.
With its Scottish theme, Highlander has been accommodated into a new British-themed area of Hansa-Park, where it has been neatly positioned inside the helix of the Schwarzkopf looping coaster Nessie. This has been themed, together with the tower ride, by theme park designer Alex Korting.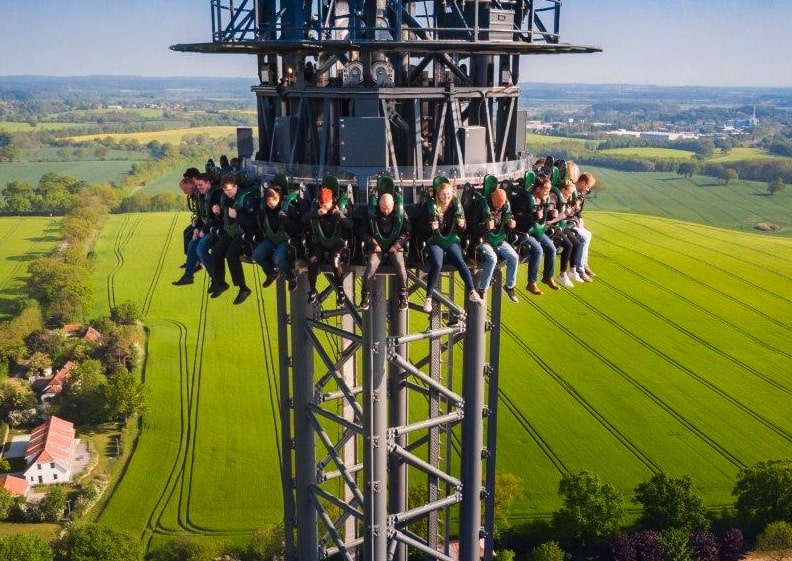 To enjoy the record-breaking attraction, passengers must be a minimum of 1.4m in height. Almost as breathtaking as the ride experience are the panoramic views of the coast provided from from the top of the tower.
STUPET – Kongeparken
Norway's tallest drop tower was officially launched on June 13 in Ålgård near Stavanger. Standing 80m tall, it too is a Funtime construction. Yet thanks to its location, Stupet ('The Cliff') actually sits 242m (almost 800ft) above sea level.
Kongeparken guests are provided with a different experience according to the time of day they ride. In the mornings, the tower acts as a viewing platform. Guests can enjoy views from there across the Jæren district of Rogaland. From 2pm onwards, thrill-seekers can test their limits as they fall from 0 to 125km/h in two seconds.
From 12 noon to 1pm, guests can enjoy a game of chance. Sometimes the ride will lower its cargo of passengers in a slow and steady manner. Or they might experience a sudden drop. The video here shows some of the amusing reactions from riders in full freefall mode!
Lund Gruppen, the park's operator, has invested 30 million kronor ($4.5m/€4m) in the 24-seat attraction.
BOOM – Särkänniemi
Zamperla was responsible for this new tower ride at the lakeside amusement park in Tampere, Finland.
The 68m-tall (223ft) attraction, whose catalogue name is Z-Max, is surrounded at Särkänniemi by a host of other rides from the same manufacturer. These include High Voltage (Power Surge), X (Discovery Revolution), Tyrsky (Disk 'O Coaster) and Trombi (Volare flying coaster).
As with the other rides featured in this story, riders on Boom are offered panoramic views of the park as they climb the tower. However, rather than the 16-passenger gondola rotating, the tower itself turns at 2.5rpm. Riders experience both shooting and bouncing motions, together with forces of up to 4G.
The minimum passenger height is 1.4m, although children of 1.2m and above can ride if accompanied by an adult.
HJERTEKIG – Tivoli Friheden
Opened on June 12, Hjertekig ('Heartbreak') enjoys the bragging rights of being Denmark's highest freefall attraction. Now the tallest ride at this city centre amusement park in Aarhus, it towers 65m (213ft) over other attractions including the existing Skytower.
From the top, passengers in the turning gondola can experience a few peaceful moments as they take in spectacular views of forest, harbour and city. And then comes the inevitable drop, during which the ride vehicle reaches a top speed of 80km/h and achieves an acceleration of 5G. To enjoy the experience, Tivoli Friheden visitors must be at least 1.5m, or 1.1m if riding with an adult companion.
In keeping with the ride's name, Hjertekig is crowned by a 4m-tall 'heart' with 1,000 LED lights. With more than 10,000 LEDs in total, the tower is an eye-catching landmark after dark.
Though it looks similar to the new drop towers at Hansa-Park and Kongeparken, the attraction was in fact manufactured by Ride Engineers Switzerland (RES). The total investment was 20 million krone ($3m/€2.7m).