A new $10 million Fujiyama Tower observation deck at Fuji-Q's Fujiyama rollercoaster, will allow non-riders to enjoy views of Mount Fuji, alongside a tubular slider and daredevil walkway.
The Fujiyama Tower will comprise several different experiences giving views of Mount Fuji previously only seen by riders on the giant rollercoaster. The new attraction is slated for completion in summer 2021 and Fujiyama – King of Coasters will be closed during construction. It's expected to cost 1.07 billion yen ($10.35 million).
Visitors will travel to the top of the tower by an internal elevator. The Fujiyama Sky Deck Observatory will comprise a wedge-shaped deck that allows visitors the perfect view of Mount Fuji – and the ideal spot for a selfie.
Fujiyama Walk is an open to the elements winding track that was previously used by staff performing inspections of the tracks. There are no handrails and, although visitors are attached to harnesses, it offers a daredevil hike.
The Fujiyama Slider wraps around the lift shaft at the centre of the tower – a tubular slider, it hurtles visitors to the ground in seconds.
From staff inspections to visitor experience
The inspection tower was originally designed to be purely practical – allowing staff to carry out daily inspections and repairs without having to use narrow trackways. A lift inside the tower would carry replacement parts and equipment. Staff enjoyed the views of Mount Fuji and the idea came to open the experience up to visitors. "We wanted more people to see this superb view that only a limited number of people could see," says the Fuji-Q website.
The thrill of the edge
A viewing platform at the top of a rollercoaster is a smart exercise in multi-purposing. Not every visitor enjoys the experience of extreme rides and the tower will open up views to those too timid to ride.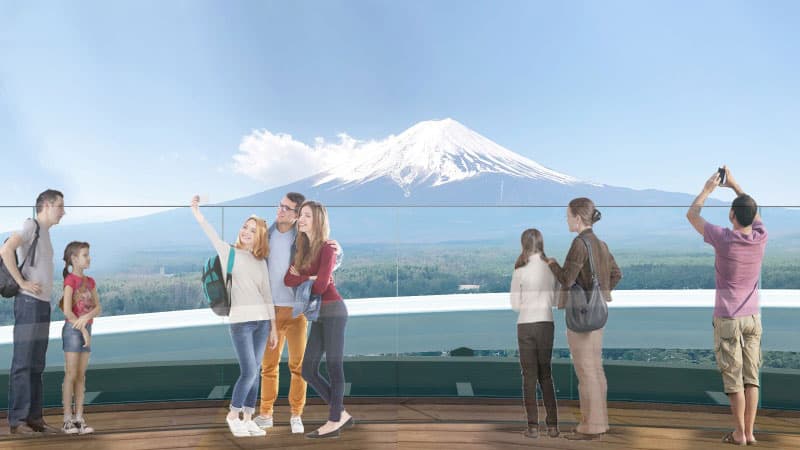 Observation platforms, walkways and sliders are usually confined to high urban buildings, such as the Shanghai Skywalk at Jin Mao Tower, SkySlide at Skyspace LA, and the Tokyo Skytree, Japan's tallest structure (which also boasts a view of Mount Fuji on a clear day).
Natural attractions also make the most of the combination of height and views. The Grand Canyon Skywalk is a steel and glass walkway that extends over the edge of the Grand Canyon, a mile above the valley floor. Meanwhile the Dachstein Glacier Skywalk in Austria is a glass-bottomed causeway offering views to Slovenia and the Czech Republic.
Continuing attraction of coasters
When Fujiyama opened in 1968, it was the tallest rollercoaster in the world, standing at 79 metres (259 feet). It also had the largest drop in the world at 70 metres (230 feet). Kingda Ka at Six Flags Great Adventure now holds the record with a height of 139 metres (456 feet). A host of new thrill rides are anticipated for 2021 and beyond as theme parks hope to lure back visitors with new experiences.