Visitors to Gröna Lund in Stockholm are set for an extreme new tower ride experience. Ikaros, which opened today, is the first facedown freefall tower in Europe, plunging riders headfirst towards the Swedish capital's waterfront. Intense, huh?
Built by Intamin, which also supplied the park's Frit Fall tower, Ikaros is the Swiss manufacturer's second Sky Fall. It follows the 2014 debut of Falcon's Fury at Busch Gardens Tampa in Florida. Rather than a cylindrical tower on the latter, Ikaros features a lattice structure with an eight-seater gondola on either side. Gröna Lund guests are winched to the top of the ride's 95m (310ft) tower before the gondola is tilting forward more than 90 degrees. Then comes the drop, at 90 km/h. Management reckons the new attraction is "definitely be the scariest white-knuckle ride" in park's 134 year history.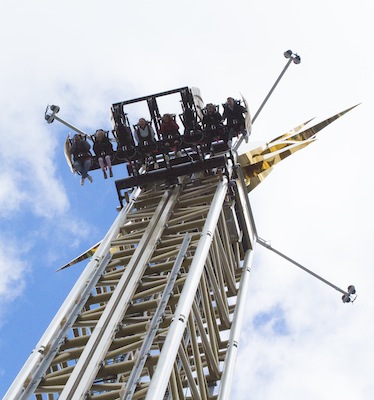 Ikaros – terryfying but exhilarating
"I have pretty much experienced all that there is in an amusement park," says Johan Tidstrand, majority owner of Gröna Lund operator Parks and Resorts Scandinavia. "So I can honestly say that this is one of the most terrifying drop towers in the world. It's also one of the most exhilarating. The feeling of adrenalin pumping through your system as you fall towards the ground, is hard to beat. I would really recommend everyone who has the courage to try Ikaros.
The new attraction becomes Gröna Lund's 31st amusement ride. The Stockholm city institution is rather constrained in space, and so tower rides feature heavily. As well as Ikaros and Fritt Fall, guests can also enjoy Katapulten (S&S Shot 'n' Drop) and Eclipse. The latter is one of the tallest StarFlyers in the world, standing an impressive 122m high (400ft).
What's in a name?
Ikaros take its name from the Greek mythology. The master craftsman Daedalus and his son Icarus attempted to escape imprisonment from Minos by constructing wings from feathers and wax. As he was flying towards his freedom, Icarus flew too close to the sun. The wax in his wings melted and he fell towards the ground. The top decoration of the new drop tower will therefore consist of a golden sun, because the closer you get to the sun, the closer you get to the fall.