A new ride, Monster – King of Roller Coasters, will open on April 24, 2021, at Gröna Lund in Sweden.
Bolliger & Mabillard have designed the new inverted steel coaster for the 138-year-old waterfront amusement park.
A large refurbishment project
In autumn 2017, construction started on an extensive refurbishment of one-third of Gröna Lund. Themed environments, restaurants, games and a new waterfront boardwalk were all added to the theme park.
This area was originally scheduled to open in 2020, but the coronavirus pandemic meant that the opening was postponed.
"This is by far the biggest and greatest ride in the history of Gröna Lund. The whole construction process was so extensive it started three years ago in the fall of 2017, long before the pandemic. With an entire year lost to Corona, it's even more important to start the season of 2021 in the strongest possible way. And that's exactly what we will do with a ride like Monster", said Magnus Widell, CEO of Gröna Lund.
"A world-class roller coaster"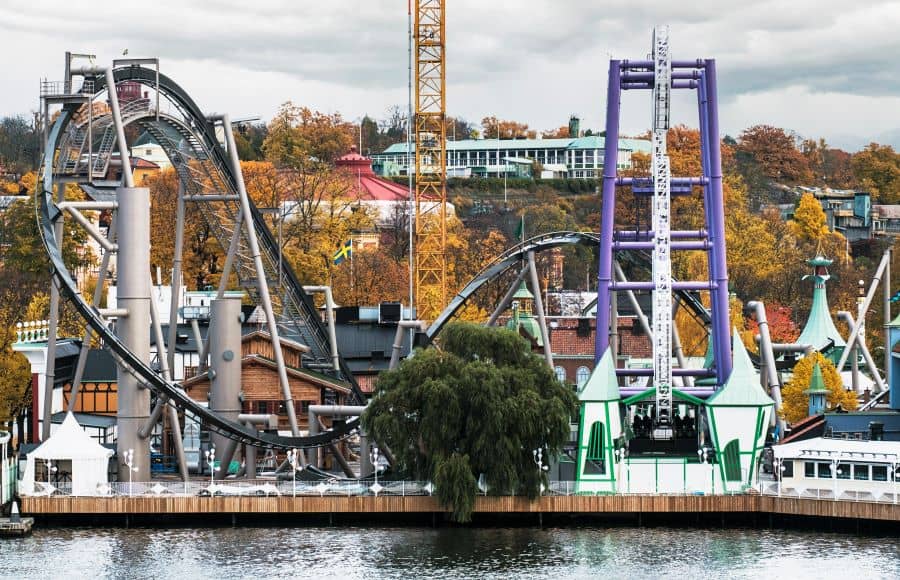 The amusement park is proud of the new ride. "We've travelled the world for years visiting different amusement parks and we've tried out hundreds of roller coasters. That's why we proudly, and without exaggerating, can say that Stockholm now will get a world-class roller coaster with the premiere of Monster", said Johan Tidstrand and Mattias Banker, owners of Gröna Lund.
Monster – King of Roller Coasters will take riders to a height of 34 metres and achieves speeds of up to 90 km/h. The track is 700 metres long and includes two corkscrews, a panoramic spiral and more.
Monster – King of Roller Coasters stats
Tallest point: 34m
Top speed: 90 km/h
Max acceleration: 4.5 G
Total length: 700m
Height requirement: 140 cm
Capacity: 28 riders per train. Two trains of seven coaches with four seats per coach.
Coaster elements: Curved drop, zero-G roll, Immelman, 2 flat spins (corkscrews), panoramic spiral, horseshoe, camelback and spiral. The ride has a total of 4 upside-down moments.
Based on an urban legend
The story behind the roller coaster is based on a local urban legend. Construction began on a new subway station under the island of Djurgården at the Stockholm waterfront. However, workers abandoned the site and the station was never completed. There is a legend that something lived underground and was disturbed by the construction.
Whilst building the new ride at Gröna Lund, workers found this abandoned station. In memory of this legend, the ride was named Monster. Guests will actually use the old station when boarding the roller coaster.
Universal Resort Orlando recently revealed the vehicle ride design for its new roller coaster, Jurassic World VelociCoaster which will open in summer 2021.