Leading sales partner for attractions, Ride Entertainment is celebrating the launch of HangTime, the new surf-themed Infinity Coaster at Knott's Berry Farm.
The Gerstlauer ride has reportedly proved an instant hit with park guests since it opened earlier this month.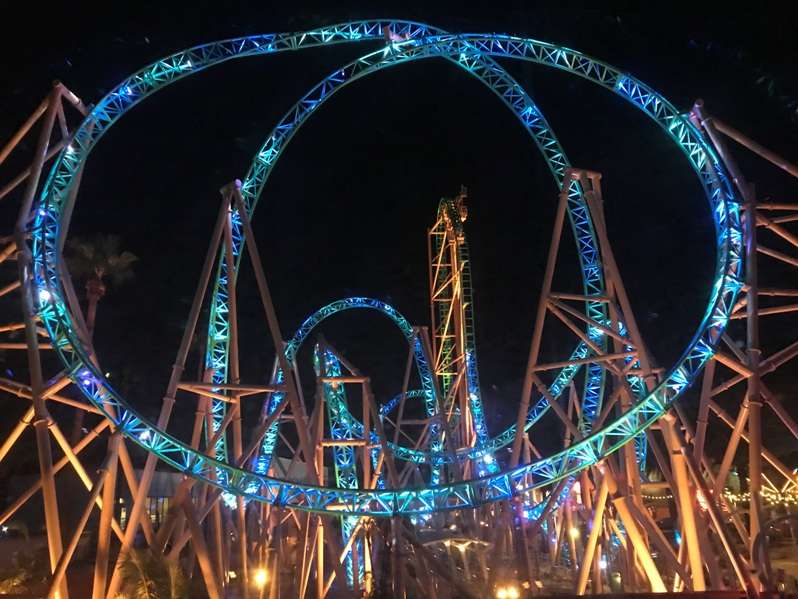 What's more, thanks to 162 LED lights from Ride Entertainment partner, KCL Engineering, it has redefined the park's Boardwalk area both day and night. The lights can be programmed to 'chase' the coaster vehicle round the track, adding an extra dimension to the HangTime experience. They can also be adapted to provide seasonal shows.
"HangTime is the first and only dive coaster in California," announced Jon Storbeck, the Vice President and General Manager at Knott's Berry Farm, during the opening ceremony.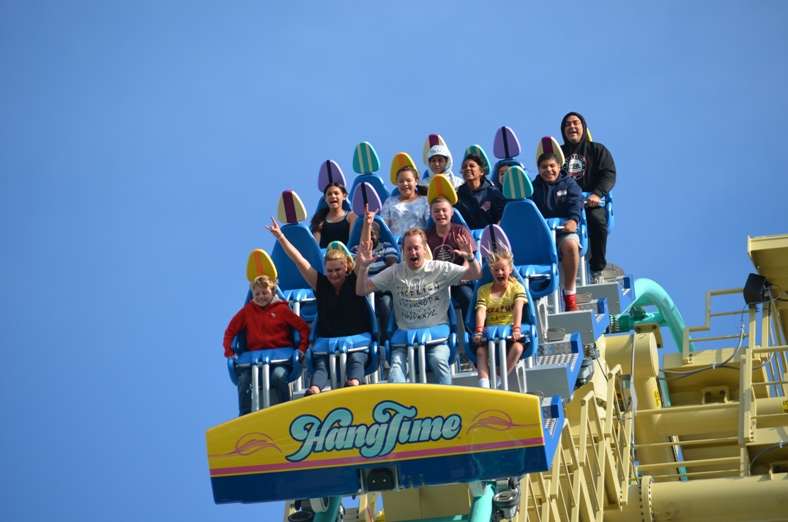 "As you can see, Hangtime pays homage to California's beach and surf culture. HangTime towers 150-feet over the Boardwalk area. It includes 5 gravity-defying inversions, mid-air suspensions and a beyond-vertical drop – the steepest in California. HangTime will ascend 15 stories up a vertical lift hill and will pause at the top, leaving riders suspended at the crest for seconds before descending down a 96-degree drop."
HangTime's holding brake provides the perfect photo opportunity
According to Ride Entertainment, the coaster's holding brake is providing the perfect photo opportunity.  As riders pause over a hundred feet above, it's the ideal moment to capture the emotions on their faces, from excitement to fear, before they rocket down the first drop.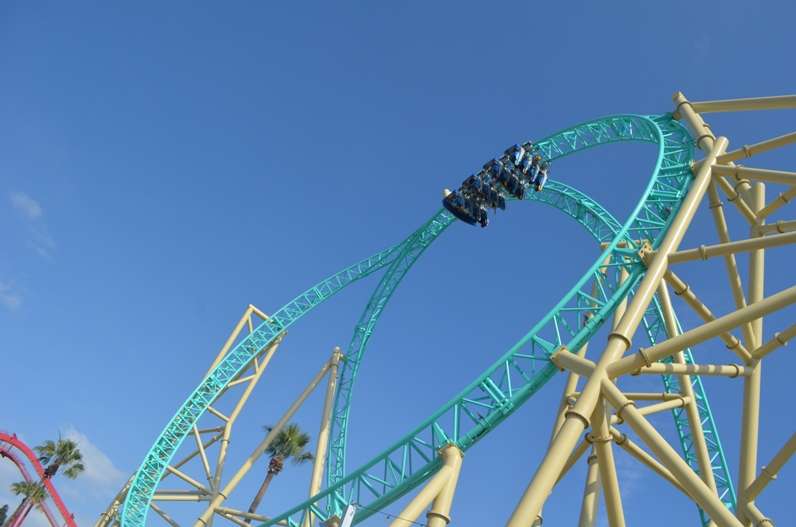 Chief Business Development Officer at Ride Entertainment, Adam Sandy, puts the success of the project down to a great partnership team:
"Obviously the Gerstlauer Infinity Coaster system is a great ride platform, so let's start there. The holding brake and double-down just offer some exhilarating on-ride moments. Add in a breathtaking light package from our friends at KCL and the fact that the Ride Entertainment installation team erected the ride, and you see the power of our partnerships," stated Sandy.
"We continue to separate ourselves from the competition with our ability to offer our customers innovative attractions and customised services."
HangTime ride stats:
Manufacturer: Gerstlauer Amusement Rides (Germany)
Model: Infinity Coaster
Height: 150 feet (46 meters)
Track Length: 2,189 feet (670 meters)
Top Speed: 57 mph (92 km/h)
Number of Trains: 3, 16-passenger
Height Requirement: 48 inches (1.22 meters)
Elements:
Vertical Lift
60-degree Holding Brake
96-degree Beyond Vertical Drop
Negative-G Stall Loop
Corkscrew
Cutback
Airtime Hill
Cobra Roll
Installed by: Ride Entertainment