Hersheypark is using an artificial intelligence-based touchless security screening system as part of the theme park's safety measures in response to COVID-19.
The new Evolv Express scanners, which were also tested at Walt Disney World's Disney Springs, are provided by Evolv Technology.
Evolv Express uses artificial intelligence (AI) software and powerful sensors to screen up to 3,600 people per hour. This is 10 times faster than normal approaches, including metal detectors.
The system allows Hersheypark to ease social distancing at the security checkpoints while minimising interactions between people. Visitors do not need to stop, empty pockets or remove bags, therefore alleviating long lines at entrances.
Screen up to 3,600 people per hour
"Hersheypark prides itself on providing family fun in a clean, green and safe environment where our guests can relax and enjoy the day together," said Garrett Gallia, vice president of communications and corporate relations at Hershey Entertainment and Resorts.
"The health and safety of our guests, team members and our community are core to our brand and our most important commitment to all those who choose to honor us with a visit or work as a member of our team," added Gallia.
The response to the technology has been positive, with guests praising the process as fast and unobtrusive while making them feel safer.
Hersheypark's security professionals report that the system is easy to learn and use, while the majority of visitors don't even realise the screening process is happening.
"Forward-thinking application of digital technology"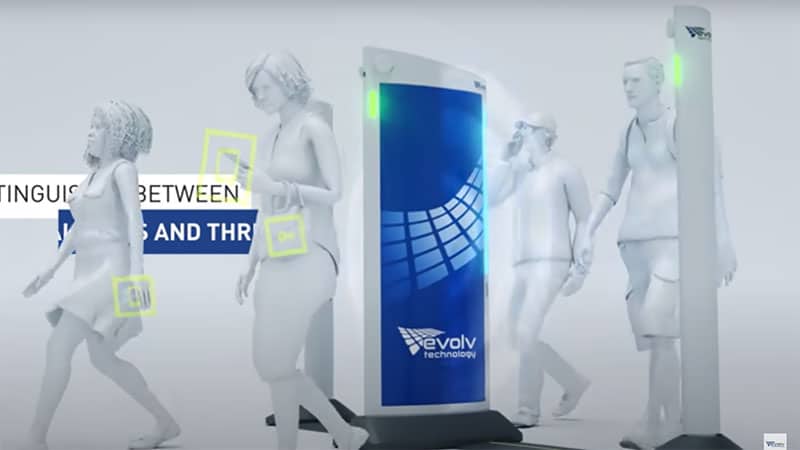 Gallia said the security screening platform "is a perfect example of Hersheypark's forward-thinking application of digital technology".
He added that it "is designed to grow with us to meet the current and future safety needs of our guests and employees, which we view as a significant benefit over traditional solutions".
"We knew our former security screening process would provide challenges in the pandemic environment," said Jason White, managing director of corporate safety and security at Hershey Entertainment and Resorts.
"Our guests and security staff have been pleasantly surprised at the speed of the touchless screening experience that largely eliminates manual bag checks."
Hersheypark reopened in July with the $150 million Hershey's Chocolatetown expansion, which features Candymonium – the tallest, fastest, and longest coaster at Hersheypark.