Theme parks in Hong Kong are starting to reopen as coronavirus restrictions are lifted. Ocean Park reopened on June 13 and Hong Kong Disneyland will reopen on June 18.
Both theme parks are introducing numerous safety measures to keep both guests and staff members safe.
Advanced reservations necessary
As Hong Kong Disneyland reopens with limited capacity, all guests will have to make a reservation for the day they want to visit through the Hong Kong Disneyland Park Visit Reservation website. This includes Magic Access members, park ticket holders and complimentary ticket holders.
Magic Access members will be able to make park reservations on June 15. Other guests will be able to make a reservation on June 16 at 12 pm HKT. Children under three will not need a reservation and will continue to have free park admission.
Safety measures in place
All guests will have to make a health declaration as part of their reservation process. They will also be required to wear a face mask in the park. All guests will have their temperatures taken upon arrival.
The majority of attractions, retail, and food and beverage locations will be open. The Hong Kong Disneyland app and website will show which attractions are available each day.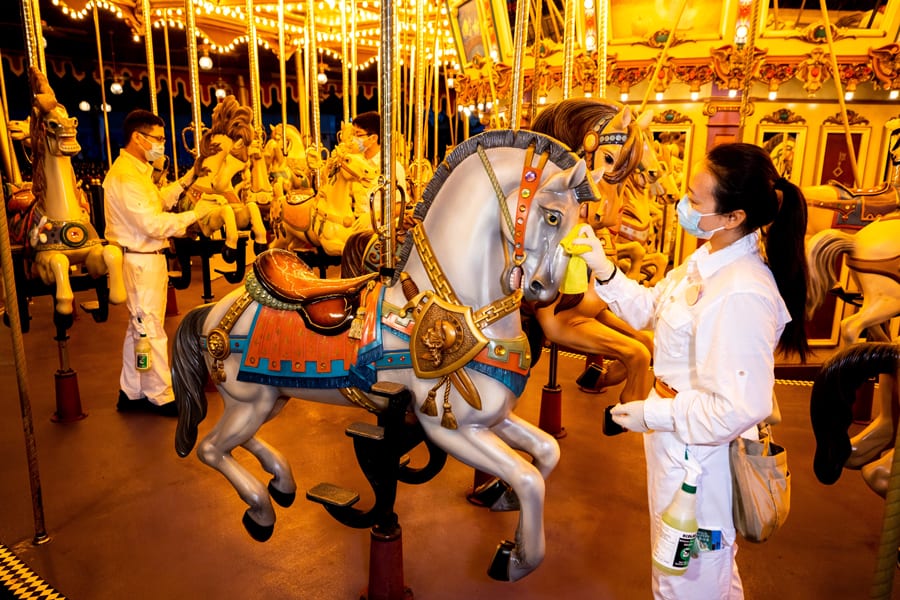 Social distancing in the park
Social distancing measures will be implemented in queues, restaurants, attraction vehicles and other locations throughout the park. There will be no close-up character experiences, however, guests will be able to experience characters in other ways that accommodate social distancing measures.
There will be an increase in sanitisation and cleaning in high-contact areas. Hand sanitiser stations will be available. Hotel services are gradually resuming at the resort.
Ocean Park reservations quickly sell out
Ocean Park Hong Kong reopened on June 13. The theme park saw an overwhelming response to its reopening. It took just four days for the first 14 days of reservations to fill up. All restaurants in the theme park were fully booked for its opening weekend.
In response to this surge of demand, Ocean Park is releasing more dates for ticket reservations. As of 10 am HKT on June 16, Ocean Park will open reservation up to 24 July. All visitors must make an advanced reservation.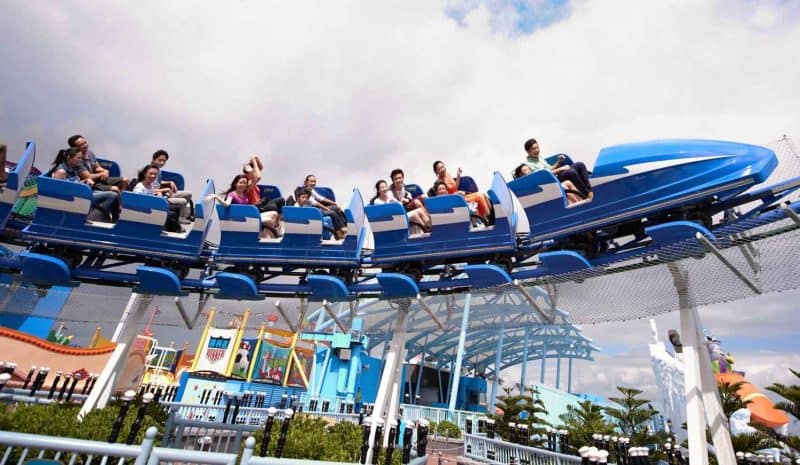 Reduced capacity
Capacity is currently reduced to 9,000 visitors (25%) in the first two weeks of reopening. The capacity will then be increased gradually to 18,000 (50%), according to the operational situation.
All guests must reserve a ticket in advance and present this QR code upon arrival. Visitors will pass through an infra-red thermo-imaging machine that checks their body temperature when they enter the park.
Additional safety measures are in place. Extra sanitisation will take place throughout the park. All guests and staff members will have to wear masks. Social distancing will also be implemented. The park plans to open every day, except for Tuesdays, from June 13-July 31.
Hong Kong Disneyland will be the second Disney theme park to reopen in the world. Disneyland Resort is implementing a phased reopening from July 9, and Walt Disney World will reopen on July 11.
Ocean Park Hong Kong recently received a HK$5,4 billion bailout from the Hong Kong government.
Hong Kong Disneyland Images: Disney