Leading destination design company, IDEATTACK, has unveiled plans for Yangshuo Resorts World in Guangxi Province, China.
The resort includes Hotel Vertigo, a spectacular resort inspired by the local environment.
Yangshuo Resorts World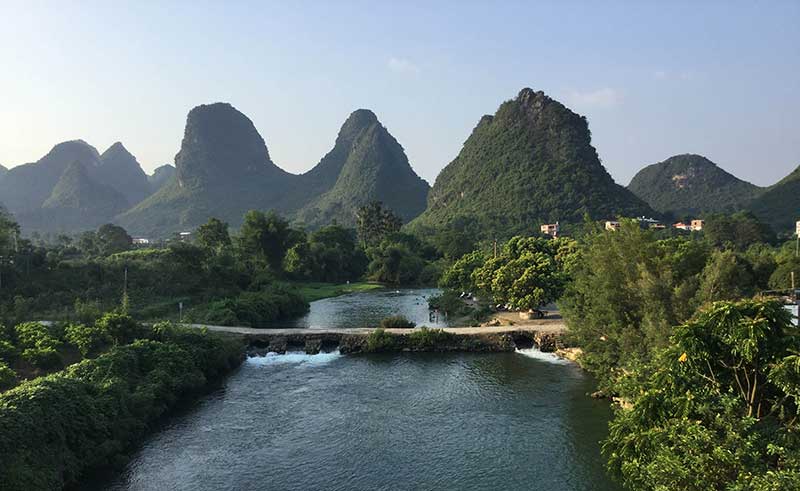 Beautiful Guangxi Province in China is famous for a landscape of limestone kasks and meandering rivers.
Yangshuo Resorts World is an ambitious new project extending over 7 million m², including a theme park, water park, resorts, cultural and sporting facilities.  The developer, Fuda Group, is structuring the project over three phases. The first phase is to be developed over the next two to three years.
Inspired by the unique natural environment, IDEATTACK have created the concept design for the project.
Destination Resorts
A signature resort of Yangshuo Resorts World, Hotel Vertigo, is a unique destination designed to complement the scenic landscape. Hotel Vertigo is located on the top of one of karst hills, both wrapped around the natural landscape and carved into the rock.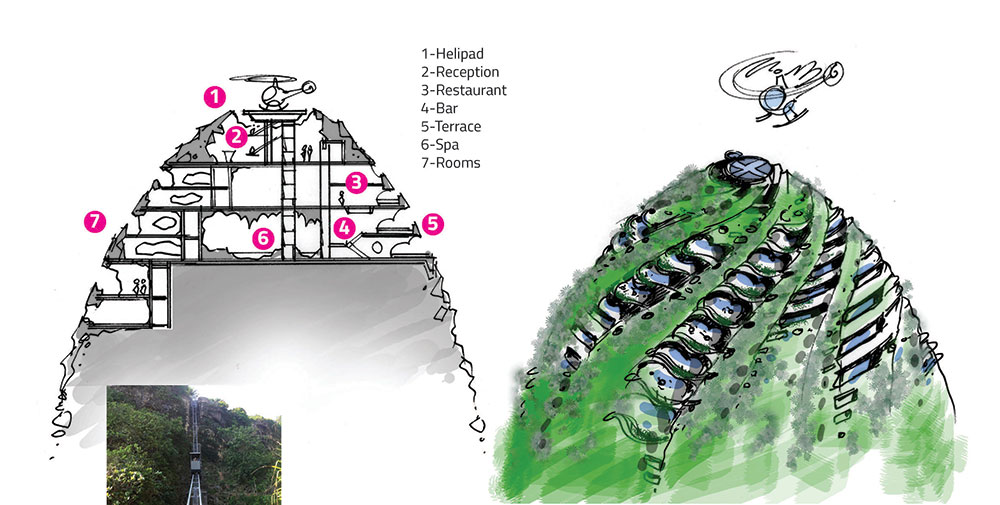 This exclusive luxury hotel is equipped with a helipad and also a small hidden inclinator lift on the side of a hill.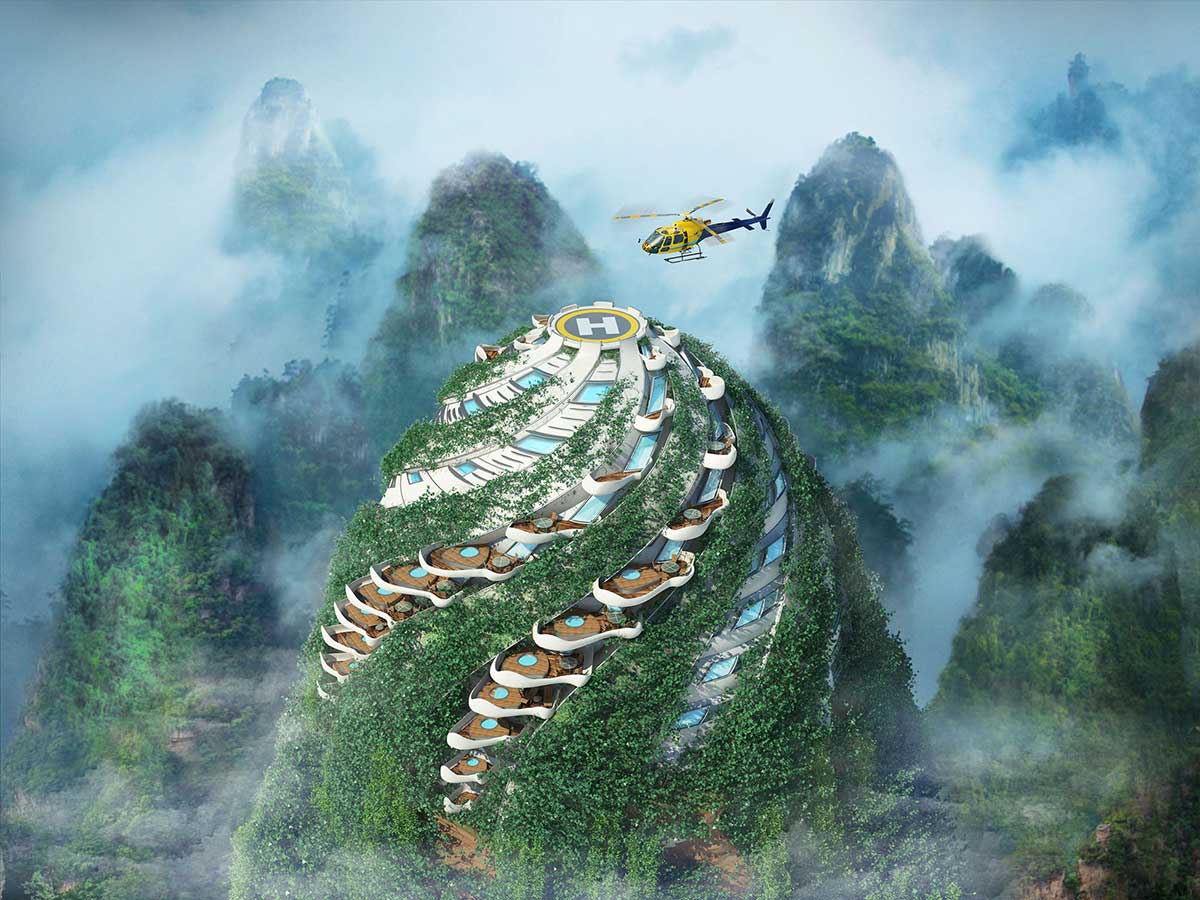 In addition to the spectacular Hotel Vertigo, visitors to Yangshuo Resorts World will have a wealth of accommodation options including, Outdoor Resort World, Bamboo Resort, Treehouse Resort, South-East Asian Resort and Traditional Village.
There will also be a conference resort as well as Travel Town, a zone for motor homes.
Entertainment Parks
Yangshuo Resorts World will include five entertainment parks.
Yangshuo World Theme Park
The Secrets of Guangxi Province Theme Park will be a world-class theme park features mostly hi-tech media-based indoor attractions. The focal point of the theme park will be the Karst Castle observation tower surrounded by various attractions including dark rides, a dome flying theatre, a 4D theatre and a simulator ride.
Yangshuo Water Park
Key attractions include a wave pool and beach, cascading karst pools, splash play, waterslides, a water coaster, a lazy river, a surf pool, an underwater show and a splash simulation theatre.
Kids Paradise
The ultimate fantasy garden created for kids will feature three areas: Enchanted Forest, Magic Maze and Dwarf's World, each with attractions such as mini coasters, an interactive hedge maze, a petting zoo, shows and play areas.
Adrenaline Adventure Park
In a hidden valley, away from Yulong river scenic routes, Adrenaline Adventure Park will feature the fastest, most daring, motion-based rides in the region. The park is designed to blend with karst peaks and celebrates outdoor life in the spectacular natural environment.
Key attractions include:
Coaster Wrapped Around the Mountain
Freefall Ride Up the Hill
Sky Fly
Big Pendulum
Tilt Over
Pirate Ship
Space Shot
Yangshuo Cultural Experience Park
Celebrating authentic regional history and heritage, this area will contain experiential attractions inspired by the indigenous Zhuang, Yao, Miao, Dong and Shui people. The park is divided into four pavilions: Arts & Crafts, Myths & Legends, Science & Nature, and Agricultural.
Cultural and Natural Parks
The Cultural and National Parks will improve amenities at well-known tourist sights – Banyan Tree Park and Moon Mountain Park – as well as adding a Spiritual Park and an Artist Colony.
Sport & Recreational Parks
Designed to celebrate the reputation of the Yangshuo region as a backpacker paradise, Wilderness Adventure Park is envisioned as a special environmental recreational area and will include extreme sports, hiking, mountain biking, ziplines and camping. This zone is complemented by Sport Park and Wellness World, a health and well-being complex.
Shows & Performances
Millennium Show is a multimedia projection show with special effects mapped onto the surrounding kasts.
Lifestyle Centers
Yangshuo Resorts World features five Lifestyle Centers which will serve as the main commercial and retail-dining-entertainment hubs for visitors. Each has its own unique theme: Local Culture, Stone, Ecology, Bamboo and Water.
Images: IDEATTACK