KCC Entertainment Design, a leading creator of themed environments, has been recognised at the CAAPA/CAE Exhibition in China for its work on the Smurfs Theme Park in Shanghai.
KCC Entertainment Design is pleased to announce that it has received the 'Cultural Tourism Project Planning and Creative Design' award at last week's CAE Expo in Beijing. This was in recognition of its recent project, the Smurfs Theme Park in Shanghai.
Last Tuesday evening, ahead of this year's CAAPA/CAE exhibition, the company was honoured at an awards ceremony. The design award was decided by an expert jury, who were responsible for evaluating the following elements:
The project shows the resilience of the entertainment industry during COVID-19
The project is innovative, creative and sets new benchmarks for design, realisation, operational feasibility and profitability.
The project is an ambassador for the Chinese entertainment industry and appeals to the highest international standards.
An award-winning project
The Smurfs Theme Park is a unique indoor attraction and at 8000 square metres is the biggest Smurfs theme park in the world. It is the result of a partnership between KCC Entertainment Design, Shimao Property Holding and Belgian Smurfs IP owner IMPS.
Inside, guests are immersed in the world of the much-loved characters over three themed zones, with 29 Smurfs-themed attractions and experiences. It has been open since April 2020 and despite the pandemic has been entertaining around 3000 visitors per day.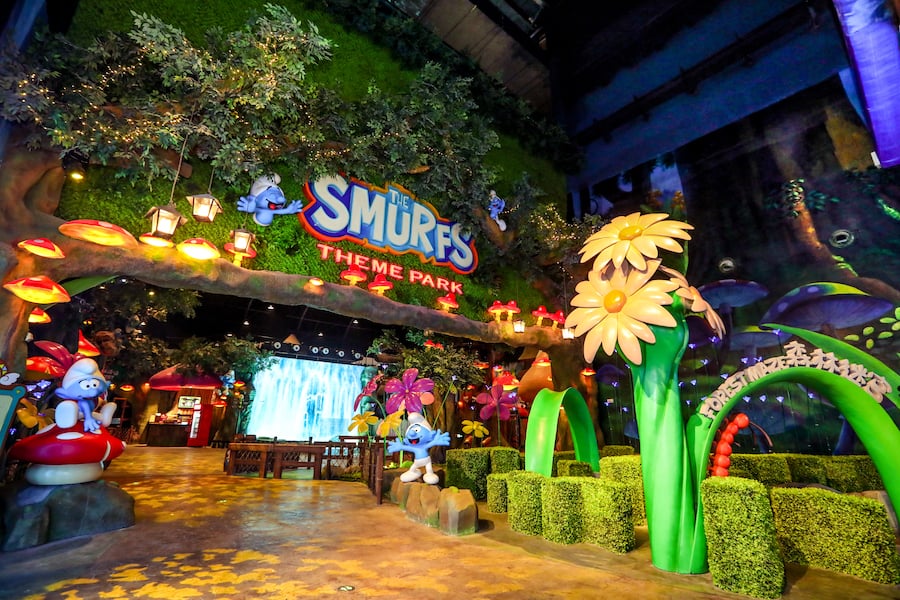 KCC Entertainment Design's CEO, Yannick Maes, says: "We are very proud of this award which acknowledges KCC's expertise at designing and realizing mesmerizing entertainment projects! We congratulate and thank IMPS and Shimao Property Holding for our great collaboration!"
Earlier this year, the company celebrated a milestone anniversary, having been in the business of designing and building unique entertainment destinations for 20 years. Other successful projects during this period include Chocolate Kingdom Theme Park in Guangzhou, China, Angry Birds World in Doha, Qatar and Tekzone at Avenues Mall in Kuwait.