Interactive attractions specialist, Lagotronics Projects, is celebrating the opening of the world's first Farm Fair GameChanger at Germany's Bayern-Park.
Branded Stadlgaudi 4D, the revolutionary rotating dark ride is themed around the antics of a bunch of crazy farm animals.
Once visitors step into the vehicle on a rotating platform, they are plunged into the world of Farm Fair and try to hit as many targets as possible with the bright orange carrot cannons. Every rotation of the platform means a new farm scene and a new game: in the yard, kitchen, barn or field.
The experience ends with a celebratory fireworks show. Players can check out their score and immediately compare it with fellow players.
"The first reactions and findings of both visitors and park operator are promising," comments Silke Holzner, Managing Director at Bayern-Park. "We are very proud to have the world's first rotating interactive dark ride, completely designed in a great farm theme."
Stadlgaudi 4D – a compact ride that punches above its weight
Stadlgaudi 4D is a compact ride that punches above its weight. The rotating platform has a diameter of just 8.8 metres and has 5 sections: 1 for boarding and 4 crazy game scenes. Each vehicle seats 4 people. Total ride time is about 160 seconds and the capacity is 400-500 pph.
"Bayern Park entrusted us to deliver the complete ride package, from design to installation," explains Mark Beumers, CEO at Lagotronics Projects. "Interactive technology, devices, seats, platform, audio and video, lighting, show control, themed decoration and scenery, it's all there! The Farm Fair story and game is completely developed in-house. Something to be very proud of!"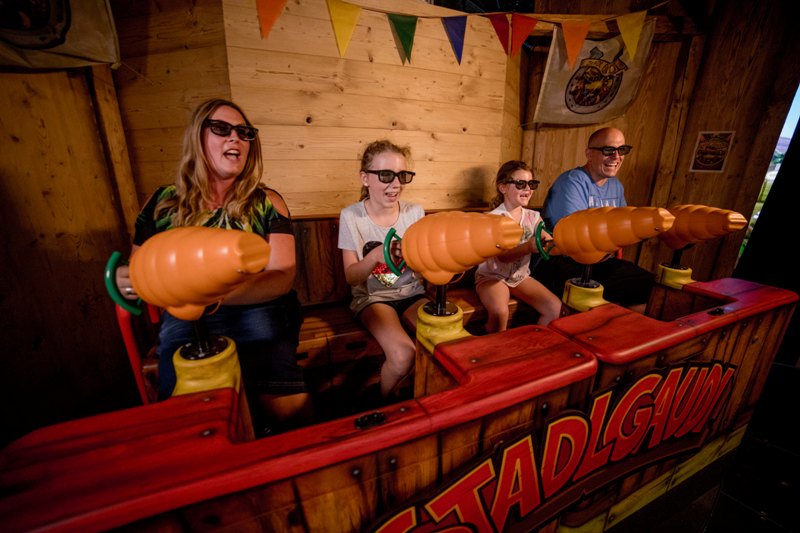 Lagotronics Projects first unveiled its Farm Fair GameChanger at EAS in September 2017. The company had launched the GameChanger concept the previous year as a way to offer a very high capacity dark ride on a very small footprint.