The big news for Mack Rides at IAAPA Attractions Expo was the unveiling of the Time Traveler ride vehicle for Silver Dollar City. Yet the German manufacturer has several more exciting projects for 2018 and beyond.
At Europa-Park, the Mack family has decided to give the indoor rollercoaster Eurosat a top-to-bottom overhaul for the coming season. "We are changing almost everything except the columns and support structure," explains Mack Rides marketing manager Maximilian Röser.
Originally opened in 1989, the ride (not to be confused with the spinning coaster Euromir) is located inside a giant globe within the French themed area of the park. Since that time, Mack has made many refinements to its production methods. Eurosat 2.0 is expected to offer a much smoother ride experience, as well as a new optional extra – virtual reality. A second station area with a switchback section will be created so that riders with VR headsets can board without disrupting the loading/unloading of other trains.
Track has already started arriving at Blackpool Pleasure Beach ready for the winter construction of Icon. The double launch coaster is the British park's biggest new investment in years and will be over 1km long.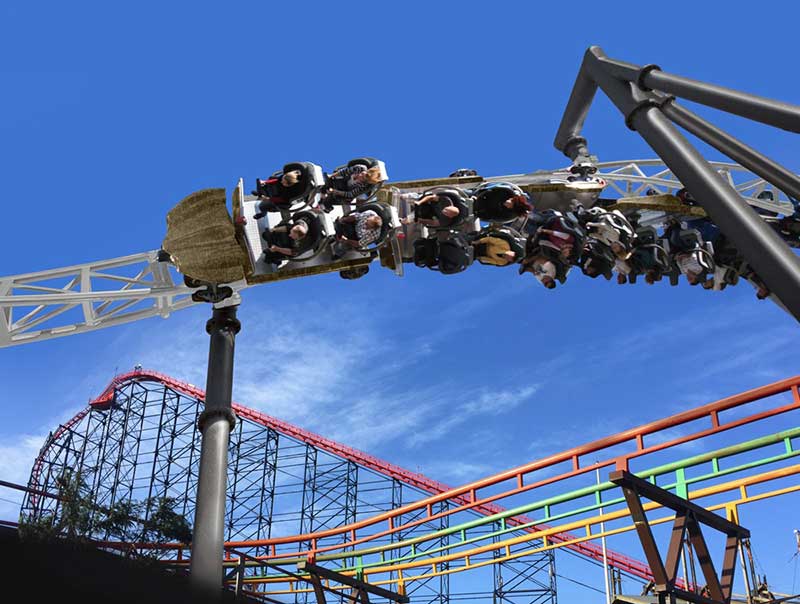 Meanwhile a ride with a layout that will be a clone of Flash at Lewa Adventure in China is on its way to Turkey. Featuring a giant loop, the ride will be part of the 'dry' expansion of Rixos Theme Park in Antalya, Turkey.
A second PowerSplash has been sold by Mack following the prototype installed in 2016 at Walibi Belgium. Details on where and when it will appear have not yet been revealed. The manufacturer is also being tight-lipped about the family coaster it has supplied to a major Orlando area park for 2018.
But there's more we can tell you about Time Traveler. Billed as the world's fastest, steepest and tallest spinning coaster, the $26 million project will open in spring 2018. It will be set across mountainous terrain at Silver Dollar City in Branson, Missouri.
The ride will begin with an immediate out-of-the-station drop down the Ozarks' mountainside. But the biggest fall will be the signature 100ft (30.5m) vertical 90-degree drop. There will be three inversions – a dive loop, 95ft (29m) vertical loop and a zero-G roll. The ride will feature two launch sections, at 0-47mph (76km/h) in 3 seconds and 30-45mph (48-72km/h) in 3.5 seconds.
Operator Herschend Family Entertainment is keen to push the ride's family-friendly "controlled spin" feature. This will regulate the maximum spin speed on each 4-seater ride vehicle, although the rotation itself will be random. As those attending the Time Traveler press conference at IAAPA will have seem, the attraction will come complete with a Steampunk theme.