Mickey & Minnie's Runaway Railway has officially opened at Disney's Hollywood Studios. Disney's first ride-through attraction featuring Mickey and Minnie Mouse is now at Walt Disney World Resort in Florida.
The innovative attraction features a recreation of the Chinese Theatre, taking guests inside the world of Disney Television Animation's Mickey Mouse cartoon shorts.
"Mickey & Minnie's Runaway Railway is a crowning achievement in the multiyear transformation of Disney's Hollywood Studios," said Walt Disney World president Josh D'Amaro.
"What was once a theme park that took you behind the scenes, now puts you in the center of your favorite stories," added D'Amaro.
It also boasts an original story by Walt Disney Imagineering, 'Perfect Picnic', as well as the new song, 'Nothing Can Stop Us Now'.
In the story, Mickey and Minnie attempt to find the best location for a romantic picnic, taking their red convertible for a drive through Runnamuck Park.
However, when the car hits a bump, Pluto flies out of the trunk and mayhem ensues as guests join Goofy on a train ride on the Runnamuck Railroad.
Guests will visit a carnival, avoid a twister, escape an exploding volcano, dive over a waterfall, and stampede through the Wild West.
Drive in a red convertible through Runnamuck Park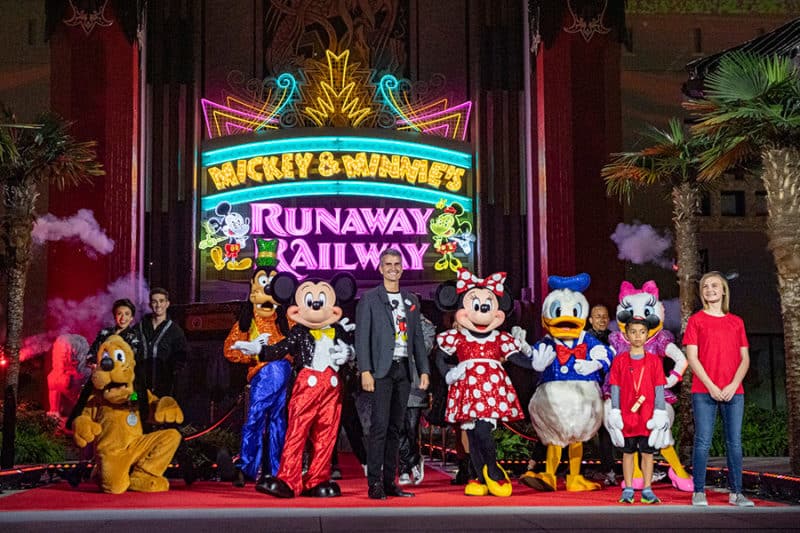 The state-of-the-art attraction uses cutting-edge technology, Audio-Animatronics figures, animated media, projection mapping, and trackless vehicles.
In addition, Mickey & Minnie's Runaway Railway has inspired a new line of merchandise, including toys, mugs, apparel, pins, and a new Wishables collection.
Meanwhile, the Play Disney Parks mobile app now features a new trivia game in celebration of Mickey & Minnie's Runaway Railway.
"We've taken our whole grab bag of theatrical tricks and blended them together so seamlessly you won't be able to tell what's what," said Kevin Rafferty, executive creative director, Walt Disney Imagineering.
Projection mapping, trackless vehicles, cutting-edge tech
"There is more happening in each and every scene than you could possibly have time to see in just one experience."
"This is a once-in-a-lifetime project," said Charita Carter, senior producer, Walt Disney Imagineering. "It's an amazing opportunity that I'm honored to be a part of.
"We are inviting our guests into a Mickey and Minnie cartoon. There are endless possibilities – anything can happen! You have cartoon physics and cartoon logic… there is so much that's possible."
Mickey & Minnie's Runaway Railway is also set to open in Mickey's Toontown at California's Disneyland in 2022.