MK Themed Attractions, the Danish theming expert, has announced the success of Tigeren, the new 45-metre tall Gyro Swing at Djurs Sommerland, for which it provided the theming.
MK Themed Attractions installed the theming for the new ride at the popular Danish amusement park before the summer season. Tigeren (The Tiger in English) is the tallest Gyro Swing in Europe, standing at 45-metres tall. At 100 kilometres per hour it is now the fastest ride at Djurs Sommerland, where it has been delighting visitors all season. It is three metres taller than the Sledge Hammer at Bobbejaanland.
A popular addition
"During the one season Tigeren has had so far, we have experienced it being just as popular as the most popular attractions we have," says Henrik B. Nielsen, Managing Director at Djurs Sommerland. "Tigeren has actually at times exceeded our expectations in popularity, which is truly great".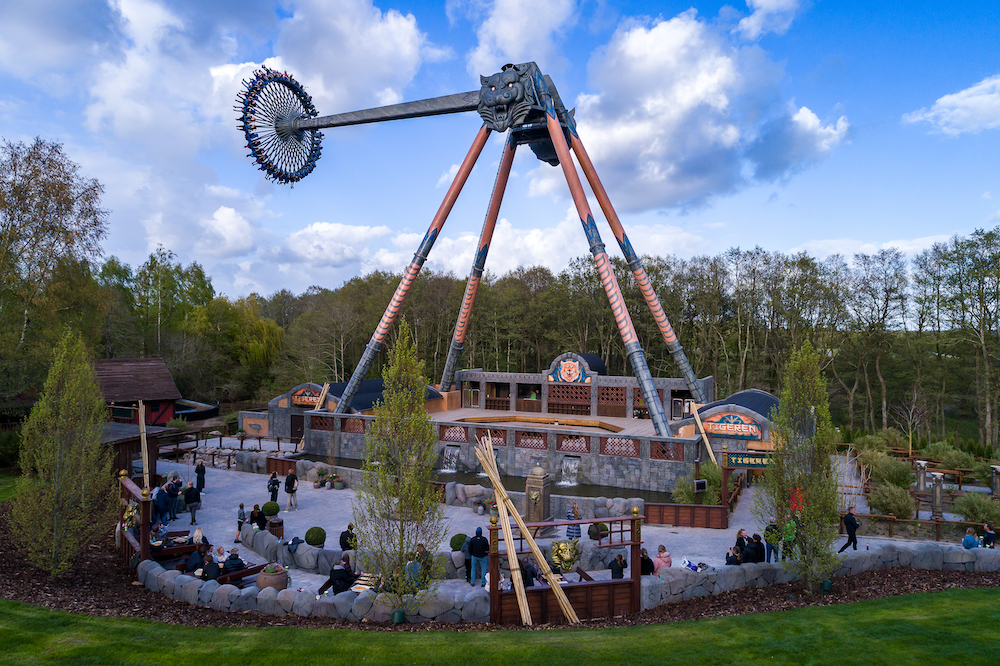 The new ride can be found in the park's Asian themed area, alongside Dragekongen, the fastest and longest Family Suspended Coaster in Europe. Visitors to this themed land can also enjoy Junglerally and Safaribussen, which have an Asian theme developed by Leisure Expert Group and produced by MK Themed Attractions.
This latest theming from the company, for Tigeren, has added a new dimension to the Asian area, says Nielson: "The theming that MK Themed Attractions has produced for Tigeren has been brought to a whole new level compared to what we usually have at our park, as the degree of details in the theming and the quality of it, is of a very high standard."
"We always seek to improve ourselves and strive to deliver the best quality possible, which we have done for Tigeren, and we are glad that Djurs Sommerland and their guests have noticed how much effort we have put into the production of the theme," says René Hansen, Managing Director at MK Themed Attractions.
Detailed theming
The park opted for a more detailed theme for this new attraction. "We see that theming has become more and more important," says Nielsen. "Through the theming of Tigeren, we seek to create an immersive experience for our guests that they can only get with us. A heavy themed queue area also helps build up excitement for the ride and makes the waiting easier and faster for our guests which improve the overall experience our guests have."
The ride has proved very popular, and despite its height and fast speeds appeals to a wide range of visitors, from the young through to the young at heart.
MK Themed Attractions is also working on the theming for the new land at Paultons Park, Tornado Springs, set to open in May 2020.