Every good amusement park needs a dark ride. The Park at OWA has just launched one with a classic theme, courtesy of Sally Corp.
Mystic Mansion is an interactive ghost train based around Sally's licence-free Ghost Blasters concept, which has already been a hit at parks around the world. The attraction opened at the venue in Foley, Alabama, on June 15.
The Park at OWA's director of marketing, Kristin Hellmich explains the reasons for going with ghosts. "We wanted quality, something that will stand the test of time. But what we were really after is having guests leave with a memory that they will want to relive, time and time again."
With its creepy yet comical characters, striking black light effects and 91 interactive targets spread over 15 scenes, Mystic Mansion offers lots to entertain families.
Meet Boocifer and friends

Before hopping into the Ghost Tracker ride vehicles, brave riders are greeted in the queue line by Professor Phearstruck (as pictured below). He explains to waiting guests the history of Mystic Mansion, its curse and who haunts it now. The spooky star of the ride is the ghost Boocifer.
The new attraction is housed inside a custom-built 8,279 sq ft (770 sq m) building and features 393ft of track. Its nine cars, supplied by Bertazzon, each seats four riders. In addition to the interactive targets inside the ride, there are also 73 animated props. The ride time is around three minutes.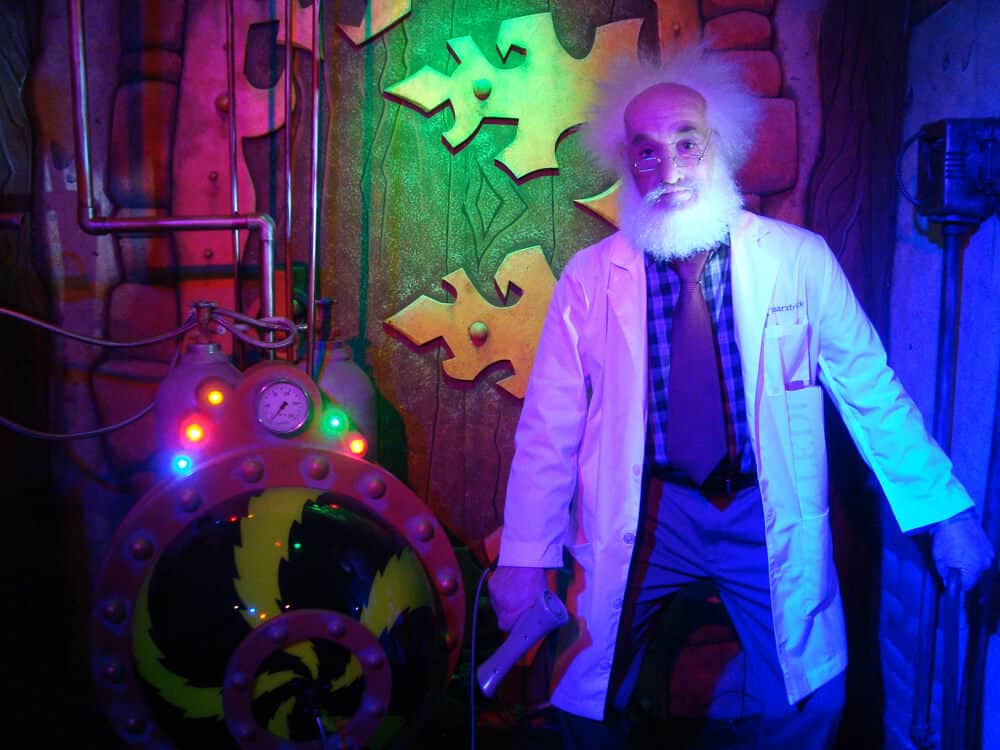 The Park at OWA opened in 2017 and is part of a wider leisure, retail and sports complex. Its star attraction is Rollin' Thunder, a Thunderbolt coaster from Zamperla. Last summer the park added a water play area. There are also plans for an indoor waterpark and a hotel.
Mystic Manor is one of three new interactive dark rides for 2019 from Sally Corp.