Two flagship projects in development at Ocean Park – the Hong Kong Ocean Park Marriott Hotel and Tai Shue Wan Water World – are facing delays.
Work on the HK$2.9bn ($369.4m) water park is not expected to finish until November 2019 at the earliest, a source told the South China Morning Post. Meanwhile, the Hong Kong Ocean Park Marriott Hotel is facing a three-month delay from its previously planned opening date of 13 June.
"The water park is in an awkward situation," the source told the Post. "It's odd to be launching it either in the middle of the winter or waiting till next summer. But the management did well in keeping both projects within the budget so far."
Tai Shue Wan Water World was expected to open in late 2018. Gammon Construction, comprising UK-based Balfour Beatty and Singapore-listed engineering group Jardine Matheson, was selected to construct the project last June.
The ambitious 6,400sqm facility will feature a unique design seamlessly integrated with its hillside surroundings. A series of terraced platforms will face out onto the South China Sea from Ocean Park's Aberdeen Harbour location. The park will feature a total of 27 indoor and outdoor water attractions. It is expected to attract 1.5 million visitors in its first year of operation
"The construction work is demanding because the site is very hilly," the source said. "The management is considering whether to kick it off at the end of 2019 or officially launch it in the summer of 2020."
An Ocean Park spokeswoman said that the water park would be completed in 2019 but could not be more specific.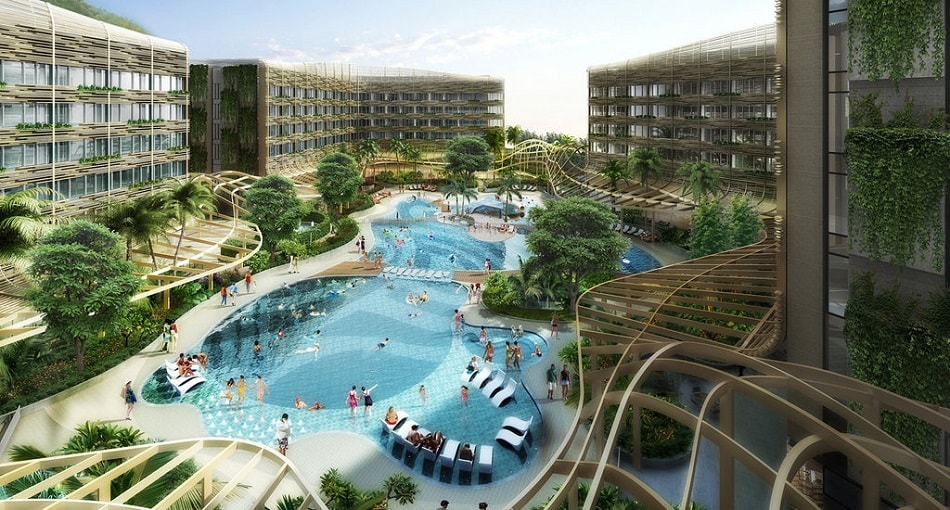 The Hong Kong Ocean Park Marriott Hotel is being built at a cost of $639m. In addition to 471 rooms, the five-star hotel will include a 16m high aquarium in the lobby, lagoons, a ballroom and a rooftop garden. As well as facilities for families attending the park, it will also be equipped to host meetings and conventions.
A Marriott spokeswoman said the hotel "was intended to be completed in mid-2018".
The hotel and water park are part of a plan to transform Ocean Park into an international resort. In March the Hong Kong government announced that it would bail out the loss-making theme park with a HK$310m ($39.6m) cash injection to lift it out of the red.
https://www.scmp.com/news/hong-kong/hong-kong-economy/article/2145875/hong-kongs-ocean-park-mega-project-and-luxurious