Ocean Park and Ocean Park Conservation Foundation Hong Kong (OPCFHK) have launched the Hong Kong Marine Life Stranding and Education Centre, a marine research, training and education facility.
The centre is the first full-scale necropsy, virtopsy, research and education facility in Asia, analysing the potential causes of injury and death in marine life.
Funded by the HSBC 150th Anniversary Charity Programme, the centre uses data-driven insights for  monitoring and conservation in the future.
The facility has advanced equipment, including a computerised tomography (CT) scanner, a histopathology examination laboratory and a necropsy area.
Analysing causes of injury and death in marine life
It will also host education tours and programmes for the public, providing interactive activities, as well as a look at its stranding response efforts and equipment.
According to Ocean Park and OPCFHK, the companies have attended 37 cetacean stranding cases this year, compared to 19 cases the previous year.
Judy Chen, Chair of OPCFHK, said the centre "will build on OPCFHK and Ocean Park's cetacean rescue and stranding response efforts".
She added that the facility will include "state-of-the-art equipment for the investigation, data collection, analysis and research of cetacean strandings and marine mammal rescues".
'Building on Ocean Park's cetacean rescue efforts'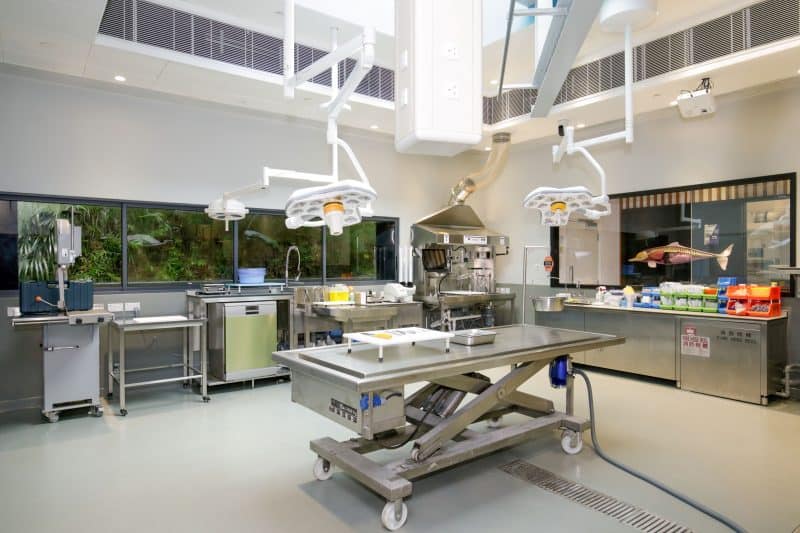 "The centre will act as a platform for the study of the biology, ecology and conservation of finless porpoises, and Chinese white dolphins in Hong Kong and the Pearl River Estuary," said Chen.
"It will also further the Park's rehabilitation work for other marine animals such as green turtles, and offer the academic community the opportunity to expand their laboratory and research work in marine life science and conservation."
Mark McKeown, Chief Risk Officer, Asia Pacific, HSBC, said the centre "will play an important role in furthering our understanding of marine mammal health and preservation".
Ocean Park has also signed a Memorandum of Understanding (MoU) with City University of Hong Kong (CityU).
Studying the ecology and conservation of marine life
CityU and Ocean Park will collaborate on veterinary sciences education, animal research and conservation education at Ocean Park's animal attractions.
Professor Way Kuo, President and University Distinguished Professor at CityU, said the MoU "provides a collaborative framework for academic research and student activities".
Kuo added that CityU and Ocean Park "will share technological achievements with the public through creative education and an entertaining experience".
Meanwhile, Qantas has confirmed it does not promote attractions that keep captive cetaceans, following British Airways Holidays and Virgin Holidays' similar moves.
Images: Ocean Park