Oceaneering Entertainment Systems, an award-winning designer and manufacturer, presents REVOLUTION Tru-Trackless vehicle navigation software and REVOLUTION Group Transit systems. The company has been innovating in the field of guest transportation for theme parks, helping attractions to enhance the visitor experience.
The concept of guest transformation has evolved over the past few decades, from simple people movers to immersive experiences that blur the lines between transportation and rides.
With theme parks growing larger than ever, guest transportation is an important element. As well as making parks more accessible and aiding mobility, it can also add more layers to the visitor experience.
Data suggests that there is a direct correlation between the guest's level of immersion and their duration of attendance. And the longer guests stay in the park, the more they spend. So, operators are motivated to keep guests captivated in a themed experience throughout their entire journey, regardless of what conveyance mechanism takes them there.
Guest transport meets themed experiences
This blurring of the lines between traditional transportation and a themed ride experience is nothing new. Disney pioneered this concept with The Skyway in 1956, transporting guests between Fantasyland and Tomorrowland in an elevated gondola travelling 60 feet above the ground.
The Disneyland ALWEG Monorail, which opened in 1959, was another early example. It became the first daily-operated monorail in the U.S. This was followed by Disney's WEDWay Peoplemover in 1967, circulating guests in open train cars providing a birds-eye view of Tomorrowland.
Ferry boats also adopted this concept, acting as water taxis connecting a park's onsite resorts and the various gates of entry. Many were inspired by a nostalgic 'paddle-wheel' theme, carrying several hundred passengers per vessel. Disney innovated this trend, operating their first fleet of ferry boats in the 1970s and evolving significantly over time.
Adding technology to transportation
Now, advances in immersive technology, OLED, projection mapping, Augmented Reality (AR), Virtual Reality (VR), and others can be incorporated onboard a vehicle, transporting guests into another dimension on their journey.
This experience can break down barriers within the park, parking lot, and even the hotels nearby. Guests can be picked up at their hotel in a vehicle themed after a favourite character and enjoy an immersive, interactive, media-based experience all the way to the park. When they arrive at the front gate, instead of waiting in line, the vehicle can connect them to a specific attraction within the park, allowing the story to continue.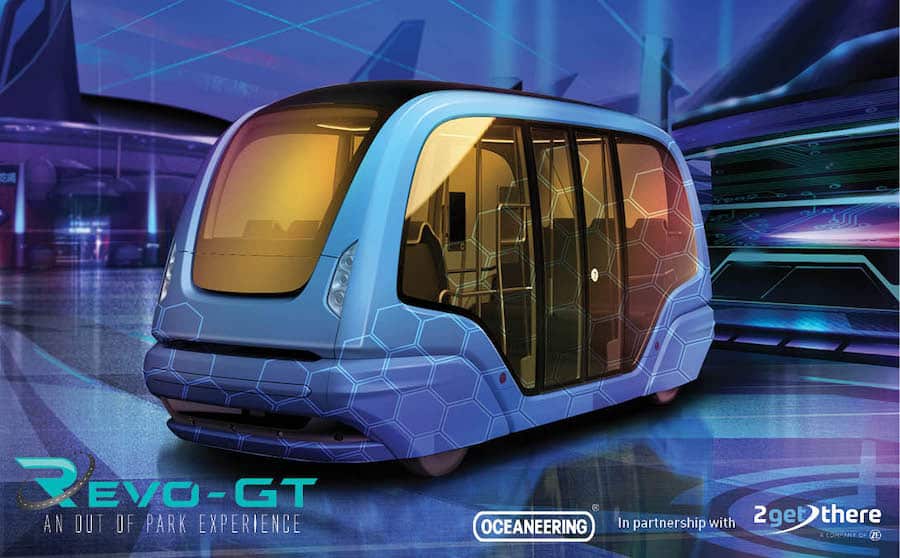 The mobility benefits are also convenient and intertwined with the ride experience. Guests with disabilities, kids of all ages, and extended families and friends can enjoy the transportation/ride experience together.
Oceaneering's vision for this concept is based on its REVOLUTION Tru-Trackless vehicle navigation software; however, it is currently equipped on a vehicle more commonly used for transportation purposes. This provides guests with a safe and flexible mobility solution with the DNA you expect from an immersive dark ride.
This allows the company's clients to connect everything from multiple rides to multiple theme parks, and with unlimited storytelling potential in between. In other words, "an out of park experience."
Safety is key
For Oceaneering Entertainment Systems, safety is the top priority. Its systems and products can be found operating from 20,000 feet subsea to the depths of space, and in the harshest environments on land and water.
The company has decades of applied technology expertise; servicing offshore oil & gas, aerospace & defence, industrial automation and global entertainment markets worldwide. Therefore, clients can expect safety-proven technology, robust quality and maximum uptime, as well as a 20-year minimum of service life in the field.
Oceaneering Entertainment Systems contributes to the cutting-edge development of ride system technologies, found in attractions around the word. By leveraging its machine safety expertise, its systems meet the most stringent people-moving requirements demanded by the global theme park industry.
The backbone of the company's REVOLUTION technology is derived from the most heavy-duty automated guided vehicle (AGV) systems in the world and the first safety certified, L4 automated shuttle in the transportation industry, pioneered by their industry partner, 2getthere, a company of ZF. Today, Oceaneering's systems are responsible for carrying over 100 million people per year in theme parks worldwide.
REVOLUTION Group Transit
REVO-GT (short for REVOLUTION Group Transit) has the capacity for up to 22 guests; eight seated and up to 16 standing, including various configurations to accommodate ADA passengers. Onboard HVAC maintains a comfortable temperature in extremely hot and/or cold climates.
The vehicle is bi-directional, with doors on either side, accommodating several station/boarding options for guests. Achieving speeds up to 25mph, REVO-GT is the fastest and highest capacity automated shuttle on the market.
Customization options are virtually endless. Creative concepts like these, compliments of Falcon's Creative Group, allow imaginative theming and media content to enhance each ride experience. Guests onboard the vehicle can experience audio/video interaction with the outside world, including streaming internet, connectivity with mobile apps, integrated wayfinding, or even immersive gaming. Cabin exteriors can be customized with various finishes and themes, based on the park's creative vision.
Oceaneering Entertainment Systems has worked with some of the biggest names in the industry, with more than 50 high-profile projects, multiple Thea awards, industry-patented designs, and millions of pounds of equipment installed globally.