Disney's latest Pirates of the Caribbean movie might gross more in China than in the US. The opening last year of Shanghai Disney Resort is thought to be instrumental in building a local following for the franchise.
The world premiere of Pirates of the Caribbean: Dead Men Tell No Tales was held in Shanghai on Thursday, May 11. According to Disney, this was the first Hollywood movie to hold its formal opening event in mainland China.
The new film starring Johnny Depp is the the most recent of five to take its name and inspiration from a Disney theme park attraction. It could pull in as much as RMB1.56 billion (S$226m) in China, say analysts. That exceeds a $212 million prediction for North America.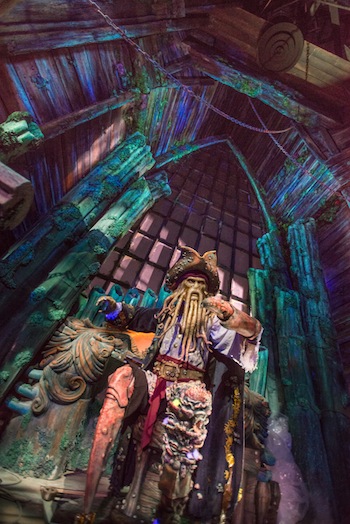 Pirates of the Caribbean – the ride that spawned a film franchise
At the time of writing, Shanghai Disney Resort was about to welcome its 10 millionth guest "within days" according to Disney chairman and CEO Robert Iger. The resort, featuring Shanghai Disneyland theme park, opened in June 2016. It is the first Disney park in the world to feature a full Pirates of the Caribbean themed zone, Treasure Cove. Its Pirates of the Caribbean – Battle for the Sunken Treasure dark ride is the most technically advanced yet.
"As the resort has become a true national destination in China, attendance is outpacing our most optimistic projections and the park's performance is exceeding our expectations," Iger said in an earnings call on May 9.
According to Bloomberg, the theme park resort has also been a frequent stop in China for celebrities promoting Disney films. Emma Watson and Dan Stevens were flown over for the local release of "Beauty and the Beast" earlier this year. To fuel further interest in "Pirates,"  Disney hosted a binge-screening of the previous four movies at the Beijing International Film Festival last month. The previous instalment of the series, Pirates of the Caribbean: On Stranger Tides, pulled in RMB464 million, trailing Transformers and Kung Fu Panda.
All images courtesy Disney Shanghai Resort
https://www.bloomberg.com/news/articles/2017-05-11/disney-uses-glow-of-shanghai-resort-to-pump-up-pirates-opening