Simtec Systems, a leader in entertainment technology, has unveiled a new kind of media information system, ScreenFLITE, at Rome Fiumicino Airport.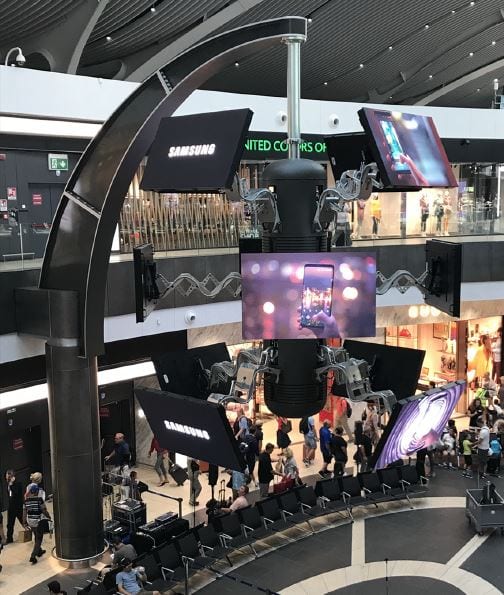 ScreenFLITE has been designed to deliver stand-out in the visually 'noisy' environment of one of Europe's busiest airports.
More akin to an art installation than an advertising platform, the chandelier structure supports twelve LED screens and is suspended in mid-air.
But, what sets this system apart is the addition of movement. The screens, each measuring approximately 2 square metres, are able to smoothly arrange and rearrange themselves to form different patterns. Describing the movement as 'an elaborate dance', Simtec explains that each display can individually play back media content in synch with the movement.
What's more, ScreenFLITE's rotation sequence can be programmed individually to suit the client's media content, offering unlimited possibilities.
Simtec created the ground-breaking project in partnership with Clear Channel Italy, ADR and Samsung.
ScreenFLITE puts content and messages in motion
"We instinctively look at moving objects wherever they appear in our field of view," comments Bernd Kaufmann, CEO and Owner of Simtec.
"SceenFLITE is taking advantage of this effect and puts advertisements, information and messages in motion. That is why it is the one-of-a-kind eye-catcher for people passing by."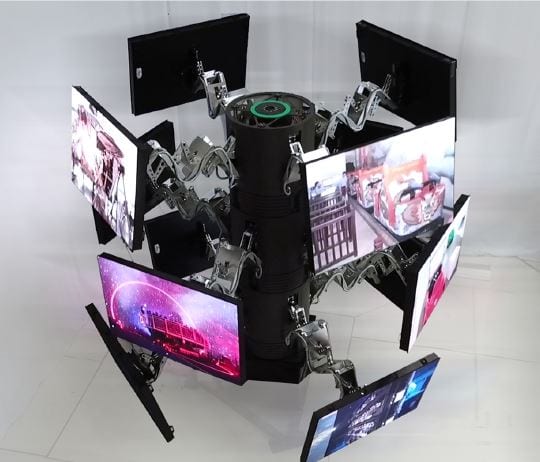 Aside from airports and stations, the system is ideally suited to theme parks, museum lobbies and other venues offering the space and the opportunity to engage with a larger audience.
Based in Germany, Simtec Systems is an innovator in the development of simulators and systems for media-based attractions including flying theatres. Immersive attractions include EXPO-Jet motion simulators, HEXaFLITE flying theatres and FUNRIDE simulator rides.
Earlier this year, the company commenced a major expansion of its operations including a brand new production facility at its HQ in Germany, slated to open in October 2018. The company also opened a new location in Wuhan, China, to meet the growing demand for its products in the region. This new facility complements the Simtec Asia office in Shanghai.