In partnership with sPower and Borrego Solar Systems, Six Flags Discovery Kingdom in Vallejo, California has become the first theme park on the West Coast to be powered by solar energy.
Six Flags Discovery Kingdom made the official switch to solar power at a special event to welcome its 12th annual Holiday in the Park, the first to be powered by renewable energy.
At the event, Vallejo Mayor Bob Sampayan flipped a giant switch, turning on millions of twinkling lights for this year's Christmas celebrations.
As of now, 80 percent of Six Flags Discovery Kingdom's energy usage will be powered by a new 7.5 megawatt solar carport – one of the largest solar carport installations in the US.
One of the largest solar carport installations in the US
"We are thrilled to be introducing the nation's first solar powered Holiday in the Park events," said senior VP of US park operations, Tom Iven.
"The marvellous wonder of this special time of year truly comes alive in our parks with a smorgasbord of seasonal delights to see and experience."
The solar installation will produce 11.9 million kilowatt hours of energy annually and will offset 8,400 tonnes of carbon dioxide equivalents each year.
Meanwhile, Holiday in the Park features themed entertainment, festive F&B, and Six Flags' roller coasters, rides and attractions.
Solar power meets Six Flags' Holiday in the Park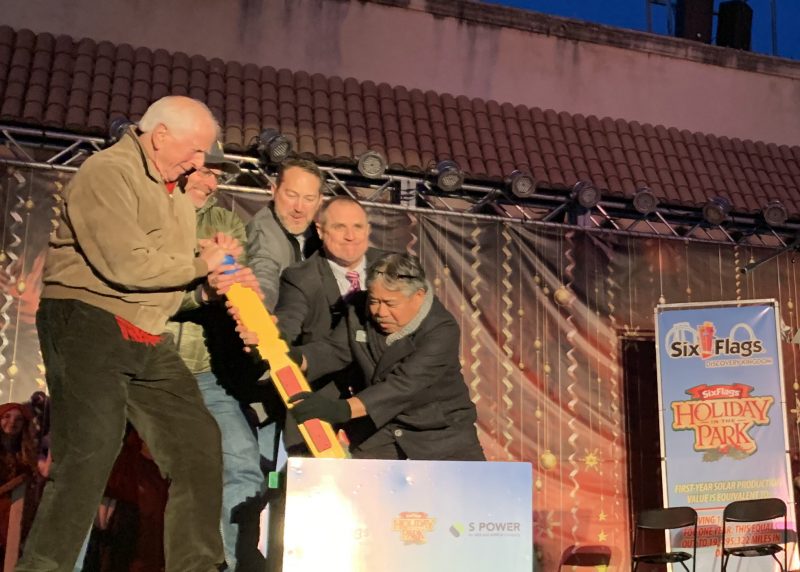 Holiday in the Park 2019 will boast light displays including Six Flags Dazzle, and a new themed area called Poinsettia Plaza, featuring a 30-foot poinsettia tree.
There will also be expanded hours of operation, as well as holiday-inspired photo opportunities with giant ornaments, huge stacks of presents and large toys.
"Our elves go all out to deck the largest halls, trim the tallest trees and turn millions of lights on extra bright to welcome our guests to the biggest and most immersive holiday celebration anywhere in the world," added Iven.
Earlier this year, Six Flags appointed Michael Spanos as president and CEO, after a search process to find a replacement for Jim Reid-Anderson, who announced plans to retire in 2020.
Images: Six Flags