Small Worlds Tokyo, an indoor theme park featuring moving miniature attractions, is set to open with a tiny Sailor Moon exhibit in June 2020.
Small Worlds Tokyo was originally set to open in April, but it was delayed due to the outbreak of COVID-19. It is now scheduled to open on June 11 (via SoraNews24).
Small Worlds Tokyo is an indoor theme park comprised of four floors across 8,000 square metres. The first floor is the Departure Floor, with the Departure Lounge on the second floor.
This includes a restaurant that serves global cuisine. On the third floor is Small Worlds, and on the fourth Creator's Floor.
Become a resident of Pretty Guardian Sailor Moon
Small Worlds features six different worlds – Space Center, Global Village, Kansai International Airport, Pretty Guardian Sailor Moon, Evangelion: Cage, and Evangelion: Tokyo-III.
Each area features detailed miniature recreations, as well as immersive augmented reality (AR) and virtual reality (VR).
Pretty Guardian Sailor Moon will offer views of the 1990s Azabu-Juuban area of Tokyo. It also includes a miniature version of Crystal Tokyo, and a replica of the Silver Millennium.
In addition, fans can apply to become residents of Pretty Guardian Sailor Moon. They will receive the rights for a miniature figure of themselves to live in the tiny world for one year.
Space Center, Global Village at Small Worlds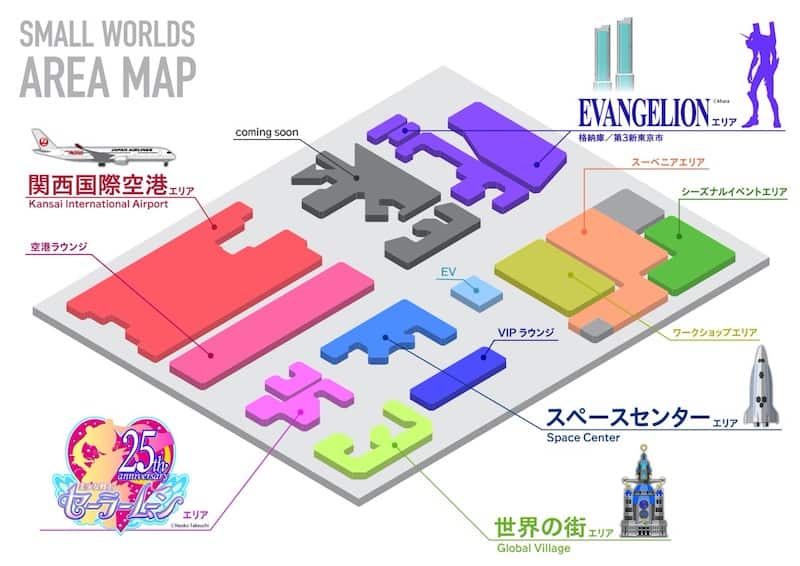 Applications are welcome from June 5, and fans will need to purchase the Pretty Guardian Sailor Moon Area Figure with Residency Rights Program.
As part of the package, fans will also receive a small figure to take home, as well as an annual pass to Small Worlds Tokyo.
Meanwhile, a new aerial view image of Super Nintendo World under construction has emerged online, revealing the expansion is almost complete at Universal Studios Japan.